Museum CONTEXT, Victoria Street Shop, Edinburgh Old Town Store, Vintage Gifts
Victoria Street Shop, Edinburgh
Museum CONTEXT: Gift Store – Quality Home Furnishings & Accessories in Scotland
4 Jan 2013
Museum CONTEXT
A new shop at 40 Victoria Street, Old Town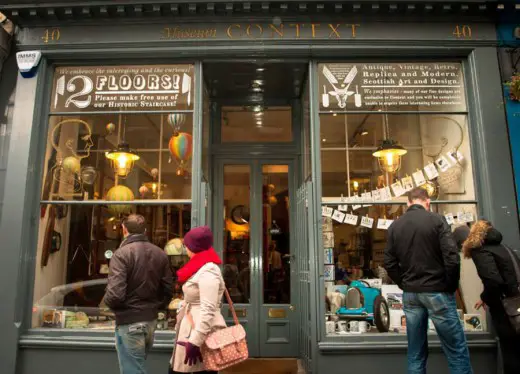 Renewal of the old Robert Cresser's Brush Shop in Victoria Street
38-46 Victoria Street
It is a category B building and was listed on 14 Dec 1970.
This new retail outlet is owned and developed by the successful Scottish architect Andrew McRae and his wife Alice. He also owns the store in Cockburn Street, also in Edinburgh Old Town.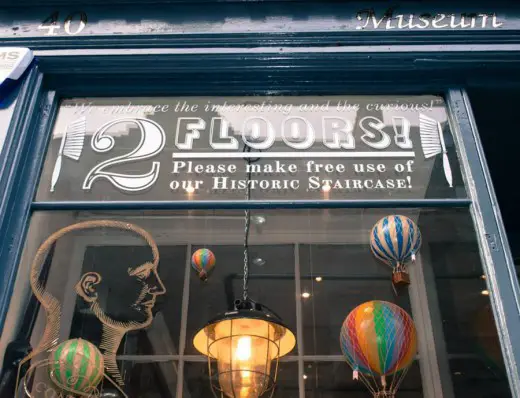 Victoria Street Shop – link to Museum CONTEXT facebook page
CONTEXT Interiors are independent retailers based in the Old Town of Edinburgh. They offer an eclectic collection of home interior products and unusual gift ideas driven by quality craftsmanship and retro design.
40 Victoria Street
Historical Information about 40 Victoria Street
Architect: George Smith
Date: 1843
This property forms part of a 10-bay curved terrace of 5 3-storey 2-bay shops, stepped with the incline of the street.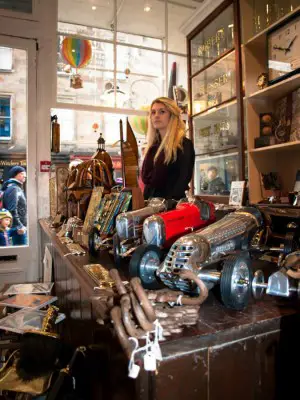 Architectural Summary:
Painted ashlar. Pavement and railings of Victoria Terrace above. Base course, boldly dentilled cornices to shops; eaves cornice and blocking course. Most shop-fronts altered in later 19th century, with plate glass and inset glazed doors. Tabbed surrounds to upper windows. Plate glass in timber sash and case windows to upper floors.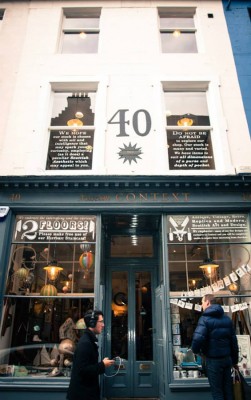 Notes
No 40 was formerly Robert Cresser, Brush Shop, founded in 1873, and has original fixtures and fittings both for selling and for manufacturing brushes. Victoria Street and Terrace were part of Thomas Hamilton's plan for the new Southern and Western Approaches to the city.
The plan was first proposed in an article in the Scots Magazine in 1817 (attributed to Hamilton) proposing the formation of 'a Communication between the N and S sides of the City of Edinburgh by means of a bridge entering the Lawnmarket nearly opposite Bank Street.' Hamilton and William Burn produced a 'Report relative to the proposed approaches' in 1824, of which a plan appeared in 'The Scotsman' (27th November 1824). Hamilton and Burn went to London in 1825 to gain support for an Act of Parliament, and the City Improvement Act was passed in 1827.
Hamilton was appointed architect to the Commissioners for the Improvement Act, and carried out the 2 major town planning initiatives for which they were responsible – the W approach – King's Bridge and Johnstone Terrace, and the S approach – George IV Bridge, and the link to the Grassmarket – Victoria Street. Hamilton was replaced as architect to the Commissioners in 1834 by George Smith, and the buildings on the N side of Victoria Street were designed by Smith.
References
Dean of Guild 30th November 1843. Appears on 1853 OS map. Ill. Grant OLD AND NEW EDINBURGH p 293. Gifford, McWilliam and Walker EDINBURGH (1984) pp 235-6.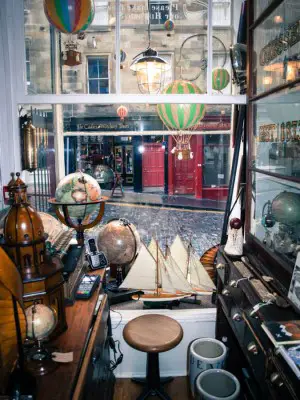 Corporate Name: Robert Cresser
Dates:1881-2001
Epithet: Cooper and Brush Manufacturer
Activity:
Robert Cresser started business on his own account in 1881 at 345/357 High Street where he went into business with William Cunningham and the firm was known as Cunningham and Cresser. This partnership was dissolved in 1874 and Robert Cresser moved shortly after to 27 South Bridge and finally moved to 40 Victoria Street in 1886 where the businees remained. Although brushes were made above the shop his main manufacturing base was in Candlemaker Row and he was described in 1886 as a Brushmaker and Cooper.
He died on the 14th March 1930 aged 87, his estate was valued at £2105.10.8d and was bequeathed to his sons and daughters in varying proportions. His daughter Susan bought out her siblings share of the business.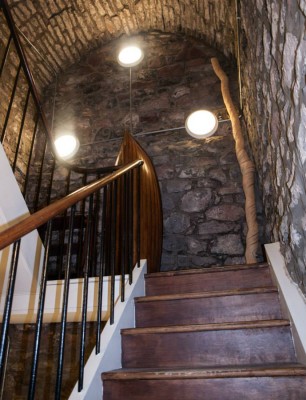 The shop was sold in 1951 to George Aithie and there must have been a stipulation that the name Robert Cresser be maintained. Mr Aithie died in 1973. Mrs Aithie carried on the business until she died in 1982. Her daughter Grace kept the business going by making the manager Stephen Gilhooly a partner. He had worked there as a brushmaker since 1966, he eventually bought out Grace Aithie in 1984.
Number 40 received much publicity over the years and has featured on postcards and calendars. The shop is now closed (2009) and it's future uncertain. The Edinburgh Victorian Society have taken an interest and perhaps the façade may be kept intact as part of Edinburgh's Victorian retail history.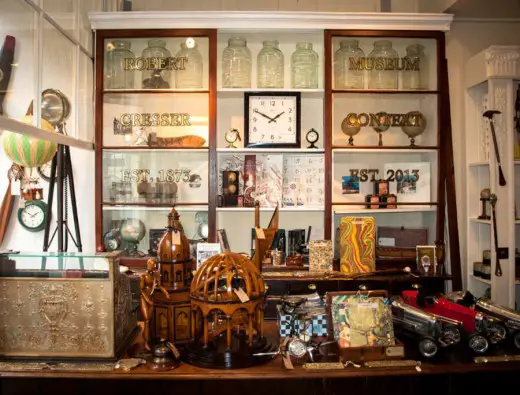 The firm of CUNNINGHAM & CRESSER, Brushmakers,
345 High Street, Edinburgh, was dissolved on the 20th of April 1874.
Extract from The Edinburgh Gazette, 24th April 1874, Page 6
Copyright H.M.S.O.
Robert Cresser's Brush Shop, Edinburgh
Some notes from Robert Cresser Macpherson
"My memories of the shop and all those who worked there are all pleasant. I suppose it was in 1919/1920 that I went in to 40 Victoria Street on Saturdays during school term and other days when the school was on summer holiday".
"I went to all sorts of customers delivering brushes and picking up other items which were not made in the shop. The most interesting one was to pick up coir door mats, which were made to measure, from the prison on Calton Hill where the Scottish Office now stands. I was taken by warders on a number of occasions to the big room where the prisoners lined the four walls sitting crossed legged on the floor, making the mats and other items".
"When Grandad Cresser came to live with us at 55 Briarbank Terrace he brought home parcels of hair neatly tied up and put them in the fireside oven overnight. He told me the reason but I can't remember now though I do remember that they mostly came from China and he collected them off the ships at Leith Docks"
Old Town Context
Old Town Context in Edinburgh's Cockburn Street.
Jenners Store Edinburgh



photo © Adrian Welch
Harvey Nichols Store



photograph © Adrian Welch
St James Centre Shops



photo © Adrian Welch
H&M Edinburgh Shop



photo © Adrian Welch
Comments / photos for the Museum CONTEXT Edinburgh – Victoria Street Shop Architecture page welcome
Context Interiors– external link to the official website