Most Popular Residential Architectural Styles Advice, House Plans Tips
What Are the Most Popular Residential Architectural Styles Guide
16 July, 2020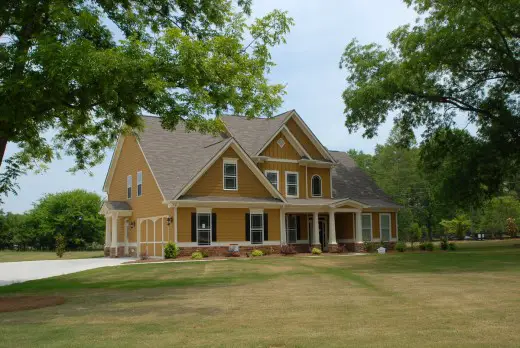 The architectural sector has evolved throughout history with house plans that shift to meet the demands and lifestyles of the public. When designing their dream home, keeping up with the latest-and-greatest trends of the decade may be of high priority to a future homeowner. For more information on how to buy and use house plans for your dream home, click here.
Before you conform to the most popular architectural style trends of the season, you should note that architectural trends are constantly adapting to dominating architectural styles of a particular time period. Because an architectural style often gains traction with its ability to capture the essence of a historical event or social movement, these architectural preferences are fleeting. With this in mind, what's currently on-trend may be last-season in the next decade.
For example, the BBC explains how the architecture of the early 20th-century acted as a symbol of a simpler life before the Industrial Revolution took hold. So, you may be wondering, what are the residential architectural styles that define the early 21st century? This article will outline the six most popular styles represented in modern architecture.
Cape Cod
The Cape Cod architectural style is one of the most popular styles ever developed and remains one of the most impressive up to our present day. Unlike other architectural styles, the Cape Cod home was birthed out of necessity, not innovation.
Architects birthed this architectural style at the end of World War II when the soldiers, who had spent years at war, began to return home and establish permanent living situations with their immediate family. In preparation for a boom in the housing market, architects built a handful of new homes that adopted the Cape Cod style.
The development of new architectural styles had stalled throughout the war. After the Germans surrendered, the need for an architectural style that was easy to build and able to withstand years of use became more blaring. Eventually, architects landed on the Cape Cod-style, in its ability to endure a number of different weather conditions—which was ideal for settlers arriving in New England.
Contemporary
Perhaps the broadest category of all six popular architectural styles, contemporary architecture can be difficult to pin down, as it infuses hints of every popular architectural style within the last couple of decades.
A contemporary architectural style will usually include a range of sustainable living solutions that are incorporated into a home or a wider property development. Architectural styles are known to evolve throughout history. However, the dominating characteristics of the late 20th-century architecture and the architecture of the first two decades of the 21st century have remained remarkably similar. Despite their similarities, new developments are often implemented in contemporary style homes, including Edinburgh's New Town housing sector.
Colonial style
Colonial style homes can be difficult to define when the dominant colonizing nation uniquely categorized this architectural style during different moments in our history. In the mid 18th century, French Country style homes were classified as Colonial, until land that was previously owned by France was purchased. In modern parlance, the term "Colonial" describes homes dating back to the late 19th century.
These properties range between two and three stories and often feature a fireplace and/or a brick exterior. Colonial homes remain a popular architectural option, as they offer the benefits of classic American style and opportunities to refine a home in accordance with popular trends.
The possibilities for a Colonial home are almost endless, as it's easy for additions to be made on both sides of the property and the rear of the property, as well. Generally speaking, a Colonial style home is characterized by the main floor that's composed of a full-sized kitchen and general living space and upstairs area that contains the family's bedroom spaces.
Tudor era properties
One of the longest-enduring architectural styles, Tudor era properties became especially trendy in the late 1970s and the early 1980s. This architectural style remains popular across the U.K. and in parts of the U.S. Though the Tudor style was most popular throughout the Tudor era—a time period stretching from the 15th century to the 17th century—this style made a strong comeback late in the 20thcentury.
The Tudor style tone can be identified by incorporations of stucco on the lower half of the building, with the exposed framework extending from the second story to the roof. Unfortunately, this style is infamously expensive. As a result of their costly nature, Tudor style homes are no longer as popular as they once were, but they'll still make guest appearances in newer housing developments.
Mid-century Modern
One of the most misunderstood architectural styles of them all, the Mid-century Modern is often confused with the more stylish contemporary architecture that has dominated popular architectural styles since the 1970s.
Mid-century modern and popular ranch styles both prioritize functionality over style. These usually single-story homes are created using the most modern materials and design processes available to architects and construction workers, alike. They have remained popular for several decades due to their open layouts and low-maintenance exteriors.
Farmhouse style
A modern Farmhouse adopts the features of the classical property and adds a defining layer of modern engineering and technology. The modern Farmhouse remains a popular option for those homeowners searching for a custom home with a large parcel of land. A significant wraparound porch and a highlighted kitchen space with an open layout complete this style.
Conclusion
Many different architectural styles drift in and out of style depending on the decade. Seeking inspiration from earlier home styles remains a popular option for homeowners hoping to customize their dream home into the neighborhood showstopper. Future homeowners designing their dream home shouldn't feel obligated to conform to the existing and/or trendy architectural styles. Instead, architects and future homeowners alike should feel emboldened to challenge the status quo and fuse elements from a number of architectural styles into one cohesive vision.
Comments on the What are the most popular residential architectural styles? advice article are welcome
Architecture
Contemporary Buildings
Comments / photos for the What are the most popular residential architectural styles? page welcome