Buying a Sunroom Guide, House Conservatory Advice, Building Tips
What You Need to Consider Before Buying a Sunroom
16 July 2020
A sunroom can be a great addition to a home. You can enjoy the brightness of the sunshine through the windows and the calming atmosphere of nature. While the idea of adding a sunroom to your home can be exciting, it can be a little stressful as well. You may not know where to start when it comes to buying one. Here are a few things you should consider before you buy your sunroom.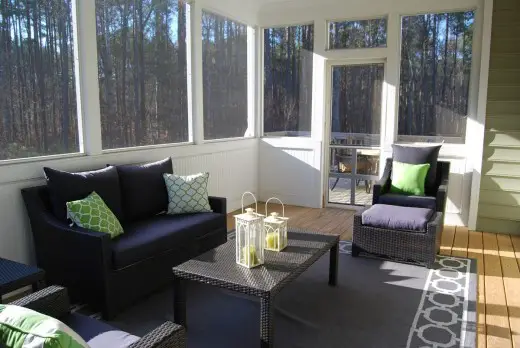 How do you plan to use the sunroom?
This is an important first step that can give you a lot more clarity about what kind of sunroom you need. Think about how you plan to use the space. Generally speaking, most homeowners consider sunrooms as a space to get away from harsh weather and bugs. While that's one way it can be used, there are other ways to enjoy your sunroom. You could set it up as a home office, an entertainment area, a spa, an exercise room, and many other possibilities.
What type of sunroom do you want?
Sunrooms typically fall under the category of either being a three-season room or an all-season sunroom. Three-season rooms are made with single glazed glass and screens. A company may offer a shading system with this kind of sunroom to reduce glare and the effect of the sun's UV rays. The single-pane glass used will just provide a shield from the wind and protection from moderately warm or cool temperatures. It won't protect against extreme weather temperatures. Year-round sunrooms come equipped with double-paned insulated glass.
They also typically have a heating and cooling system inside as well, allowing homeowners to be able to use the room all year. The way you plan to use your sunroom will likely offer you a clearer picture of what type of sunroom you want. Let's say you decided that you just want your sunroom to be an outdoor retreat for nice weather days. The best option for you, in this case, would be a seasonal room or a screened-in porch. In some cases, homeowners might want to make their sunrooms either a family room or a dining area. The best option for these scenarios would be a solarium or an insulated sunroom.
How do you want to set up the windows?
There are a few different ways to set up the windows of a sunroom. If you desire to have a nice view of the outdoors while you're seated comfortably inside, you can opt for full-length glass. In addition to the kind of view you want, you should also consider the climate of your environment. If you live in an area where it's sunny most of the year, you might want to consider equipping your sunroom with etched glass window film, tinted windows or sunroom blinds. You could also include an air conditioner if you desire as well. Lastly, if you plan to use your sunroom during the winter month, it will be best to have your windows made with insulated glass to help keep the room warm.
How to choose a sunroom company
Once you've decided on how you want your sunroom to be used, what type of sunroom you want, and how to set up the windows, the next thing to figure out will be choosing a sunroom company. It can be helpful to find a company that can deliver custom manufacturing so the walls and windows can be built the way you specifically desire. It's also good to ask if a sunroom company has tested its products in the rain, snow, and local wind. A good company will likely be able to provide you information that proves their materials can withstand the elements.
Additionally, you should choose a business that has been doing work in your community for several years. You can look up online reviews of the company and ask them for references as well. You should also be sure to read their warranties carefully. Typically, warranties will cover a manufacturer's defects, but might not cover any failures from weather exposure or ordinary use. A good sunroom company will have well-trained employees that have undergone extensive training in building sunrooms at an optimal standard. Feel free to ask a sunroom company what kind of training and experience their employees have with building sunrooms.
The last thing you want to deal with is hiring poorly trained sunroom installers that don't build your sunroom correctly, and cause you to have to pay more money than you planned to get the mistakes fixed. Avoid companies that tell you they can start on your project right away, as that it can be a sign of a declining business. It's a good sign if the sunroom company you're considering has to schedule your work for a few weeks later because of other orders to fulfill. That indicates customers desire their work and believe in the quality of it enough to wait until they can perform the job.
You'll also want to make sure that the company you're hiring has workers' compensation insurance. Some sunroom companies choose to avoid the expense by hiring sub-contractors to do the installation. If a worker is uninsured and gets injured while working on your property, you can potentially be liable and end up paying a higher cost than you anticipated. Lastly, a legitimate sunroom company will offer you a free, no-obligation consultation. During a consultation, a company will be able to provide an exact cost for completing your project, and offer ideas for utilizing your current patio or deck as a foundation for building your sunroom. Avoid any company that only offers you costs over the phone.
Taking the time to evaluate your options can give you the best chance of being satisfied with your purchase in the future. Be sure to consider all of these things before buying a sunroom. If you're interested in learning more about sunrooms, you can find out more about them at www.royalcovers.com.
Comments on the What You Need to Consider Before Buying a Sunroom advice article are welcome.
If you are looking for Conservatory Roof Conversion Design Specialists then check out https://www.projects4roofing.co.uk/.
Architecture
Contemporary Buildings
Edinburgh Airport, north west of the city


image from Reid Architecture
Edinburgh Airport
Comments / photos for the What You Need to Consider Before Buying a Sunroom page welcome