ZED Hotel Edinburgh, Southside Building, Instant Arena, Architect, Planning Approval, Campaign
ZED Hotel: Odeon Cinema Edinburgh
Former Odeon Cinema Redevelopment, Scotland
19 Sep 2013
Former Odeon on South Clerk Street
Edinburgh Odeon Cinema Building
Three Scottish theatres at risk of closure, demolition or redevelopment have been saved, report BBC Scotland today. The advisory body, the Theatres Trust, said the Britannia Panopticon in Glasgow, Edinburgh's New Victoria/Odeon and the Leith Theatre now have a secure future.
But two others, the Tivoli Theatre in Aberdeen and Glasgow's Old Athenaeum are still thought to be under threat. Both are Grade I listed, but are empty and said to be at risk of development.
8 Apr 2013
The Instant Arena
Susan Boyle will perform at the refurbished Odeon under ambitious plans to reopen the mothballed venue for this year's Edinburgh Festival, reports The Scotsman today.
SuBo is scheduled to sing at the Clerk Street venue on 11 Aug 2013, just nine days after the disused cinema is due to hold its grand relaunch.
The scheme to transform the site into an entertainment complex showcasing Las Vegas-inspired cabaret acts is being led by SuBo's brother, Gerry Boyle. The businessman said his sister would be performing songs from a yet-to-be-released fifth album.
The announcement came as champagne brand Laurent-Perrier confirmed it had held formal discussions to become a commercial partner in the venture for the next five years. Glasgow-based catering company Braveheart Functions has committed to the project in growing signs the proposal is on track to become a reality.
Mr Boyle said he had reached an agreement with fellow entertainment guru Tony Jo that would result in acts being shared with Blackpool Opera House.
Mr Boyle said: "Laurent-Perrier champagne…are going to come up to Edinburgh with a design team and invest in the structure of the building. In return, it goes without saying, that we will be retailing their champagne. We hope to begin refurbishing the building as early as May."
Mr Boyle has claimed he can reopen the 1930s building, which will be renamed The Instant Arena, for a start-up cost of £250,000.
The first stage of the relaunch would involve restoring the upstairs art deco auditorium into a 600-seat theatre venue and creating a downstairs coffee lounge and a first-floor tearoom and champagne bar named after SuBo.
20 Jan 2012
Odeon South Clerk Street
Proposal by Duddingston House Properties for the conversion of the former Odeon Cinema in Clerk Street, Edinburgh into a 230 bed arts hotel appears to be now abandonded, reports The Scotsman today.
22 Feb 2011
Odeon Cinema South Clerk Street
Information from Save the Odeon re the Former Odeon Cinema, Clerk Street, Edinburgh:
The old Odeon cinema building on South Clerk Street, a beautiful example of art deco architecture and historic cultural venue for Edinburgh, is to be turned into a hotel unless we, the people of Edinburgh, act now.
South Clerk Street Odeon Cinema Petition
Through an online petition (http://www.ipetitions.com/petition/save_our_cinema/)
the Southside Community Council are working with local officials and MSPs to show that this is not what the people of Edinburgh want.
A Compulsory Purchase Order (CPO) is our last hope to breathe life back into the old Odeon building. The Southside Community Council have set up a petition for the Edinburgh City Council to protect the building and to issue a CPO. They need your help.
Please sign their petition and help save this beautiful and unique building from being demolished.
Comments / photos for the ZED Hotel Edinburgh pages welcome:
info(at)edinburgharchitecture.co.uk
ZED Hotel Edinburgh
Former Odeon Cinema, Clerk Street, Edinburgh
Architects: 7N, previously make
Former Odeon Cinema News
Culture minister Mike Russell referred the planning submission to the Scottish Government (3 Jun 2009), ie another public inquiry.
Only the art deco facade of the former Odeon was due to be retained, although the auditorium is one of the best in the country.
Zed Hotel – Former Odeon Cinema
Planning Approval gained 29 Oct 2008, vote 6 to 4 in favour
Conversion to an Arts Hotel
Make have recently submitted planning and listed building consent applications, on behalf of Duddingston House Properties for the conversion of the former Odeon Cinema in Clerk Street, Edinburgh into a 230 bed arts hotel, branded "ZED" with associated restaurant and cafe facilities, artist's studios and flexible community accommodation including a small cinema screen or lecture room.
The Category B listed building last functioned regularly as a cinema in 2003. Although owners Duddingston House Properties have sought a suitable owner for the building since the date of its purchase, the property has lain dormant following the closure of the cinema 5 years ago.
Make's proposals retain the existing 1930s frontage on Clerk Street and associated foyer spaces, and the shell of the auditorium within which a new courtyard space will be created in the heart of the site. Visitors will be led through the restored foyer space to the dramatic new external space which will offer a twenty-first-century interpretation of the former cinema's atmospheric design.
The creation of a new public space, where a number of artists can come together in studios as part of a hotel, is a very new and exciting concept for Edinburgh. Art and product design will be an integral part of the hotel's design, providing a showcase for Scottish creative talent.
Ewan Anderson, who leads Make's Edinburgh studio, commented: "while it is clearly disappointing not to have found a new use for the main auditorium we believe the solution we have adopted justifies the intervention by retaining as much of the building as possible, particularly the frontage to Clerk Street, and bringing it back to life through contemporary design and a vibrant new use which will secure the long term future of the building."
6 Feb 2008
ZED Hotel design : 7N Architects
Previously – Jan 2008 News:
Odeon Cinema – make
Duddingston House Properties submit plans by make (architects) for partial demolition & conversion of former B-listed Odeon Cinema + new development to create hotel (with bar / restaurant), artists' studios / galleries & community facilities at 7 Clerk Street, Southside, Edinburgh.
The cinema was built in 1930 and closed in 2003. It features on the Buildings at Risk Register for Scotland. The original architect was William Edward Trent, a well-regarded British cinema architect. Various proposals have been put forward by Duddingston House Properties since 2005.
Sean Connery, Dougray Scott, James Cosmo and Brian Cox battled unsuccessfully to save it. The Odeon Cinema was B listed in 1974. Edinburgh's other Art Deco cinema is The Dominion, Morningside.
South Clerk Street Odeon renewal design : Make Architects
Edinburgh Cinemas
Significant Edinburgh Cinema Designs – Selection:
Fountain Park Edinburgh – cinema in the west of the city
Edinburgh Cinema : VUE, Greenside Place
Scottish Capital City Properties
Edinburgh Properties
Key New Edinburgh Property – Selection:
National Centre for Music at Royal High School, Edinburgh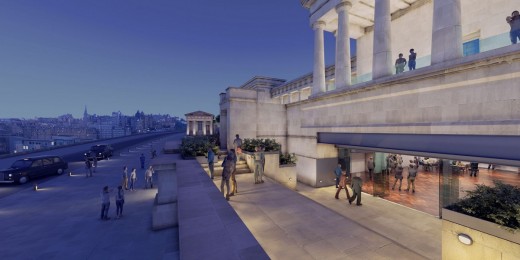 image courtesy of architects practice
New National Centre For Music Edinburgh
Comments / photos for the Former Odeon on South Clerk Street – ZED Hotel Edinburghpage welcome