Edinburgh Architecture News 2019, Lothian Buildings, Architects, Images, Design Scotland
Edinburgh Building News 2019
Scottish Architectural + Construction Updates – East of Scotland Property Design Information
2019
Edinburgh Architecture News
24 Apr
Approval for Edinburgh's Dunard Centre
Edinburgh's first purpose-built music and performance venue for over 100 years will be called Dunard Centre, supported by Royal Bank of Scotland. More info on our Edinburgh Architecture news page.
Dunard Centre Edinburgh Building
19 Apr
Portrait of Architect James Adam
NATIONAL GALLERIES OF SCOTLAND AND VICTORIA AND ALBERT MUSUEM PURCHASE SPECTACULAR ZUCCHI PORTRAIT OF ARCHITECT JAMES ADAM
The National Galleries of Scotland (NGS) and the Victoria and Albert Museum (V&A) have jointly acquired the most ambitious and splendid surviving portrait of a member of the Adam family, the great eighteenth-century Scottish architectural dynasty.
The portrait of James Adam (1732-94) by the Italian artist Antonio Zucchi (1726-95) becomes the third outstanding artwork to be jointly-acquired by the V&A and NGS after together securing two exceptional sculptures, Antonio Canova's The Three Graces (purchased 1994) and Lorenzo Bartolini's The Campbell Sisters (purchased 2015). The Zucchi portrait has been purchased thanks to a major grant from national charity Art Fund.
The newly acquired portrait of James Adam will be shown among the great eighteenth-century collection at the Scottish National Portrait Gallery (SNPG), Edinburgh before going on display in the V&A's British Galleries in London later this year. It will remain on display at the V&A for one year before returning to be shown in Edinburgh. Thereafter, it will be shown at each institution for a period of seven years, on rotation.
Christopher Baker, Director of European and Scottish Art and Portraiture for the National Galleries of Scotland, commented: "James Adam's portrait is a work of great swagger and refinement that demonstrates the confidence of the Scottish Adam family as seminal taste makers for eighteenth-century Europe. It represents a splendid addition to the collection of the National Galleries of Scotland and we are immensely grateful to both the Victoria and Albert Museum and the Art Fund for making its joint purchase possible."
Julius Bryant, Keeper of Word and Image at The Victoria and Albert Museum, said: "Zucchi's portrait of James Adam depicts one of the leading Scottish exponents of the European Neoclassical movement who played a formative role in developing British architecture. It is an ideal portrait for the Neoclassicism section of the V&A's British Galleries. We are delighted that it joins the V&A's collection, together with the two sculptures previously purchased with the National Galleries of Scotland. We are enormously grateful to both the NGS and Art Fund for enabling this joint acquisition."
Stephen Deuchar, Director of the Art Fund, added: "We are very pleased to be helping both National Galleries Scotland and the V&A in acquiring this fine and important portrait of James Adam. It is fitting addition to both collections, marking the sitter's legacy as a highly influential Scotsman with great significance to the history of British architecture and design, and we know it will enjoyed by a wide public in both locations."
The painting depicts James Adam during his grand tour of Italy in 1763, before he returned to London to work with his brother, Robert Adam (1728-92). Dramatically posed and luxuriously dressed, he is surrounded by objects that refer to the study of the ancient world that inspired the neo-classical designs for which the Adam were renowned.
Robert and James Adam, along with their brothers John and William, were the sons of the mason-architect and entrepreneur William Adam (1689-1748). Together the family enjoyed the status of being Scotland's foremost architects of the eighteenth century. Their role as designers of neo-classical buildings and interiors was to prove profoundly influential not only in Edinburgh and London but all across Europe, North America and Russia.
Robert and James established their architectural practice in 1758. They not only excelled at designing elegant Palladian buildings but also entire interior decorative schemes, including furniture, so ensuring a unity to their immensely popular neo-classical vision. Between 1773 and 1779 the brothers published The Works in Architecture of Robert and James Adam which played a key role in spreading knowledge of their work internationally.
James undertook a Grand Tour of Italy, to seek inspiration for his work, between 1760 and 1763. This impressive portrait was painted in the final year of his tour. It refers to his profession as an architect, and sees him hold dividers in one hand and paper in the other. However, he is also presented as a man of wealth and discrimination, dressed in a silk and fur trimmed gown, at ease with his knowledge of the remains of the classical world that surround him. This type of magnificent portraiture was commonly associated with travelling aristocrats, rather than architects.
The portrait has the distinction of being the only known work of such a subject by the painter Zucchi, who was born in Venice and later worked on a number of decorative paintings for major interior schemes designed by the Adam brothers, before marrying the painter Angelica Kauffmann (1741-1807) in 1781 and settling with her in Rome.
The sculptures depicted in the painting behind James include the Medici Vase and a variant of the Giustiniani Minerva – revered examples of ancient art which could be studied in Rome and, it was felt, could inspire contemporary design. Panels of so-called grotesque ornament frame the niche in which Minerva stands.
The most significant object depicted is the capital (the sculpted top of a column) in the foreground, on which James rests his left arm. It looks at first like a work from antiquity, but is in fact taken from a sculpture design by James Adam. While in Italy he made detailed plans for re-building the Houses of Parliament in London in a neo-classical style, a project that was never realised. As part of this scheme, he produced detailed drawings for a new British architectural order of columns, and combined on them the Scottish unicorn (clearly visible here) with an English lion. The drawings he made were used as the basis for creating a model made of wax that was coloured bronze – and it is this object, which sadly no longer survives, that is depicted by Zucchi. It acted as an extraordinary advertisement for Adam's ingenuity as a designer and through the prominence of the unicorn, reminded his clientele of his Scottish heritage.
Until now James Adam has only been represented in the collection of the National Galleries of Scotland through a modest and informal drawing by Allan Ramsay (1713-84), while Robert Adam is the subject of two paste medallions by James Tassie (1735-99).
Zucchi's unique painted portrait complements his work as an engraver and decorative painter held in the V&A's collection.
17 Apr
Kevan Shaw – 2018 LIT Lifetime Achievement Award Recipient
Kevan's career in lighting began over 40 years ago, 30 of which have been at his firm, Kevan Shaw Lighting Design. His career began in stage lighting, which encompassed work with TV and industrial shows. From there, he moved to exhibition and architectural lighting design, forming KSLD in 1989.
When presented with the award, Kevan said "I am absolutely delighted to be honoured with this inaugural lifetime achievement award at such a young age! I have every intention of continuing my career in the same way as I have been, ensuring I remain worthy of this great honour."
Category Winners, Student Winners, and Honorable Mention Winners can all be viewed here: https://litawards.com/winners/ – social media: @litdesignawards
LIT will host it's ceremony with the 10th edition of the LEDforum in São Paulo, Brazil, which will be held the 15th to 16th of August.
LIT Trophies will be given to to Kevan Shaw, Flos, Licht Kunst Licht, Xiaoqing Long, and Adam Kostiuk.
2019 LIT Design Awards officially open May 1st, 2019. Final Deadline October 31st.
Karl-Heinz Schmitz on Architecture as a Public Commodity
23 April
Karl-Heinz Schmitz, architect and professor at the Bauhaus University, shares his views on public architecture as part of the Talks at the Lane series.
EAA CPD – Fire: Pitfalls and Compliance with Regulations, Edinburgh
24 April
More info on our events page.
29 Mar 2019
Shortlist for RIAS/RIBA Awards 2019
Royal Incorporation of Architects in Scotland announce 19 strong shortlist:
RIAS/RIBA Awards 2019 Shortlist
42nd annual series of Architectural Conservation Masterclasses, Edinburgh
Thursday 21 March 2019
The Royal High School: An Edinburgh Controversy
by John Lowrey and Stuart Eydmann
John Lowrey is a senior lecturer in architectural history at Edinburgh School of Architecture and Landscape Architecture (ESALA), part of Edinburgh College of Art within Edinburgh University.
More info on the Edinburgh Events page.
e-architect wins Best Design Media Award
1 Mar 2019 – e-architect was selected as a recipient of the Best Design Media Award. The selection was made by thousands of award winning designers who have indicated the very best design publications worldwide. Read our profile at:
Best Design Media Award
Indeglas News
1 Mar 2019 – A solid 2019 performance in prospect for Indeglas as it logs four new high-profile projects adding £1.25m of order value.
Indeglas, the Cumbernauld-based business recognised as a leading supplier of interior glass solutions, has started the new year with a healthy order book.
The Bayes Centre at The University of Edinburgh, which Indeglas worked on: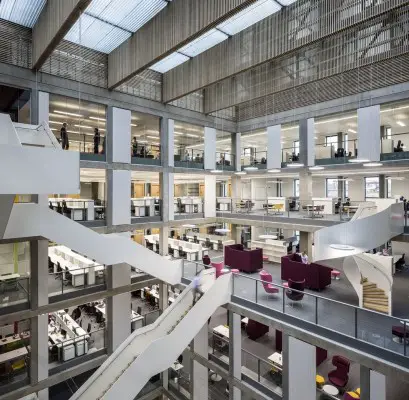 photo courtesy of Indeglas
The specialist contractor and sole distributor in the UK and Ireland for the products of award-winning glazed screen system, DEKO of Denmark, has announced this month that it is about to undertake four new high profile projects, worth a collective £1.25m.
The four projects are the new Forth Valley College Campus in Falkirk, Inverness Justice Centre, the University of Saint Andrew's PSR Building located in Guard Bridge, Fife and the University of Edinburgh's new Wellbeing Centre development in Bristo Square, Edinburgh.
Jeanette MacIntyre, MD at Indeglas: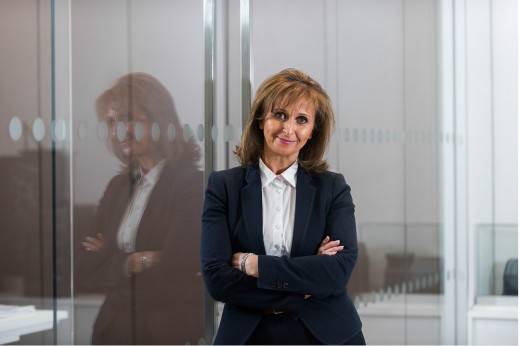 photograph courtesy of Indeglas
Jeanette MacIntyre, Managing Director of Indeglas, said: 'Securing these contracts demonstrates our ability to meet the design requirements of prominent architectural practices including Keppie Design, Reiach and Hall, Atkins Global and Page Park as well as aligning the construction stage accreditations we offer with the demanding supply chain requirements of top performing main contractors Balfour Beatty, Robertson Construction, Graham Construction and Morrison Construction.
"To be selected to undertake these contracts is a great privilege and we see it as a clear indication that Indeglas is rapidly becoming the preferred supplier of a growing number of the country's top performing decision-makers in construction."
In 2018 Indeglas completed a clutch of contracts worth over £840k on behalf of the University of Edinburgh, including complete glazed screen installations at the Joseph Black Building, James Clerk Maxwell Buildings, Charles Stewart House, Dalhousie Land, Chrystal MacMillan Building, Centre Building, Easterbush, Minto Building, New College and the Data Technology Institute (DTI), the final phase of the University's state-of-the-art Potterrow development.
Established 18 years ago, Indeglas designs project-specific glazed screen requirements and is unique in providing a full-service design, engineering, supply and installation service for leading-edge and bespoke internal glass solutions, fully backed up by a dedicated maintenance service throughout the UK for both the private and public sector projects.
Property Company of the Year News
1 Mar 2019 – Drum Property Group's position as one of the leading players in the Scottish and UK property industry has been further recognised after winning Property Company of the Year at the prestigious 2019 Scottish Property Awards, announced on Thursday (28 February 2019).
See our Glasgow Architecture News page for article in full
Architectural Conservation Masterclass, Edinburgh
'Conservation across cultures: An Indian Experience' took place on Thursday 28 February at Adam House Lecture Theatre, 3 Chambers Street:
New York city has more protected buildings than there are protected monuments under the Archaeological Survey of India. The heritage protection laws in India are either not fully understood or in some cases not fully enforced. With the fast and reckless pace of modern development and an exploding population in India, architectural conservation has taken on a different meaning.
See our events page for details.
Ross Fountain Renewal News
2 Feb 2019 – A small but highly effective Scottish engineering and design company has been behind the recently accomplished restoration and renovation of the dramatic Ross Fountain Restoration Edinburgh
Home builders question focus of Planning Performance statistics
2 Feb – Industry body Homes for Scotland has questioned the focus of official planning performance statistics, the latest of which report an average of 37 weeks being taken to decide major housing applications in the first half of 2018/19.
Issuing a plea for a more meaningful and inclusive approach to measuring the effectiveness of the country's planning system, Homes for Scotland Director of Planning Tammy Swift-Adams said:
"Legislation sets a target of 16 weeks for decisions to be made on planning applications for major housing developments – proposals which have the potential to ease the housing crisis. These statistics show, but the publication doesn't openly acknowledge, that the average time taken to make those decisions is more than double what it should be.
"Taking 37 weeks rather than 40.3 weeks to make a decision that should take 16 weeks is not a meaningful improvement in, or measure of, planning performance.
"The Planning Bill was an opportunity to establish a more enlightened way of looking at performance. However, the existing 'penalty clause', which Scottish Ministers could use (but as yet have not) to encourage better performance, has been removed from legislation at the request of authority representatives. It hasn't been replaced with anything new.
"The softer alternative set out in the first version of the Planning Bill, a government-appointed planning co-ordinator, could have provided a more useful and more collaborative way of working with planning authorities and their customers (both paying applicants and constituent communities). That has been removed from the Bill too, also at the request of authority representatives.
"It is no wonder, then, that Scottish home builders feel there is little prospect – with or without the Planning Bill – of achieving more support for home building from across Scotland's planning authorities.
"We need to develop a system of measurement that encourages the delivery of new housing sites on the ground, not just on paper. Planning authorities hold the key to whether the opportunities offered by Homes for Scotland members can get out of the starting blocks."
New Haddington Primary School Building
27 Jan – East Lothian Council appoint Morrison Construction to deliver an £8.6m school in Haddington as part of a wider development of 800 homes to the west of the town.
Letham Mains Primary delivers a total of 14 classrooms will be provided when the school opens its doors in summer 2020, with facilities including a dining hall, social space and twin court sports hall with retractable seating.
Architecture and Design Scotland: 4 New Board Members Required
25 Jan 2019 deadline
Scottish Ministers are looking to appoint four new members to the Board of Architecture and Design Scotland (A&DS). A&DS are interested to hear from architects and other related professions, as well as those with significant experience of communications, media or marketing as we look to build a new team to drive A&DS forward.
The advert for Board Appointments went live on Friday 14 December.
The deadline for applications is 25 January 2019.
Recruitment: We are looking for four new members of our Board
EAA CPD: Ecology & Geo-Environmental in Architectural Practice
Date: 30 January 2019, 17:45 – 19:30
Venue: West Court, ECA Main Building, 74 Lauriston Place, Edinburgh, EH3 9DF
Speakers: Mike Armitage and Phillip Thompson of REC (Resource & Environmental Consultants Ltd.)
Sustainable Construction Launch
Thursday, 31st of January 17:30 – 19:00
Venue: RIAS Bookshop, 15 Rutland Square, Edinburgh, EH1 2BE
Meet and greet with Sandy Halliday to celebrate the launch of Sustainable Construction (Second Edition). Sandy will give a short talk followed by a Q&A and book signing.
IR11 Events
Thursday, 31st of January 19:00 – 22:00
Venue: Skylight, 179 Canongate, EH8 8RN
Dai Jones: Some Day My Prints Will Come
Brian Cheeswright: Ether Ore
Manuel Minch: There Is No Alternative
Architecture and Design Scotland Board Members Required
Scottish Ministers are looking to appoint four new members to the Board of Architecture and Design Scotland (A&DS). A&DS are interested to hear from architects and other related professions, as well as those with significant experience of communications, media or marketing as we look to build a new team to drive A&DS forward.
The deadline for applications is 25 January 2019: https://www.ads.org.uk/board_recruitment/
Unravelling the spirit of place at Edinburgh's Old College
The first session of the 42nd annual series of Architectural Conservation Masterclasses took place on Thursday:
Tom Addyman – Unravelling the spirit of place at Edinburgh's Old College
This masterclass explored the history and significance of 500 years of education on the site of Edinburgh's Old College, corroborating findings from historical sources, historical building surveys and a major archaeological programme.
16 Dec + 2 Nov 2018
The Fruitmarket Gallery Redevelopment
The Fruitmarket Gallery, Edinburgh has appointed Reiach and Hall Architects to lead the refurbishment of its existing gallery building and the opening-up of the neighbouring warehouse building. The project will breathe new life into The Fruitmarket Gallery, and bring the adjacent building into active cultural use.
The Fruitmarket Gallery Redevelopment
14 Dec 2018
Edinburgh Architectural Association Awards News
CALLS FOR ENTRY ARE NOW OPEN FOR THE PRESTIGIOUS ANNUAL EAA AWARDS FOR ARCHITECTURE
The awards showcase and celebrate the very best architecture in the chapter area and beyond, which enhances the built environment and people's lives, regardless of size, form or budget.
The awards are also open to chartered architects working in other areas of the UK, who have completed projects within the chapter area.
Short-listed entries will be displayed, and the winners announced and presented with their awards at a special reception at St Cecilia's Hall in May 2019 (winner of the 2018 Regeneration & Conservation Award).
An exhibition of all short-listed entries will be held in the RIAS Joyce Deans Room at 15 Rutland Square in the run up to the awards event.
2018 EAA Building of the Year Winner – New Boroughmuir High School by Allan Murray Architects
Entries for the following award categories are invited:
*Large Project
*Small Project
*Regeneration & Conservation
*Wood Award
EAA Ambassador
*All entries built within the chapter area are eligible for the 
highest accolade of Building Of The Year.
To enter please complete the online submission form
or download the hard copy submission form
Full entry information please download the terms and conditions:
Terms and Conditions
Closing date for entries is 16:00 Tuesday 29th January 2019
'Edinburgh Architectural Association' (known as EAA) is a Scottish Charity SC001369 regulated by the Scottish Charity Regulator (OSCR)
12 Dec 2018
RIAS / RIBA Awards for Scotland 2019
Entries invited for the RIAS / RIBA Awards for Scotland 2019.
The deadline for entries is 21 February 2019:
RIAS / RIBA Awards for Scotland 2019
11 Dec 2018
Seize huge housing opportunities builders urge Scottish Government
As the level of housing completions continues to head in the right direction according to statistics published today, the country's home building industry urged the Scottish Government to build on this positive news to enable it to deliver more of the homes Scotland's growing population needs.
********************
Edinburgh Architecture News Archive
Edinburgh Building News archive links below:
Edinburgh Architecture News Jul – Dec 2017
Edinburgh Architecture News Apr-Jun 2017
Edinburgh Architecture News Jan-Mar 2017
Edinburgh Architecture News 2016 – Archive for July to October
Edinburgh Architecture News Mid 2016 – Archive for May to June
Edinburgh Architecture News Early 2016 – Archive for the early part of the year
Edinburgh Architecture News 2015 – Archive
Architecture in Lothian
Scottish Parliament entrance: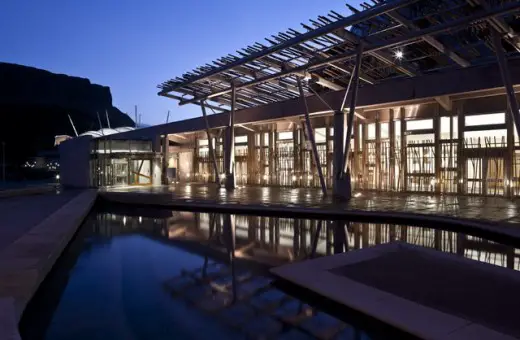 Website: Edinburgh, Scotland
Website: Edinburgh
Comments for the Edinburgh Building News 2019 page welcome
Website: Edinburgh, Lothian