Arts Funding Prize Building, Architect, Winners, Project, Images, Design, Info
Arts Funding Prize Edinburgh News
Arts Funding Prize : Edinburgh Development, Scotland
Arts Funding Prize News in 2010
Edinburgh Sculpture Workshop scoops £3M prize
Sutherland Hussey Architects' proposal for the Edinburgh Sculpture Workshop has been named the winner of the £3M Arts Funding Prize for Edinburgh.
The £3M prize will fund the creation of ESW's Creative Laboratories, a world class research and production facility at its Newhaven site.

picture from SHA
The Creative Laboratories will be a unique new building situated alongside Edinburgh Sculpture Workshop's new sculpture centre. It is expected to open in 2013.
The Creative Laboratories will provide a mix of indoor and open-air workspaces around a central courtyard. Together with the sculpture centre, the Laboratories will create a vibrant cultural hub of benefit to the whole city. The addition of viewing areas and a café will open up the space to visitors.
Irene Kernan, director of Edinburgh Sculpture Workshop, said: "This is an amazing opportunity for Edinburgh Sculpture Workshop which will enable us to fulfil our ambitions to create a world class sculpture centre in the city. We are very fortunate to have an internationally renowned architectural practice on our doorstop in Sutherland Hussey Architects. The Arts Funding Prize represents a major investment in future generations of artists and will be a major resource for our local community in Newhaven as well as the city as a whole."
ESW's Creative Laboratories beat off stiff competition for the prize from the Scottish Book Trust and Edinburgh College of Art. 26 Oct
Arts Funding Prize
19 May 2009
In November 2008, the Scottish Community Foundation released details of the £3M Arts Funding Prize for Edinburgh. The £3M prize – funded by an anonymous donor – is to create a new or refurbished building of both architectural and cultural merit that will be a home to artistic activity. The competition caused a flurry of interest in the city's arts community when it was launched, with 28 organisations noting their interest.
Thirteen projects submitted completed applications at the end of April, including Edinburgh Sculpture Workshop, to create a centre of national importance; the Queen's Hall, to refurbish the existing space and turn it into a world class venue for live music; redevelopment of Morningside Church into a centre for performing arts for Edinburgh Napier University; refurbishment of the Leith Theatre, to create a contemporary arts and culture centre for Edinburgh and the Demarco Archive Trust, to house the Demarco Collection and create a gallery space and lecture theatre for Telford College students.
All thirteen submissions will be considered by the notable judging panel, and the shortlist of applicants that will proceed to Stage 2 will be announced on 30 June 2009.
Sitting on the judging panel are Professor Charles McKean, professor of Scottish Architectural History at Dundee University; Rt. Hon Lord William Prosser, former Chairman of Royal Fine Art Commission for Scotland and distinguished architect Isi Metzstein, a former professor at Edinburgh School of Architecture. The panel will be chaired by Bob Benson, a trustee of the Scottish Community Foundation. Colin Liddell, a charity law specialist and Foundation trustee, will also sit on the panel.
Between two and five projects are expected to be short-listed to progress to the second and final stage of the competition. Entrants will then be required to develop their proposals in detail, with funding of up to £10,000 available to assist each of them in doing so. The Stage 2 deadline is 30 April 2010, and the winner will be announced during the summer of 2010.
Bob Benson, chair of the £3M Arts Funding Prize judging panel and trustee of the Scottish Community Foundation, said: 'The £3M prize has proved to be a tantalising prospect for many arts organisations in the city. The Stage 1 applications show the diversity of the arts scene in Edinburgh, and appetite to improve accessibility to the arts for residents and visitors to the city.
'The Scottish Community Foundation is delighted to be coordinating the Arts Funding Prize. We specialise in distributing funds on behalf of donors, and helping them reach their philanthropic goals. In this case, the donor is keen to fund a capital project which will be a lasting and worthwhile addition to the arts in Edinburgh. From the applications we've received, I do believe that is achievable.'
Arts Funding Prize for Edinburgh – Background Information
All thirteen projects, including eight projects not named, will be considered by the judging panel.
The Scottish Community Foundation
The Scottish Community Foundation works with people and organisations to help them give to good causes effectively and inexpensively.
We provide administration and management support services to make their charitable giving easy and tax-efficient. We also offer our clients independent advice on charitable giving and a professional grant-making service, which links them to exceptional charities that are seeking funding.
On behalf of our donors, we distribute almost £4 million a year making us one of the largest funders of the voluntary sector in Scotland. Our knowledge of the sector allows us to find lesser known charities, including community groups, ensuring our awards make an impact and create lasting change.
Edinburgh Architecture
RBGE Edinburgh Biomes
RBGE Edinburgh Biomes Construction
BHS Building Redevelopment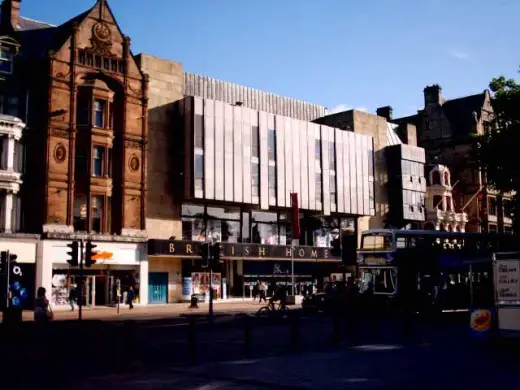 image courtesy of architecture practice
New Club BHS Edinburgh Building
Comments / photos for the Arts Funding Prize Edinburgh Architecture page welcome