Edinburgh Bioquarter Building, Scottish Life Science Cluster, New Campus Design Images
Biomedical Research Centre : Edinburgh Bioquarter
Alexandria Real Estate Equities development, Scotland
7 June 2022
Lord Provost marks Usher building milestone at topping out celebration
Construction of a world-class research and teaching facility at Edinburgh BioQuarter has reached its highest point:
Usher Building Edinburgh Bioquarter
9 Feb 2012
Edinburgh Bioquarter Nine Building
First tenant confirmed at Edinburgh BioQuarter's Nine building
Edinburgh BioQuarter's £24 million bio-incubator and multi-occupancy building, known as Nine, has secured its first tenant – Edinburgh-based life sciences company, Fios Genomics.
This announcement comes as life sciences companies across Scotland and beyond converge to celebrate the sector's success at the annual Life Sciences Awards and dinner in Edinburgh.
Nine, The BioQuarter: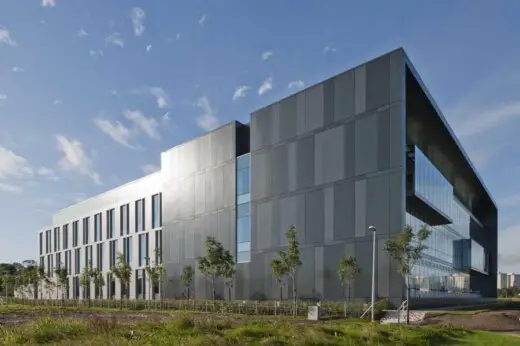 photo from Scottish Enterprise
Fios Genomics is a leading bioinformatics company providing biomarker analysis services for applications in drug discovery & development, diagnostics and human health. The company will occupy over 700 sq ft of the 85,000 sq ft facility.
Since 2008, Scottish Enterprise has supported the efforts of Fios Genomics by providing integrated tailored business growth assistance including help to market overseas, website development, innovation support including a SMART: SCOTLAND award, and assistance for a £0.5 million equity investment round led by Archangel Informal Investments, with co-investment from Scottish Enterprise through its investment arm, the Scottish Investment Bank.
Currently based at the Edinburgh Technology Transfer Centre at the University of Edinburgh's Kings Buildings campus, the company's decision to move to Edinburgh BioQuarter supports its expansion plans and provides a high calibre environment to deliver its international growth ambitions.
Fios Genomics chief executive, Dr Bill Buckie, said: "The support from our investors and from Scottish Enterprise has been vital in driving the growth and development of the company; the location of the company at Edinburgh BioQuarter is another part of our ambitious plans to be a leader in our field."
Scottish Enterprise life sciences director Rhona Allison, said: "I'm delighted to welcome Fios Genomics to our new facility, Nine.
"This flagship initiative is one of the cornerstones of Scotland's life sciences sector's aspirations for growth and the decision by Fios Genomics to locate here demonstrates the real value the expertise and capabilities at Edinburgh BioQuarter bring to enabling cutting edge companies to thrive and grow."
Towards the end of last year, Nine was completed to shell and core condition and is now nearing the end of its internal fit-out. Such strong early market interest underlines confidence in Edinburgh BioQuarter as an emerging location for the thriving life sciences industry.
Nine is a £12 million Scottish Enterprise project supported by £12 million funding from the UK Strategic Investment Fund. It forms part of the wider flagship Edinburgh BioQuarter project involving Scottish Enterprise, Alexandria Real Estate Equities Inc, the University of Edinburgh, NHS Lothian and the City of Edinburgh Council.
8 Sep 2011
Edinburgh Bioquarter Building
Edinburgh BioQuarter's new multi occupancy building completes on schedule
Work on Scottish Enterprise's £24 million bio-incubator and multi occupancy building, known as Nine, The BioQuarter, has been completed to shell and core condition.
Design and construction of Nine, The BioQuarter started in June 2010 with a visit to the site by Nicola Sturgeon, Scottish Cabinet Secretary for Health and Wellbeing.
Nine, The BioQuarter: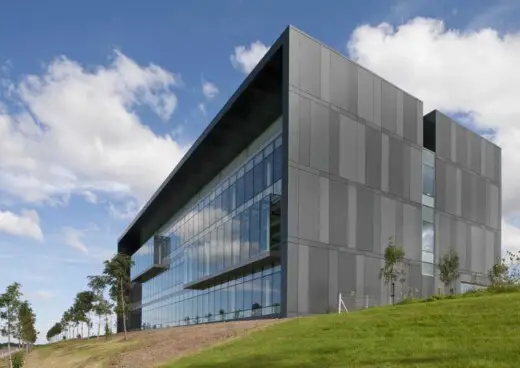 photo from Scottish Enterprise
Nine, The BioQuarter is an integral part of Edinburgh BioQuarter's plan to combine Edinburgh's reputation for clinical and academic excellence with commercial facilities for new companies, growth companies and established leaders in the bio-pharmaceutical industry. Edinburgh BioQuarter is one of Scotland's flagship life sciences initiatives which brings together world leading research capabilities, an 870-bed teaching hospital and a world-leading clinical imaging centre at Little France on the outskirts of Edinburgh.
Nine, the BioQuarter will offer office space and laboratories fitted out to category two standard for growing companies and new spin-outs from Edinburgh BioQuarter's research and clinical assets. The ground floor will also provide support facilities for tenants, including shared incubator facilities, meeting rooms and a café. Fit out of the ground floor will commence in early September and will be completed early next year.
Two further floors of accommodation for laboratory and/or office fit-out are available to let immediately to life science companies seeking to take advantage of the wide range of world-class research on offer, either through partnerships, collaborations or joint ventures with the University of Edinburgh and researchers at NHS Lothian.
Scottish Enterprise's senior director for life sciences, Rhona Allison said: "As we reach the final stages of construction for this project, we're positive about the significant development this building represents for Scotland's entire life sciences sector."
"Edinburgh BioQuarter shows how our support can create an environment for academics and clinicians to develop collaborative ventures with the private sector more effectively than ever before."
Nine, the BioQuarter is adjacent to the University of Edinburgh's Scottish Centre for Regenerative Medicine, the Royal Infirmary of Edinburgh, the University's Medical School and The Queens Medical Research Institute. Work on this building has been supported through a £12 million investment from the UK Strategic Investment Fund and matched funding of £12 million from Scottish Enterprise.
For further information on the Edinburgh BioQuarter and its property opportunities, please contact the following:
DTZ: James Thomson – tel: 0131 222 4545 or email: james.thomson@dtz.com
CBRE: Allan Matthews – tel: 0131 243 4153 or email: allan.matthews@cbre.com
Scottish Enterprise: Virginia Herriot – tel: 0131 313 6213 or email: virginia.herriot@scotent.co.uk
Edinburgh BioQuarter: James Wood – tel: 0131 242 9249 or email: james.wood@bioquarter.com
About Nine, The BioQuarter
The 8,500 sq m bio-incubator and multi-occupancy building, designed and constructed by Michael Laird Architects, Sir Robert McAlpine, Arup, Faithful and Gould and Roberston Group is on schedule for its official opening in early 2012.
About Edinburgh BioQuarter
At the heart of Scottish life sciences, Edinburgh BioQuarter is a joint venture between Alexandria Real Estate Equities, Inc, the NHS, the University of Edinburgh and Scottish Enterprise. Edinburgh BioQuarter commercialises world-leading medical research and brings investors, ideas and companies together at the BioQuarter campus on the outskirts of Edinburgh. www.edinburghbioquarter.com
2 Aug 2011
Edinburgh Bioquarter Design
Edinburgh Bio Quarter Expansion
Edinburgh BioQuarter expansion plan underway
Renowned Scottish architect, Allan Murray, has been appointed to lead an ambitious masterplanning project to expand Scotland's flagship life sciences development, Edinburgh BioQuarter.
The appointment, which was made on behalf of Edinburgh BioQuarter partners, Scottish Enterprise, University of Edinburgh, NHS Lothian and Alexandria Real Estate Equities Inc, will see Allan Murray Architects launch a public consultation exercise and develop a masterplan to expand the £600 million project which aims to position Edinburgh as one of the world's top ten hubs for life sciences research and development.
Edinburgh BioQuarter site – aertial view:



photo from Scottish Enterprise
David Leven, business infrastructure team leader at Scottish Enterprise said "This is another exciting milestone in the development of Edinburgh BioQuarter. It is vital that Scotland has a business environment that supports the forecast growth of our life sciences sector and can compete over the long term with other international locations for investment. This next phase will create further opportunity for world-leading clinical, academic and commercial expertise to be concentrated at the BioQuarter and will further enhance its reputation as a global centre of excellence for life sciences."
The appointment of Allan Murray Architects follows the successful resolution of a number of complex property transactions last year between public and private sector organisations which cleared the path for this development and the wider regeneration of south-east Edinburgh.
This next phase of the BioQuarter project will include 100,000 sq m of development capacity for the BioQuarter partners and is expected to be located adjacent to a new private hospital, care home and care village at Edmonstone.
Allan Murray, chief executive of Allan Murray Architects said "We're delighted to be leading the masterplanning exercise for the expansion of the Edinburgh BioQuarter project. The project team, led by ourselves and supported by GVA, Colin Buchanan and WSP brings over 15 years of architectural experience to help make this project a world-leading success reaping substantial economic benefits for the Scottish economy."
To date, the BioQuarter has engaged a team of experienced life sciences business professionals and is preparing its first companies for deals with investors, as well as negotiating the first major collaborative agreements with international bio-pharmaceutical companies.
The BioQuarter is home to the Scottish Centre for Regenerative Medicine, which is on schedule to open in late 2011, providing one facility for 650 researchers focused on the application of stem cell research to conditions such as Parkinson's disease, diabetes and heart disease. In early 2012, Nine, the BioQuarter, will open, offering 10,000 sq m of office and lab space dedicated to start-ups and established life science companies.
Edinburgh BioQuarter architect : Allan Murray Architects
3 Jun 2011
Edinburgh Bioquarter News
Edinburgh Bio Quarter Shortlist




images : Alan Dunlop Architects / Erz
Shortlisted Edinburgh Bioquarter design (one of two shortlisted) by Alan Dunlop Architects
Alan Dunlop, Morgan Sindall and Erz have put their experience being shortlisted for the Edinburgh Biomedical Masterplan Phase 4 to good use by developing laboratories for the 21st Century.
Although their proposal was aimed mainly at incorporating 100,000m2 of building on a very sensitive site, dating back to the 13th century, Dunlop says" I think that the lab design we developed is perfect. It seemed to us that there are lots of opportunities for linking such a structure to create interesting layouts and variety, social spaces and support particularly on plan and in height, linked to landscape.
We were influenced by Kahn, of course at Salk. However, from our experience as architects, designers and landscape architects and Morgan Sindall's expertise in lab design we're generating much interest in developing it for use elsewhere".
It would be easy to build and employ a simple structural solution that could be exported abroad to developing countries through the Red Cross / UN / Medicin sans frontieres /
Edinburgh Bio Quarter Proposal Design Team
Architect: Alan Dunlop Architects
Landscape: Erz
Project Managers: Morgan Sindall
Edinburgh Bioquarter
Information from Scottish Enterprise May 2007
Leading US life science property specialist appointed to drive Scotland's bioscience industry
7 May 2007
Scottish Enterprise announced today (Monday 7 May) that is has formed a strategic alliance with North America's leading life science property specialist to develop one of Europe's top centres for biomedical research and development.


picture from Scottish Enterprise
Following a competitive tendering exercise, Alexandria Real Estate Equities, Inc (NYSE: ARE), Landlord and Developer of Choice to the Life Science Industry®, has been selected as the development partner for the commercial research campus at the Centre for Biomedical Research, a collaboration between Scottish Enterprise, the University of Edinburgh and NHS Lothian.
Development at the Little France site on the outskirts of Edinburgh is expected to generate £250 million of investment and create 6,500 new jobs.
Planning permission has already been granted for approximately 1.4 million square feet of academic, institutional and commercial life science space on the 100 acre site. Alexandria has exclusive rights to develop a top life science cluster for a broad spectrum of bioscience entities. Working in partnership with the National Health Service and the University of Edinburgh, Scottish Enterprise and Alexandria will capitalise on the strong existing life science infrastructure to create a world-class destination that will connect Scotland to the world's most important life science markets.
The campus is being rebranded as Edinburgh BioQuarter with Alexandria and Scottish Enterprise aiming to create one of the most internationally attractive clusters for the life science industry, joining the elite club of top world-wide locations such as, Biopolis in Singapore, Mission Bay in San Francisco , Technology Square @ MIT in Cambridge and Novum Biocity in Stockholm. Once complete, the project is expected to generate an additional £350 million per annum for the Scottish economy.
Alexandria, which is the pre-eminent and largest dedicated life science property specialist in North America, owns and operates more than 11 million square feet of office/laboratory properties, including such world class destinations as Technology Square @ MIT in Cambridge, Massachusetts. It also has more than six million square feet of office/laboratory space currently under development, including Mission Bay in San Francisco and the East River Science Park in New York City.
Alexandria's business model is to create and grow life science clusters in markets where there are strong academic, medical and research institutions, as well as a first class talent pool and strong capital base. Its leading brand and reputation as the Landlord and Developer of Choice for the Life Science Industry® is expected to generate substantial interest in Edinburgh BioQuarter from some of the most important life science companies world-wide.
This is the first time that Alexandria has invested in property development outside of North America and the company separately announced that it will also establish its initial European headquarters in Scotland as a result of the strategic alliance with Scottish Enterprise.
Announcing the strategic alliance at BIO in Boston, Jack Perry, chief executive of Scottish Enterprise, says: "The scale of Edinburgh BioQuarter has never been seen before in the UK life science sector. What makes this project unique is not just its size but the fact that it is located directly adjacent to both the Royal Infirmary of Edinburgh and the internationally renowned University of Edinburgh's medical school and Queens Medical Research Institute."
Jack Perry went on to say, "Alexandria's reputation for outstanding life science cluster development combined with Scotland's reputation for producing outstanding science will act as a magnet for some of the world's leading scientists, researchers and companies to locate here and is a key part of Scottish Enterprise's strategy to ensure that Scotland can compete with the best in Europe and around the world for new investment and new jobs."
Alexandria will immediately start planning for the first building on-site – an approximately 80,000 square foot multi-occupancy building. The flagship centre will include Alexandria's unique range of state of the art facilities and proprietary products and services designed to foster the development of a broad and diverse life science sector. These proprietary elements include:
The Scottish Technology AcceleratorSM, which bridges the gap between research and commercialisation; a Bio Hot Rack LabSM, which will offer scientists and researchers short-term access to lab space and work equipment to conduct exploratory research; and an Innovation Centre, which will house emerging and mid-stage companies working in a collaborative environment.
The multi-occupancy building will also offer highly flexible and adaptable space for more established companies and is expected to be completed in 2009.
Alexandria will also begin planning for the remaining commercial plots, which will include a second multi-occupancy building for larger tenants, as well as customised accommodation for large international companies and build-to-suits for established entities in the life science industry.
"We are extremely proud and honoured to have been selected by Scottish Enterprise to spearhead this world class effort to create a leading life science cluster in Scotland," said Joel. S. Marcus, chief executive officer of Alexandria. "We were attracted to Edinburgh BioQuarter due to its renowned medical institutions such as the Royal Infirmary of Edinburgh and the University of Edinburgh's College of Medicine and the Queen's Medical Research Institute.
In choosing Edinburgh, we will be adhering to our strategy of developing in a community rich with reputable, highly recognisable research and academic entities, as well as a great talent pool and strong capital base – the anchors of a thriving life science community.
We believe Edinburgh BioQuarter will become a life science magnet that not only supports local emerging biotechnology companies, but will attract some of the larger international life science companies as well. We look forward to applying our successful life science cluster business model to this effort to create a world-class destination of choice for the industry."
Edinburgh BioQuarter aims to provide a hotbed of collaboration where industry can work alongside academia and clinicians to develop a "bench to bedside" approach to the development of new drugs and better healthcare treatments for the 21st century.
This co-location will be unique in the UK and companies locating to Edinburgh BioQuarter will be able to capitalise on the research expertise of the University of Edinburgh as one of the world's top 20 universities for biomedicine and the Royal Infirmary of Edinburgh, which is already regarded as an international centre of excellence for clinical trials.
As well as the commercial research park, a further 500,000 square feet of academic research space is to be developed at Edinburgh BioQuarter by the University of Edinburgh, including the recently announced £60 million Scottish Centre for Regenerative Medicine.
Professor James Barbour OBE, chief executive of NHS Lothian, said: "This is an exciting development that emphasises the scale and significance of the biomedical sector in Scotland and indeed Europe. The Royal Infirmary of Edinburgh is a centre of excellence, enjoying close and productive links with the University of Edinburgh Medical School.
Research is the tool that helps drive major improvements in healthcare. This is a significant development for the City of Edinburgh and the Lothians and NHS Lothian is proud to be a key partner in this important development which will quickly establish itself on the world biosector stage."
Professor John Savill, head of the University of Edinburgh's College of Medicine and Veterinary Medicine, added: "The University of Edinburgh is proud to be a key partner in such an exciting initiative for biomedical research in Scotland. The new campus will provide an environment in which our scientists can work in close collaboration with commercial partners to ensure that the groundbreaking research we undertake in life sciences is put to the best possible use.
"Some of our research genuinely has the potential to change people's lives for the better, with applications across a wide range of medical conditions. Initiatives such as the Edinburgh BioQuarter will ensure that the University's scientific discoveries and innovations in the field of biomedicine can be developed for the future in the most efficient way possible."

Edinburgh Bioquarter image / information from Scottish Enterprise May 2007
Edinburgh Bioquarter Development Partners
About Scottish Enterprise
Scottish Enterprise is the main economic development agency for Scotland covering 93 per cent of the population from Grampian to the Borders. The Scottish Enterprise Network consists of Scottish Enterprise and 12 Local Enterprise Companies.
Working in partnership with the private and public sectors the Network aims to build more and better businesses, to develop the skills and knowledge of Scotland's people, and to encourage innovation to make Scotland's businesses internationally competitive.
About Alexandria Real Estate Equities, Inc.
Alexandria Real Estate Equities, Inc., Landlord and Developer of Choice to the Life Science Industry®, is a publicly-traded real estate investment trust focused principally on the ownership, operation, management, selective redevelopment, development and acquisition of properties for the life science industry.
Its properties are designed and improved for lease primarily to institutional (universities and independent not-for-profit institutions), pharmaceutical, biotechnology, medical device, life science product, service, biodefense and translational medicine entities, as well as governmental agencies.
Edinburgh Biomedical Centre : Medical Masterplan



Edinburgh Biomedical Building: photo from keppie architects
Keppie Design's £200m masterplan for a Centre for Biomedical Research at
Little France, Edinburgh has been given the go-ahead following a "breakthrough" land agreement. The pioneering project is expected to create 6000 jobs and will inject almost £500m a year into the national economy. The 100 acre site will be built over a 15 year period and is supported by Scottish Enterprise Edinburgh and Lothian, which will invest £23m in the centre.
The design vision for the proposed Centre for Biomedical Research at Little France is the creation of an ordered, stimulating and diverse environment with a landscape and infrastructure framework that can suggest and sustain development on a phased basis. An essential feature of this plan is the location of the Research Centre right next to the new Edinburgh Royal Infirmary and University of Edinburgh Medical School, both of which are Keppie Design projects.
This close physical proximity will create an environment that positively encourages collaboration and interaction between researchers in different disciplines, and particularly between scientists and clinicians, as well providing an integrated teaching environment for medical students, allowing them a unique education combining traditional teaching with clinical patient care and current research.
Shared communal spaces such as libraries, canteens, seminar rooms etc will help increase the level of interaction between scientists, clinicians, students and commercial and academic researchers. The integrated campus allows all areas to be accessed on foot.
The Biomedical Research masterplan illustrates the University Campus as the pivotal element of the whole development, allowing the necessary linkage between hospital and commercial research facilities to develop through an integrated framework of sensitively designed open spaces. These spaces recognise and embrace the areas unique topographical character.
The Edinburgh Biomedical research park, which will inject £440m into the economy every year and will create 6000 jobs has been described as one of Scottish Enterprise's 40 High Impact Projects in their 2003-2004 Five Year Investment Plan. The Centre for Biomedical Research is one of four key project types highlighted by SE for development and Keppie Design is also involved in two others – the regeneration of the Clyde Waterfront, with its flagship office building at 200 Broomielaw and the creation of the Dundee Digital Medical Campus, where the company is redeveloping the old Seabraes Mill.
Centre for Biomedical Research: Building PR Apr 2004
Centre for Biomedical Research
Work has begun on a medical research centre in Edinburgh. Contractors have started building the Edinburgh University Research Institute for Medical Cell Biology at Little France.
04.04.03
University Research
£52m medical research centre proposal unveiled: next to Edinburgh's new Royal Infirmary.
03.12.02
Edinburgh Architecture
Research Institute for Medical Cell Biology, Little France
£52m medical research centre (construction cost £34m): a 3-storey concrete building, on site of new Royal Infirmary, providing laboratory accommodation for 620 research staff, now 70% complete (Dec 2004). The Medical Cell Biology Research Building is parallel with Craigmillar Castle Road at the west end of the site, to the left from the entrance off Old Dalkeith Road
Edinburgh Bioquarter context : Royal Infirmary of Edinburgh
Comments / photos for the Scottish Life Science Cluster page welcome