Barratt, Bellway Homes, AB Hamilton, Scottish Developments, Images
Granton Masterplan, Edinburgh
Waterfront Edinburgh Masterplan, Granton + Leith Docks, Scotland
Granton Homes
Forthquarter



AB Hamilton images provided by Forthquarter

Barratt Homes image provided by Forthquarter
Plans for more than 300 flats by Barratt Homes, Bellway Homes and AB Hamilton on aGranton Waterfront plot were lodged with CEC Planning Oct 2004 by Forthquarter



Barratt Homes images from Forthquarter
Waterfront Edinburgh – Llewelyn-Davies Masterplan
Editorial: April 2001
Our first interview was on 18th April with Andrew Russell, director of Waterfront Edinburgh who explained some of the thinking behind the Granton Masterplan, and its relationship to the adjoining masterplans for both Leith Docks (Forth Ports plc) and the Gasometer site (Lattice, formerly British Gas Property): interview online 23 April.
Last month we posed the question: "Ronaldson's Wharf is now through planning, and the Granton Masterplan is about to be submitted: what do the Leith and Granton communities think about these developments?" We attended the Harbour Community Council meeting on April 10th at the Holiday Express Inn, Leith, in order to gauge the views of the local community and councillors.
The reaction to the Ronaldson's Wharf scheme presented by Patrick Dignan of Dignan Read Dewar was hostile. Since we posed the question above, new images of the Ronaldson's Wharf scheme, and of the Lindsay Road housing (on the site of Graham's Heavyside/Lightside), have been released, and announcements indicate the Ocean Terminal will open on schedule in early October.
Locals are still curious to know about the vast tracts of land on the Western Breakwater (adj. the sports club, from Newhaven harbour to the Western Harbour locks), known asOcean Heights. Will there be schools, community facilities, designed green spaces, and walkways/cycleways? Who is the housing aimed at, and will there be any social housing? How will the increase in traffic be accommodated? How will the public transport strategy be integrated with neighbouring masterplans and the City's proposals? We aim to ask these questions in our second interview in the series.
Unconnected with the three masterplans are issues mentioned in the last Editorial – "now that Morrisons (adj Malmaison Hotel Leith), Mowlem (Water St.) and Port of Leith (Coburg St.) have all taken a bite out of the few green spaces left in Leith, has the fight to save public amenity by the Shore been lost?" We will attempt to unravel local feelings to these projects as well over the next month. May's Editorial will ideally focus on other parts of the city: if there any issues that concern you, please don't hesitate to contact us.
Rosslyn Chapel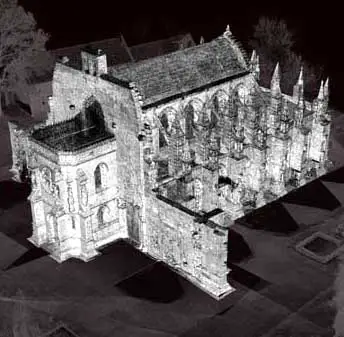 picture from the architect
St Peter's Church



photograph : Keith Hunter
Fraser Suites Edinburgh



picture from the architect
Comments / photos for the Granton Masterplan Edinburgh Architecture page welcome