Lothian Regional Council HQ by Robert Matthew, Edinburgh City Building Photo
Lothian Regional Council HQ
George IV Bridge Architecture, off the Royal Mile in the heart of the Old Town
post updated 28 July 2021
Former Lothian Regional Council Headquarters
Original building by Robert Matthew Johnson-Marshall & Partners
Location: George IV Bridge / Royal Mile, Old Town, Edinburgh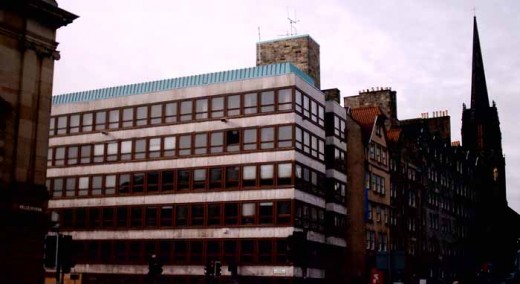 George IV Bridge building photograph © Adrian Welch, 2005
Redeveloped as Hotel Missoni by Allan Murray Architects
Halifax Bank of Scotland (HBOS) plans to redevelop the five-storey Scottish Parliament offices – former Lothian Regional Council HQ [Robert Matthew Johnson-Marshall & Partners, 1968] – off the Royal Mile into a £7m complex to include a four-star hotel, shops, two restaurants and a 'flagship' banking branch opposite its headquarters on the Mound.



Lothian Regional Council building photos © Adrian Welch 2005
HBOS wishes to demolish much of the parliament's offices leaving only the structural framework, such as steel trusses. Allan Murray Architects are working with developers The Kilmartin Property Group. The new building should include a 700sq m retail area. The centrepiece is to be a 110-bedroom luxury hotel, to be run in partnership with a four-star hotel chain.
George IV Hotel Development
Historic Scotland called for this Robert Matthew building to be retained and the Cockburn Association call for a design competition.
Robert Matthew, Architect: Robert Matthew Johnson-Marshall & Partners
New Club – British Home Stores, Edinburgh
Edinburgh Airport, Edinburgh
Lothian Regional Headquarters, Edinburgh
Royal Commonwealth Pool, Edinburgh
Wester Hailes Education Centre, Edinburgh
Robert Matthew: Introduction
Robert Matthew [1906 – 75] was London County Council (LCC) Chief Architect. Matthew made his reputation working for the LCC and was instrumental in creating one of the UK's key 20th century buildings – New Zealand House – off Pall Mall, London. Matthew had graduated from Edinburgh College of Art and he returned to Scotland in 1953.
Robert Matthew: Career
Robert Matthew had grown up in Edinburgh. Robert's father, John Matthew, was the partner of Sir Robert Lorimer (1864 – 1929). He had designed several buildings for the University of Edinburgh at the King's Buildings campus.
After college Matthew apprenticed with Lorimer & Matthew in the 1930s. In 1936 Matthew joined the Department of Health (Scotland), becoming their Chief Architect by 1945.
Robert was appointed Architect to London County Council in 1946, but returned to Edinburgh to become the first Professor of Architecture at Edinburgh University (1953-1968). Matthew established a new Architecture Department. He advised the University of Edinburgh on the redevelopment of George Square. He also designed the David Hume Tower on the north side of George Square, located opposite the Basil Spence University Library.
Matthew also designed Edinburgh's Turnhouse Airport, London Festival Hall and masterplanned Islamabad, Pakistan's new capital. Robert Matthew served as President of the Royal Institute of British Architects, the International Union of Architects and the Commonwealth Association of Architects.
RMJM Designs
RMJM Architects – Featured Projects
Scottish Parliament, Edinburgh New Town
British Home Stores, Edinburgh Old Town (design by architect Robert Matthew)
Newcastle College
Homes for the Future, Glasgow
Falkirk Wheel, near Falkirk
Tron Theatre, Glasgow
Glasgow Harbour – various buildings
Lothian Regional Council, Edinburgh (Robert Matthew) – this page
Hume Tower, Edinburgh (Robert Matthew)
Robert Matthew, Johnson-Marshall & Partners
Robert Matthew established the architectural practice of Robert Matthew Johnson Marshall (now RMJM), with Sirrat Johnson-Marshall, in Edinburgh and London in 1956. The company now operates internationally and is one of the
largest architecture practices in the UK.
Robert Matthew was the winner of the RIBA Gold Medal in 1970.
Lothian Regional Council HQ context – National Library Edinburgh
Comments / photos for the Lothian Regional Council HQ Edinburgh Architecture page welcome