Meadowbank Stadium Edinburgh, Sport Facility, Redevelopment News, Photos
Meadowbank Stadium : Edinburgh Sports Arena
post updated 10 March 2022
Meadowbank Regeneration Development
GRAHAM-led EDMB Group awarded Meadowbank regeneration development project
10th of March 2022 – A consortium of GRAHAM, Miller Homes and Panacea Property Development has been appointed by the City of Edinburgh Council to deliver a multi-million-pound regeneration housing development at Meadowbank.
The partnership, known as Edinburgh Meadowbank Group (EDMB), was formally approved by the Council's Finance and Resources Committee (Thursday 3rd March 2022) to create one of the capital's "greenest neighbourhoods" by incorporating low-car, low-carbon infrastructure with energy efficient homes.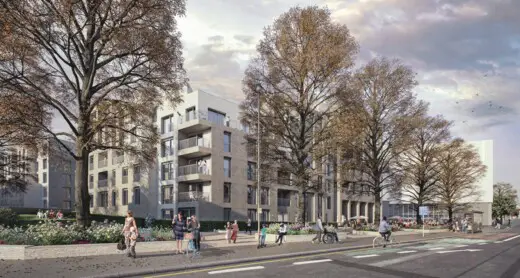 EDMB, with EMA Architects, will progress design and pre-construction works by early 2023 ahead of the start of construction work on the site, which is adjacent to the new Meadowbank Sports Centre off London Road.
Approximately 600 new mixed tenure homes for sale and rent, at least 35% of which will be affordable with a number fully wheelchair adapted, are key features of the mixed-use regeneration programme.
Space for a range of commercial and community uses, and a proposed GP surgery, are also included in the major development that is a strategic part of the City of Edinburgh Council's wider Meadowbank Masterplan.
High quality public realm and landscaping, focusing on the industrial and sporting heritage, are set to provide new active travel routes through to Restalrig.
In partnership with the Council, EDMB has also committed to realising a range of community benefits including seven new apprenticeship positions, 14 new job opportunities and a donation of up to £100,000 to support the important work of local community groups.
Commenting on the appointment, John McDonald, GRAHAM Investment Projects – Managing Director, said: "GRAHAM and the partners of the EDMB Group are delighted to have been named as the City of Edinburgh Council's development partner to help transform this area of the city. Our vision for the project is to create a 'sustainable community' in every sense.
We are focused on working collaboratively with the Council and local community to create a vibrant, safe and sustainable new neighbourhood where people are proud to live, work and socialise. We have prioritised quality placemaking within our proposals and have developed intelligent solutions that will respond to climate change and help to address fuel poverty through low carbon, energy efficient systems."
Neil Gaffney, Miller Homes – Regional Operations Director, added: "Miller Homes is proud to be a part of the EDMB Group, and we are excited about bringing our proven record of exemplary house building and customer service excellence to the Meadowbank development. The ambitious project will help to meet the needs of local people and the community of the Meadowbank area of the city, and we look forward to creating high quality homes for families of all sizes."
Gareth Riddell, Panacea Property Development – Managing Director, said: "Panacea has built an enviable portfolio of residential sites across the UK, and we believe that we can add real value to this major development scheme in Meadowbank. The ambition of the EDMB Group is to develop a sustainable community that is renowned for high quality homes, public realm and amenities which maximise the health and wellbeing of the residents."
Councillor Rob Munn, Finance and Resource Convener, added: "Strong and extensive scrutiny has gone into this procurement process to get us to this point. We've discussed this at committee today and agree that we have a pre-development partner in place that shares our vision while also offering us best value. We now want to deliver more affordable housing and space for retail businesses, while we hope to provide a much-needed GP surgery to benefit everyone within the local community."
Previously on Edinburgh Architecture:
Scottish Sports Centre Faces Demolition
Meadowbank Stadium
Meadowbank Sports Centre Address: 139-143 London Road, Edinburgh
Phone: 0131 661 5351
Date: 1970
Architects: Edinburgh City Council
Meadowbank Stadium Redevelopment News
11 Dec 2013 – The City of Edinburgh Council is considering selling off some of the land around Meadowbank Stadium to fund a redevelopment of the site.
Three options are being debated next week, all would require multi-million pound loans.
Meadowbank stadium hosted events at the Commonwealth Games of 1970 and 1986 but now the multi-sports facilities are in a state of disrepair.
Councillors have three options before them to save the site which represent three different proposals for facilities and levels of investment.
They have been drawn up by a multi-disciplinary project team appointed by the council, including Deloitte, Edinburgh-based architects Reiach & Hall and The Sports Consultancy along with key partners, sportscotland and Edinburgh Leisure. National governing bodies of sport and the clubs using Meadowbank were consulted as part of the stakeholder engagement.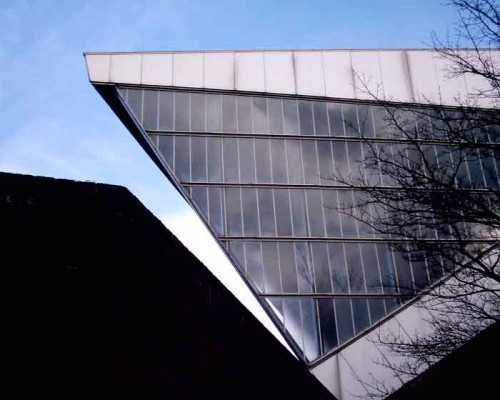 photo © Adrian Welch
The outdoor athletics running track will remain but will most likely have greatly reduced spectator seating. The velodrome is set to be scrapped with cycling facilities moved elsewhere.
All options involve selling off land for housing to help fund the redevelopment but even the cheapest option will mean the council needs to borrow more than £17m to invest in the revived facilities which are planned to open in 2017.
Core facilities, those within all three options, include a ten-court sports hall with seating for 2,500, a five-court sports hall with bleacher seating for 650, a full-sized 3G training pitch for football and rugby, an outdoor athletics track with a central grass pitch and seating for 500. Also identified as core facilities for Meadowbank are a gymnastics and trampolining hall, four studio spaces and a combat studio for dojo/boxing.
The study also identified a list of facilities that were considered optional but not essential. These include a 10,000 capacity community stadium, four indoor tennis courts, an indoor 200m velodrome, an indoor five-a-side football pitch among others.
The three options being considered are as follows:
Option 1 – This would provide the core facilities identified. It would be effectively the minimum level of provision required. This option is estimated to cost £35.1m.
Option 2 – This is an extension of Option 1 and has an increased focus on meeting the needs of pitch sports, particularly football and rugby. This option would include full size 3G pitch (rather than a grass pitch) inside the athletics track and would also included an expanded indoor 3G pitch which would be capable of accommodating three five-a-side pitches. This option is estimated to cost £41m.
Option 3 – This is the maximum option and is significantly larger than Options 1 and 2, containing a range of higher level sports facilities. The main difference between this and the other options is the addition of a 10,000 capacity community stadium (including a 3G pitch) for football and rugby, a larger indoor athletics training facility, a four court indoor tennis centre and a 200m indoor velodrome. This option is estimated to cost £85.2m. The report notes that it would be difficult to secure this level of funding in the current economic climate.
Save Meadowbank : www.savemeadowbank.org
Edinburgh Velodrome News
12 Sep 2012 – Sir Chris Hoy has called on city officials to preserve the future of a creaking velodrome which set him on the path to becoming Britain's greatest ever Olympian, reports the Edinburgh Evening News.
The six-time gold medallist told how the cycle track at Meadowbank Stadium had been a cornerstone of his later success and appealed for greater investment in the facility.
And he said Edinburgh's reputation as "one of the great track cities" may begin to wane if the sport's infrastructure was allowed to decline.
Discussions have been had regarding selling off parts of the stadium – including thevelodrome – and creating a new home for Edinburgh Rugby on the site.
Building News 2008
The wheels have truly fallen off the cart, both in the capital as a whole but also on the site of our major sports facility: keeping Meadowbank Stadium running (while the controversial redevelopment is put on hold) is now costed at a whacking £12m.
To put it in context, building the smaller 'replacement' £25m sports centre [to be located on the velodrome site] required the existing stadium land to be sold. But that land previously costed at £17m, in today's depressed market is priced at…just £5m.
As the Commonwealth Games gets ever closer the Council is being painted into a corner. The £6m ringfenced by CEC for the Meadowbank redevelopment will now fix the £4.75m funding hole in the Royal Commonwealth Pool refurbishment.
The Save Meadowbank Campaign's architect estimated that "£27m would upgrade the entire facility without involving any sale of land, and provide a new covered velodrome on site. This figure included more than £3m for construction industry inflation which if we remove brings the sum to £24m".
As a user (since childhood) of Meadowbank Stadium its clear the facility needs some attention, but I am not aware of any report – as per the Forth Bridge – which states the building is in danger of falling down. The building is a bit of a tough nut both inside and out. Maybe over the last decade there should have been less boasting about Edinburgh being in the top 5% of European capitals and more diligence with building stock maintenance and management. Whilst striking as a piece of structure (ok, only the south stand) Meadowbank Stadium has little real finesse. However, intelligent modifiation and refurbishment is surely the first option.
Adrian Welch, 17 Nov 2008


image © Adrian Welch
Meadowbank Opposition
A repeat of the Caltongate controversy is mooted by opponents to plans to build homes on the site of Meadowbank Stadium. Edinburgh Councillors opposed to the sale of land at Meadowbank say there will be thousands of public objections and calls for a public inquiry.
Commonwealth Games medallist Chris Black vowed to burn his Scotland team blazer in protest at the decision to demolish the existing stadium.
The value of the 8.5 acres of vacated land is put at £17m. The reduced facilities (relocated) at the east end of the site are costed at £25m. The new stadium capacity of 5,000 compares to the existing 16,500.
Meadowbank Stadium: View
Clearly the main issues are concerns about 'selling off the silver' ie reduction of public facilties, pressure on services such as roads and schools, and the usual 'not in my backyard' complaints. Architecture doesn't appear to feature. The building is described as beyond saving, but if there is clear architectural / engineering evidence it appears to be hard to find (does anyone know?). The stadium is simple and strong, but not particularly elegant. It expresses structure in a way redolent of Pier Luigi Nervi's stadiums in Rome. There are numerous architects in Scotland more than capable of replacing this Stadium with not only a better building but a more beautiful one. But there is a concern that a replacement might be worse, without an architect on board no-one can tell. It would be fair to say the City Council doesn't have a particularly strong pedigree when it comes to civic buildings, landscape and artworks (just look at the pathetic sculpture outside the CEC HQ for proof).


Meadowbank Stadium, Edinburgh: photo © Adrian Welch
But on a personal note, as a youth I competed many times at the Stadium (I picked up various medals including a gold for Under 19 Scottish Triple Jump), and would be sad to see it go as a major Scottish sports arena. I've also started playing football here on the astroturf. We should be increasing our Sports venues rather than decreasing them, or letting them fall into disrepair. Meadowbank is not alone here, think for example of the now-closed Infirmary St Baths. Given Scotland's issues with obesity and violence on the streets a vigorous augmentation of sports facilities seems overdue (thankfully the Commonwealth Games will help in Glasgow).
Like the fiery debate in London re saving Robin Hood Gardens (seventies concrete housing blocks) a key architectural issue is embodied energy – if there's any way to save the structure by intelligent remodelling then the carbon saved is significant. The City of Edinburgh Council should have this issue at the forefront of their thinking regarding any developments.
Too many Scottish buildings are left to rot, with demolition then proposed as the 'only option', a fait accompli. Thankfully Edinburgh's former GPO was saved, and the future of United Distillers and the former Infirmary St Baths look hopeful, but others such as the Gorgie Whisky Bond were less fortunate. In Dundee the surviving Linoleum factory becomes less saveable by the year, and in Glasgow the eco-towers proposal, aimed at halting demolition of tower blocks, is up against an imminent demolition timetable. And then there's Cardross…
Views welcome: info(at)edinburgharchitecture.co.uk
Edinburgh sports facilities
Report out with recommendation to look at sale options of land at Meadowbank. Finance raised from a sale could fund an est.£10.5m shortfall in the Commonwealth Pool project plus a phased development of new facilities at Meadowbank. Detailed report to be presented to councillors in Spring. Dec 2007.
Reports in June 2007 suggest the Stadium will be reprieved but adjoining indoor & outdoor facilties look set to be sold off for development. Tied in with this is the strong suggestion that the Sighthill sports facility proposal is to be abandoned. Commonwealth Pool refurbishment & additional facilities however is full steam ahead.
Previous News Items:
Deadline passed end of May 2007 for comments on controversial plans to redevelop the Meadowbank Stadium site
Meadowbank Stadium – Future?
This expressive but rather leaden building's future looks bleak as Edinburgh Council look to a new £49m sports facility at Sighthill in the west of the city, part-funded by sportscotland, due to go on site in 2009. The Council aim to make Edinburgh the most physically active city in Europe by 2020, quite a target. Meanwhile the Royal Commonwealth Pool by Robert Matthew looks more likely to be saved, and the Ratho Adventure Centre similarly looks set to thrive within the total £100m investment for sports up to 2020.
270706
In Craigmillar plans are understood to include demolition of the ugly bulk of the Jack Kane Centre and replace it with a £28m sports facility including a velodrome, football barn and curling rink.
Built for the 1970 Commonwealth Games the Stadium is likely to be sold for residential land. There is a campaign group, Save Meadowbank, with a website at www.savemeadowbank.org
Background to Edinburgh's Sports Stadium
In a sea of mediocrity, the powerful forms of this stadium should be retained and upgraded. To the East we have the dull hulks of empty St Margaret's House and Meadowbank House; across the road we have Macdonalds and six ugly 'sheds' that have absolutely no place so close to our great city centre and which should be replaced urgently. Such central land should have much higher density development, these sheds are indefensible at the Jewel, but beyond belief here. They should go, not the stadium.
10.05.03
Meadowbank Stadium: refurbish it
Meadowbank Stadium is the premier Athletics Venue in Scotland and Edinburgh's best Athletics Stadium & Sports Centre. Located off London Road in the east of the city, the stadium has a 16,000 capacity and was used twice for the Commonwealth Games.
Once the showcase venue for Scotland's sporting hopes, Meadowbank today is little more than a national embarrassment. The City of Edinburgh Council is convinced it has a strong case for funding from the Scottish Executive. They believe that Meadowbank – and the Royal Commonwealth Pool – have contributed significantly to the nation's sporting excellence as well as being assets for the local community.


Meadowbank Stadium, Edinburgh: image © Adrian Welch
There seems however to be no firm commitment to redevelop Meadowbank rather than build a new site.
10.05.03
Another major Sports Venue in Edinburgh is Murrayfield Stadium
Meadowbank building : housing
Scottish National Sports Stadium
Edinburgh stadium : Hearts
Meadowbank Stadium was built for the 1970 Commonwealth Games. The Centre was also the main venue in 1986 when the Commonwealth Games returned to Edinburgh.
Comments / photos for the Meadowbank Stadium Building page welcome