Updates That Will Add Value To Your Kitchen advice, Online property style help guide
Updates That Will Add Value To Your Kitchen Design
4 September 2021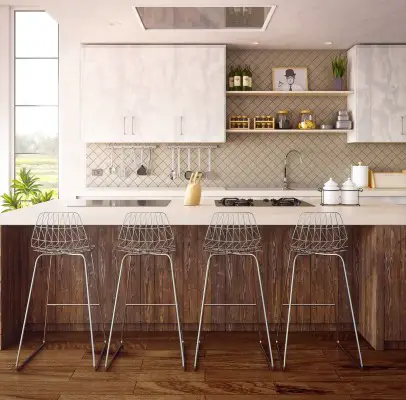 When someone is looking to buy your home, a fully functioning kitchen is a great start. Buyers want to be able to just move in and use their new kitchen without any fuss. This can be a real deal breaker if the kitchen is not up to scratch. Here are ten ways you can prepare your kitchen to entice a successful sale of your house and better house valuation:
1. Updating the look
If your kitchen is looking old, used and uninspiring, there is a solution. Simple things like replacing cupboard doors and drawers can be a huge mood changer. There are so many places you can look to achieve this without having to reach too deep into your pockets. Lots of DIY retailers like B&Q will also have a decent range of different styles and colours to choose from, giving you options to create the perfect new look in the kitchen. It is important to get the correct sizes as I'll fitting cupboard doors can have a devaluing effect, which is the opposite of what you want to achieve. Measure your doors accurately before heading to any retailer so you don't make any mistakes.
2. Paint
It sounds obvious, but a good, modern and cheerful splash of paint could be a huge help to the valuation. Kitchens are highly functional and are subject to moisture and all sorts of uses daily. This can make the original paint look very tired, patchy and dull. Adding a fresh coat of paint is cost effective, and it goes a long way to making the kitchen look so much better. The bigger the area of change the more noticeable and important they are, and as you are surrounded by walls, their paint job is important. It is much better to get a paint specific for a kitchen or use a silk base paint, this will help retain the new paints colour and reduce damage caused by moisture.
3. 3 in 1 Taps
Drag the kitchen into the modern world with a boiling water tap. These taps are available from a good number of traders and they are very attractive to a buyer. The taps are extremely useful as there is no need for a kettle cluttering the side, and they serve multiple cooking purposes. They also look good too and will add a modern touch to the kitchen.
4.Work tops
Often overlooked, a tired and old-fashioned work top can really let a kitchen down. There are companies out there that will replace your work top for you. This allows you to make a seemingly small change, for a huge effect on the whole look of the kitchen. The worktop will always be noticed, so it is a good idea to be one step ahead and make the worktop look great.
5. Lighting
If your kitchen has a dining table or an island, consider adding some sleep and modern pendant lights to your kitchen. Pendant lights look really good and really add something special to the kitchens look. They are highly practical and can also be used to set the mood if they use a dimmer. Set the right mood for potential buyers and invest in some gorgeous lighting. Odd numbers of lights also seem to look more attractive, so consider that in your plans.
6. Splash back
If the tiles behind the hob look dated, floral or fruity it may be time to modernise them. A dated splash back is not appealing to potential buyers and will almost certainly cause them to back away. There are many cost effective replacements like metal or acrylic lining or white plain tiles. Simple, yet highly effective.
7. Sprucing up the floor
One of the first things that a buyer will see when they enter the kitchen is the floor. As kitchens are highly functional, wear and tear is a given. Replacing the floor with some fresh tiles or low cost vinyl will really freshen the floor up and keep the potential buyer much happier to spend their cash.
8. Sinks
One of the most used areas of the kitchen is of course, the sink. The good news is that replacing a shabby, old sink is really easy and can be really affordable. Simply take one sink out and put another, better, shiny sink in the hole. This would look great combined with the new tap!
9. Bold and Bright
Less is usually more, which is an important consideration with decor. However, using statement pieces and splashes of bright and fresh colours can really lift the whole kitchen. Some low cost ideas are: colourful blinds or a nice vase, some nice colourful mugs, flowers or tea towels. Be careful not to add too much and consider colour combinations carefully.
10. Take a seat
Last but not least is the kitchen table. Replacing the old one can complete the whole look for the kitchen. The nice thing about this is that you can also take the table with you when you move. The table is just there to give your viewers a vision of potential. So when you are updating your kitchen consider what you want in your own new kitchen and buy decor that will also serve as new decor in your new house.
Comments on this guide to updates that will add value to your kitchen article are welcome.
Edinburgh Architecture
National Museum of Scotland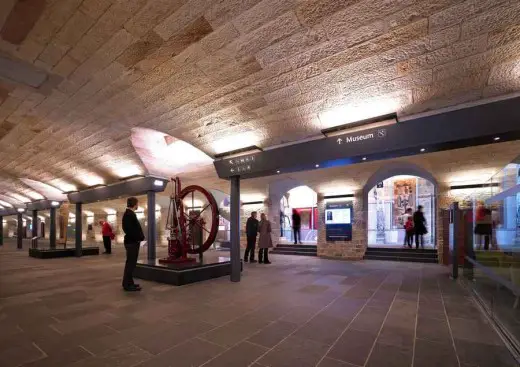 photo © Andrew Lee
National Museum of Scotland
Comments / photos for the Updates that will add value to your kitchen guide page welcome