Visiting Edinburgh Castle, Camera Obscura, Mary King's Close, Scottish Buildings Visit
Edinburgh and Best about It
Visiting Scotland – Scottish Capital Trips Article
31 July 2019
Edinburgh and Best about It Visitor Guide
Edinburgh is in Scotland and it is capital, which is the northern part of the UK. It's in the southeast part of Scotland, around 60 miles north of the Scotland with England border, and around 50 miles east of Glasgow, which is largest city of Scotland.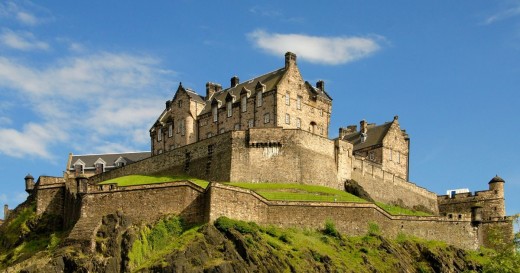 image courtesy of article provider
Best Time to Visit Edinburgh
Edinburgh is a city that you can visit year round, with plenty going on throughout the year. If you are hoping for warmer, drier weather, then the months of May to September will be your best bet, but the weather in Scotland is fickle, so the best plan is to pack layers and be prepared for at least a little rain. As the time is discussed about the visit now the point is that what should be visited? These are many places for enjoyment when you thing what to do in edinburgh but we can discuss only few of them as below.
Edinburgh Castle
Edinburgh Castle is a key component of the city's skyline. The castle sits atop a tall rock, making it visible from many parts of the city. The site has been used since the 2nd century as its position is a perfect defensive location. For centuries, the castle has been seen as the 'key to the city' – controlling the castle meant controlling Edinburgh.
The castle has housed important figures in Scottish history, including Mary Queen of Scots and Bonnie Prince Charlie.
Pay a visit to Edinburgh Castle to gain an insight into historic life in the castle. On display are the crown jewels of Scotland, as well as the Stone of Destiny which has been used in the coronation of British monarchs for centuries. Be sure to stick around for the firing of the One O'Clock Gun, which has been fired every day except Sundays since 1861.
Camera Obscura
Opened in 1835, Camera Obscura is Edinburgh's oldest tourist attraction. The gallery focusses on visual illusions, featuring a number of experiences and hands-on activities to explore and enjoy.
On site, you will find a mirror maze, an Ames room which will appear to shrink around you, and a vortex tunnel which will provoke a sense of imbalance even though you are completely stable! Climb to the roof to see the city from an excellent vantage point, with free telescopes available for close-up views. Camera Obscura provides a fun and family-friendly way to spend a day, tricking your brain and experiencing all sorts of unique sensations.
Mary King's Close
Mary King's Close is part of Edinburgh's Old Town, which consisted of a number of winding and narrow alleyways called 'closes'. Today, Mary King's Close is a warren of underground passages and streets, having partially collapsed centuries ago. Book a tour with The Real Mary King's Close to explore the fascinating history of this once-bustling Edinburgh street.
Learn about life in the closes, as well as the rumours of hauntings and gristly murders that have sprouted since the collapse of the close. The close has been well-preserved so that its history is visible in every inch of every street. Tour guides are even costumed to provide an immersive and interesting experience. This is a great way to learn about life in old Edinburgh.
Scottish Architecture
Contemporary Lothian Buildings
Comments / photos for the Edinburgh and Best about It page welcome
Website: Architecture