Leith Docks Masterplan, Edinburgh Waterfront Development, Proposals, Images
Leith Harbour Masterplan Regeneration Plans
Forthside : Dockland Redevelopment, Scotland
27 Jan 2009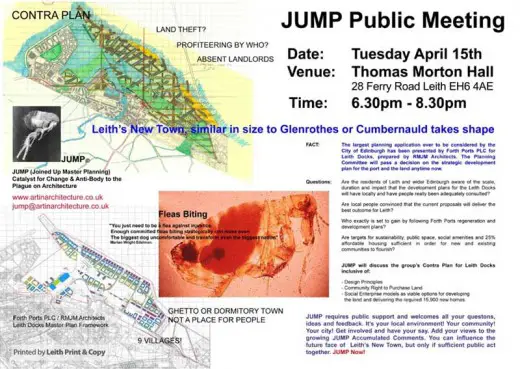 image from AiA
Leith Harbour Regeneration
Information received 27th January 2009:
"Public meeting tonight of Leith Docks applications for first two Villages of nine further outline applications for Leith Dock development of sixteen thousand homes:
Forth Ports have organised a Public Meeting in respect of the outline planning application for the Edinburgh Waterfront. (The application covers the area around and including Ocean Terminal) This will take place on Tuesday 27 January at the Thomas Morton Hall, at 7.00pm. The Hall is adjacent to the Leith Library at the foot of Ferry Road.
This will be the last opportunity to question Forth Ports regarding the 1st of many future Outline Applications for the forthcoming 9 "Urban Villages"
The consultation period for Villages 1 & 2 which this meeting is about ends on the 7th February.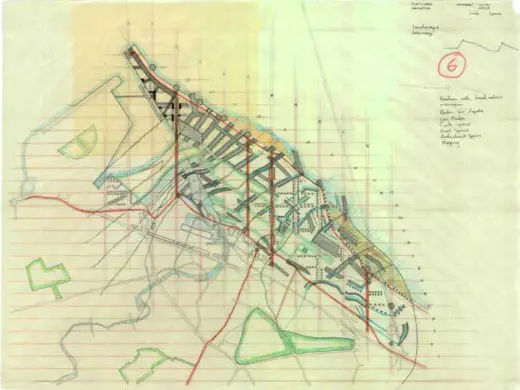 image from AiA
Please try and attend this event. We still have opportunity to change what lies ahead but only if enough representation takes place.
We at JUMP are available to answer questions before this date and the application is available to view at our new studio space in Granton, see address details below. Please phone first to ensure we will available to let you in and answer questions. Weekend and evening access is possible.
Please also find attached a copy of the JUMP Constitution. The content of this and other issues can be discussed at the next JUMP Meeting on Thursday 22nd January, 6pm – 8pm at the Lighthouse, full address details below"."
Information received 27 Jan 2009:
JUMP© Joined Up Master Planning CONSTITUTION
JUMP is a group of people with a shared interest in the urban environment and an awareness of the need to create better places through design led analysis and delivery.
Constitution of: JUMP© Joined Up Master Planning
1.NAME
The name of the group shall be "JUMP Joined Up Master Planning" hereinafter referred to as "JUMP"
2.OBJECTS
The groups aims and objectives are as follows;
JUMP Aims:
To promote integrated and holistic urban planning to acieve high standards of quality and design.
To promote people-centred environments based upon community life, healthy living, education, training and employment, culture and tourism.
To promote and provide a forum for community debate with national and local government, land owners, developers and other stakeholders in the planning process.
JUMP Objectives:
To raise awareness of existing and proposed legislation planning guidance, and facilitate debate, and recommending where considered necessary any changes in policy.
To analyse existing and proposed development plans at all levels and facilitate debate.
To empower participation by local communities and other groups in the planning process through the provision of high quality advice and research.
To provide a service that is analytical of and evaluates the context of the existing place and community of the potential merits or otherwise of future development.
To enable the integration of evolving and existing communities and to avoid social exclusion.
To promote the development of an appropriate integrated transport system.
To promote connectivity between existing communities and evolving communities.
To encourage a greater link with the academic study of the built environment.
To promote and investigate macro connectivity creating new links and opportunites.
To promote the heritage and history of the place acknowledging elements that make a place unique.
To encourage the imaginative integration of disgarded infra structure and built structures.
To secure national and international resources and expertise.
3.MEMBERSHIP
Membership shall be open to anyone interested in the Aims and Objectives of JUMP regardless of sex, nationality, political party, race or religion. Members will be invited to pay an annual subscription fee if required by the Committee of the group.
4.COMMITTEE
The committee shall consist of Chairperson, Secretary, Treasurer and not more than six ordinary members. All committee members shall retire at the Annual General Meeting and may be re-elected for a furher term.
5.MEETINGS a. Annnual General Meeting
The group shall meet annually to elect Office Bearers and Committee, receive a statement of accounts, receive reports from Officers, and to transact such other business as is deemed appropriate.
b. Ordinary Meetings
Ordinary Meetings of the association shall be called by the Secretary on the instruction of the Committee, or on receipt of a request signed by five members.
c.Notice of Meetings
All meetings of the association and an agenda of the Meeting shall be notified by email to all members.
d.Quorum
The quorum for meetings of the Group shall be four members and for meetings of the Committee four committee members.
e.Standing Orders
The group may adopt Standing Orders to govern the conduct of meeting.
6.ACCOUNTS
The Treasurer shall maintain proper books of accounts and shall present accounts to the Annual General Meeting. The Group's funds shall be held in an account at the __________________________. Withdrawals from the Bank will be on the signature of any two of the three Office Bearers.
7.AFFILIATIONS
The Group may affiliate to such organisations having similar aims and objectives, as may be decided by a Committee, Ordinary or Annual General Meeting.
8.ALTERATION TO CONSTITUTION
Any proposal to alter this constitution must be published twenty-one days in advance of a meeting of the Group which is to consider the proposal. Any such proposal must be carried by two-thirds majority of those present and voting at such a meeting.
9.DISSOLUTION OF THE GROUP
In the event of a decision by the Committee to propose the dissolution of the Group, twenty-one days notice shall be given to all members of a special meeting to consider such a proposal. If such a proposal receives the support of two thirds of the members present and voting then the Group shall be declared dissolved. In such an event, any remaining funds of the Group shall go to x or failing that to such other organisations having similar aims and objectives to the Group as the Committee may determine.
This constitution was adopted at a meeting held in The Lighthouse, 1st Floor, 20-22 West Harbour Road, Granton, Edinburgh EH5 1PN on Thursday 22nd January 2009.
JUMP Joined Up Master Planning
The Lighthouse
20-22 West Harbour Road
Edinburgh
EH5 1PN
UK
+ 44 (0) 131 555 2280
+ 44 (0) 775 261 2607
www.jumpleith.co.uk
Leith Docks Masterplan – News Apr 2008
Leith Docks Masterplan – JUMP Group Information




Western Harbour, Leith: Allied Mills © Adrian Welch
Ross McEwan, Art in Architecture LLP
2 Commercial Street, Leith, Edinburgh EH6 6JA, UK
+ 44 (0) 131 555 2280 + 44 (0) 775 261 2607
www.artinarchitecture.co.uk
Forthside Sep 2007 News Update:
Largest Edinburgh planning application ever submitted by Forth Properties for 15msq ft £700m scheme masterplanned by RMJM: 9 'urban villages'. Elements incl. 16,000 homes; 1m sqft office space; community; leisure; retail; industrial.
Leith Docks Masterplan PR excerpt from RMJM Architects 060907:





Timeline
2003 Dialogue CEC-Forth Ports
2004 LDDF SPG (stage 1) consultation
LDDF SPG (stage 2) consultation
LDDF SPG (Draft) consultation
2005 LDDF SPG Approval
Preparation of OPA commenced
2006 Public Participation
2007 OPA for Leith Docks submitted
2008 First masterplan
2010+ Further masterplans
Key numbers
– 15,900 new homes, including 3,975 affordable homes
– 11,600 direct jobs for Edinburgh
– 10,100 direct construction jobs across the 30 year development period
– Reuse of 144 hectares of previously used or 'brownfield' land
– Creation of 35 hectares of new open spaces, public walkways and civic spaces
– Development of over 100,000 square metres of new office floor space, able to accommodate anything from small businesses up to a major headquarters development.
– £194 million per annum GVA growth for the Edinburgh economy
– £248 million per annum GVA growth for the Scottish economy
– Up to £28 million additional council tax revenue and a further £28 million additional business tax revenue
– 2.7km of coastline opened up for public use.
Leith Architecture
Leith Docks Flats : Platinum Point
Edinburgh Architectural Designs
Buildings / photos for the Leith Docks Architecture page welcome