Edinburgh Architecture News 2014, Lothian Buildings, East Scotland Property
Edinburgh Building News 2014
Lothian Architecture Developments – Property in Eastern Scotland
Edinburgh Building News in 2014
Lothian Architecture Design News
Website Update
25 Dec – We transferred our website to a larger server (still located in Scotland).
Mackintosh Debate
22 Dec – Debate about recreation or a new design for The Mac picks up with input by Alan Dunlop on TV
http://www.bbc.co.uk/iplayer/episode/b04vrhnm/scotland-2014-18122014
BBC S2014 Review of the Year, from 22.30:
"My own view is that we don't restore it, you'll create a pastiche. Think about something new…equally as beautiful"
A related link:
http://www.heraldscotland.com/news/home-news/build-a-new-library-at-mackintosh-building-not-a-replica-says-leading-architect.114946723
Cumbernauld Community Hub
19 Dec – Kier has been appointed by Hub South West to deliver a £7.9m community centre in Cumbernauld on behalf of North Lanarkshire Council, reports Urban Realm.
Building Visit to Doolan Award 2014 Winner
19 Dec – The EAA has arranged a special guided tour of Advocate's Close led by Guy Morgan of Morgan McDonnell. The tour will encompass the collection of buildings, public and private spaces associated with the scheme. A chance to discuss with the project architect all aspects of the process in designing for a World Heritage Site – see Glasgow Events for details
Malcolm Fraser in Dunoon
18 Dec – A proposal by Malcolm Fraser Architects for the redevelopment of Dunoon's Queens Hall has been approved by Argyll & Bute Council , reports Urban Realm.
Scottish Graduate Wins Competiiton
17 Dec 2014 – Colin Baillie, a Dundee School of Architecture graduate currently working for Gareth Hoskins Architects, has secured first prize in the Loire + Loges micro-architecture competition, reports Urban Realm.
Dunfermline Museum & Art Gallery News
16 Dec – Work to build the new £6.8m Dunfermline museum and art gallery has started, designed by Richard Murphy Architects, reports Urban Realm.
New Edinburgh Park
15 Dec – Designers reveal vision for Edinburgh's new-look Saughton Park: Initial designs for the major redevelopment of one of Edinburgh's premier parks will be unveiled this week.
St John's RC Primary School
12 Dec – Edinburgh's new £11m St John's RC Primary School will be built on part of the existing Portobello High School site, councillors have agreed.
Tay Mills Dundee Development
12 Dec – Plans have been revealed to turn the final empty unit in Dundee's historic Tay Mills jute factory into student flats.
Kirkudbright Art Gallery Building
12 Dec – Ayr based ARPL Architects have been appointed to design a new £1.6m art gallery within the historic Kirkudbright Town Hall following an open tender, reports Urban Realm.
Glasgow's Keppie Wins Award
11 Dec – Keppie wins major UK design award for Orkney school
A primary school designed by architectural practice Keppie has beat off competition from 70 rival projects to win 'Education Building of the Year' at the 2014 Society for Construction and Architecture in Local Authorities Awards.
Meeting The Challenges Climate Change Presents To Scotland's Historic Environment
11 + 12 Dec 2014
Venue: Dumfries House, East Ayrshire
Date: Thursday 11th & Friday 12th December
Cost: £100
The challenges and impacts of Climate Change has become a major focus of debate between nations, as the globe adjusts to climate warming related to recent human activity. Whilst a lively debate surrounds the cause of rising sea levels, increased droughts and changing seasonal weather patterns, concerns continue to be raised on the impact of climate change on Scotland's Historic Environment. Climate change is one of the most important and urgent problems facing us today; without direct action, the impacts of a changing climate will have major adverse effects on the environment and our cultural heritage.
This two-day education/training programme provides participants with an understanding of the issues and interventions required to meet the Challenges Climate Change Presents to Scotland's Historic Environment.
British Geological Survey's Scottish HQ
10 Dec – The main contractor has been revealed for the new Lyell Centre for Earth and Marine Science and Technology, designed by PagePark. The building will house the Scottish headquarters for the British Geological Survey (BGS) as well as a major joint BGS/Heriot-Watt University research centre for geological, petroleum and marine sciences.
Under the £9.6 m design and construct contract Morrison Construction will construct and deliver the new state-of-the-art Lyell Centre on existing vacant land within the University's Edinburgh Campus.
Designed by PagePark, Arups and Ian White Associates, the centre will provide offices, research laboratory areas, aquarium laboratories and associated working areas, a central core containing welfare facilities, ancillary meeting areas, as well as external landscaped areas.
Cockenzie Chimneys Demolition
8 Dec – The 500ft high chimneys at Cockenzie Power Station – visible from Edinburgh, Fife and across East Lothian – are finally set to be demolished in 2015. Scottish Power's plans to demolish the 47-year-old smokestacks have been organised as part of Cockenzie's decommissioning programme.
And despite plans to safeguard the main structure of the power plant – designed by architect Robert Matthew (RMJM) from complete demolition, even area conservationists agreed that the chimneys' days were always numbered. Next week, officials will oversee the ninth controlled explosion at Cockenzie since it shut down. Attention will then shift to bringing down the 500ft chimneys themselves.
EAA Awards
The Edinburgh Architectural Association Awards are designed to create a showcase for the Architectural profession to demonstrate its skills and its contribution to the environment and the economy. The Awards highlight the excellent work undertaken within the EAA Chapter Area and by Architects in general.
Submissions are now being taken for these prestigious Awards. Short-listed entries will be displayed and the winners will be announced and presented with their awards at a special presentation event in April 2015. An exhibition of all short-listed entries will also be held in the RIAS Joyce Deans Room at 15 Rutland Square.
Entries for the following award categories are invited:
• Building of the Year
• Regeneration/ Conservation
• Small Projects
• EAA Ambassador
• Wood Award
For full terms and conditions and to download an entry form please visit the EAA website.
Closing date for entries is Thursday 22nd January 2015 at 4pm.
City Vistas: Lord Mar's plans for London, Paris and Edinburgh in the 1720s
8 Dec 2014
Part of the AHSS Winter Lecture Series 2014-2015
Margaret Stewart, Lecturer in Architectural History at Edinburgh College ofArt,will introduce these "fascinating plans".
Venue: St Andrew's and St George's West Church, 13 George Street, Edinburgh
Cost: £5 (£2.50 for students).
St Cecilia's Hall
3 Dec – PagePark's redevelopment of St Cecilia's Hall on behalf of the University of Edinburgh is to get underway this spring following the award of planning and listed building consent, reports Urban Realm.
Edinburgh Velodrome
3 Dec – One of the world's top young cyclists has warned that a failure by city chiefs to consider an indoor cycle track risks making the same mistake that has ruined the Meadowbank velodrome, reports the Edinburgh Evwening News. Public response to the proposals for the £1.2 million cycling hub at Hunters Hall Park in Niddrie has been "overwhelmingly" positive, with 91.2% in favour.
Options due to be considered include track cycling, and BMX and cycle speedway tracks and an open-air velodrome like the crumbling track at Meadowbank. But Callum Skinner, who recently clinched his first gold medal at world cup level in the team sprint event, wants to see an indoor facility which could be used all year round.
Festival of Architecture 2016
3 Dec – The RIAS has begun a fundraising drive to help deliver a series of events, commissions and exhibitions to be held during its 2016 Festival of Architecture by tapping every architecture practice in Scotland for £1,000 to help deliver the initiative., reports Urban Realm.
Xcite Leisure Centre
3 Dec – A bid to extend Linlithgow's Xcite Leisure Centre has been approved by West Lothian Council, clearing the way for work to begin on a 500sqm gym and 200sqm multi-purpose studio space, reports Urban Realm.
Stirling Conservation Centre
3 Dec – Historic Scotland is to go ahead with the construction of a conservation centre in Stirling after securing a £3.8m grant from the Heritage Lottery Fund, reports Urban Realm.
University of Aberdeen Energy Centre
2 Dec – A new £100m energy research centre for the University of Aberdeen: the 19,000sqm purpose-built Energy Building will contain world class, sustainable facilities to build on the University's and Aberdeen's reputation for ground-breaking research and innovation, and create a modern, engaging learning environment for students.
Dundee UNESCO City of Design
2 Dec – Dundee has become the first UNESCO City of Design in the UK, a prestigious award that recognises the huge contribution the city has made to design worldwide.
Stirling Town Centre Expansion
28 Nov – CCG have broken ground on a development of 53 new homes for affordable let on Goosecroft Road, Stirling, designed by Michael Laird Architects to help reconnect the town centre with its railway, reports Urban Realm.
Probably the Best Maggie's Centre in the World
27 Nov – Yesterday evening e-architect directors had the pleasure of visiting the latest Maggie's Centre, at Monklands Hospital – see Maggie's Lanarkshire
Scottish Government Stimulus
27 Nov – First minister Nicola Sturgeon has unveiled plans for a major crackdown on Scotland's leading landowners and £30m of funding for the Help to Buy (Scotland) shared equity scheme as she set out her first programme for government.
New Glasgow Homes
26 Nov – Holmbank Avenue, a £5m housing project in Glasgow's south side has created 39 affordable riverside homes. The Sanctuary Scotland Housing Association-built properties in Holmbank Avenue, Shawlands, are proving a hit with residents.
Glasgow Art School Fire Update
26 Nov – The fire that gutted Glasgow School of Art's Mackintosh Building was started by gases from a canister of expanding foam used in a student project, a fire investigation has confirmed.
Dundee shipping container offices
26 Nov – Dundee shipping container offices by Aim Design Architects wins awards: the first commercial building constructed from shipping containers in Scotland has achieved a clean sweep of the Dundee Institute of Architects Awards.
The District 10 container office building, designed by Ged Young of Aim Design Architects, received several awards including Best Commercial Building, an award for Interior Design as well as picking up the award for Best Client, Scottish Enterprise. The project received the top award of the evening, the Supreme Award for best overall project.
Napier University
24 Nov – Napier University is to over-clad and refurbish the primary elevation of its Colinton Road entrance as part of an ongoing programme of campus improvements, reports Urban Realm. Proposals submitted by Smith Scott Mullan Associates.
Hampton by Hilton hotel
24 Nov – Edinburgh Airport is in line for its third passenger hotel with plans being drawn up for a £16m 175 room Hampton by Hilton close to the newly expanded terminal, reports Urban Realm.
Edinburgh University Student Housing
21 Nov – Edinburgh University has unveiled its latest student housing build, a conversion and extension of the historic Deaconess House to form 318 flats. The building was designed by the Kalyvides Partnership the and built by Graham Construction.
Scottish Parliament Foyer Lighting
20 Nov – The foyer of the Scottish Parliament is set for a £550k lighting upgrade – even though it was deliberately designed to have a "subterranean" feel, according to the Edinburgh Evening News. Late Holyrood architect Enric Miralles wanted visitors to enter a slightly darkened space and experience increasing light as they made their way up to the debating chamber.
But a decade after the £414m building was opened, Holyrood management (SPCB) have decided the entrance hall is just too dark and have appointed a lighting expert to install a new system. This is a concern, any lighting strategy needs to be sensitively installed, perhaps the original lighting was too extreme but nevertheless it is a shame the poetry of the original design might be eroded.
Stirling University Residences
18 Nov – Work has started on the third phase of a £38 m project to provide new student accommodation at the University of Stirling.
Graham Construction has completed the first two phases and has now begun work on the third stage of development. Demolition of AK Davison Hall is complete and in its place, Graham will create the 251 bedroom Juniper Court.
The seven storey facility will consist of self-contained flats with ensuite bedrooms and extensive and well equipped shared kitchen and living space.
Energy Efficient Homes
17 Nov 2014 -Alison Johnstone, Green MSP for Lothian and a member of Holyrood's economy and energy committee, has secured agreement from finance secretary John Swinney that energy efficient homes should be a national infrastructure priority. Alison Johnstone MSP said: "I welcome the finance secretary's agreement that stopping heat leaking from our housing stock should be a national infrastructure priority. He clearly recognised the economic impact, not just in terms of cutting people's bills but also in terms of creating thousands of high quality jobs and apprenticeships.
Edinburgh Walking Tour
Our most recent Edinburgh Walking Tour, 16 + 17 Oct 2014, was for a group of Swedish developers + architects, photos + reference now online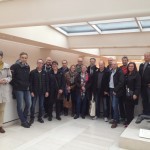 "Hi Isabelle – and first of all – very much thank you for organizing a wonderful tour for us.
Our days in Edinburgh were just perfect planned – all by you!
Edinburgh Walking Tours – running since 2001.
EAA Event Evening
EAA Event Evening – 26 November 2014
Three CPD Sessions at Scottish Storytelling Centre:
– An Industrial Tour of Leith and Granton
Dr Mike Cressey BA MSc PhD FSA Scot MIfA
– Energy Efficiency and the 2015 Technical Regulations
Richard Atkins FRIAS RIBA
– Infrastructure in Edinburgh – Queensferry Crossing
Alistair Chisholm, Associate Arup (JV)
see Edinbugrh events for details.
Scotland's 'best building' in Edinburgh
7 Nov 2014 – Advocate's Close, the £30m Old Town development in Edinburgh has been named the best building in Scotland for 2014.
Boroughmuir High School
7 Nov 2014 – A sod cutting event took place yesterday to mark the start of construction work at the new Boroughmuir High School in Edinburgh.
New Hotel in Edinburgh's West End
4 Nov 2014 – Interserve has announced a hotel deal with Whitbread PLC for a new Premier Inn hotel in Torphichen Street.
The 150-bedroom hub by Premier Inn hotel will be developed and built by Interserve on a site in the West End of Edinburgh. This will be the third major city-centre development scheme involving Whitbread's Premier Inn which Interserve has secured over the last 12 months. Whitbread's Premier Inn is the UK's biggest hotel brand.
Shelter Scotland News
4 Nov 2014 – Shelter Scotland has urged the Smith Commission to ensure that further devolved powers could be used to tackle and address poverty and inequality with specific attention given to poor housing and homelessness.
In its submission to the Smith Commission, the panel set up to oversee the process of further devolution for the Scottish Parliament, the charity said further powers on social security spending should be devolved in a comprehensive and holistic way (with the exception of issues relating to pensions).
Dundee Secondary School Building News
3 Nov 2014 – £28.7m replacement of a Dundee secondary school designed by Holmes Miller Partnership: Dundee City Council's policy and resources committee is being asked to approve advance payments so that preparation work can be started on the replacement for Baldragon Academy.
The new building is to be built by Robertson Construction, was approved in September after councillors unanimously agreed to add extra conditions on to the application.
National Museum of Scotland in Edinburgh
29 Oct 2014 – The Wellcome Trust is giving £1.3m to the National Museum of Scotland to help fund six new science and technology galleries, to open in 2016.
The development is the third stage of an £80m plan to restore the Victorian building in Edinburgh. The Wellcome Trust support will focus on biomedical science, including genetics and prosthetics. The six galleries are part of a £14.1m project to display National Museums Scotland's various collections.
The aim is to make the museum an international hub for science communication and dialogue. The project will be funded by the Heritage Lottery Fund, the Scottish Government and other grants and donations. National Museums Scotland is working to secure remaining funds for the galleries' 2016 opening.
The second phase of the £80m plan to restore the National Museum of Scotland was completed in 2011, when 16 new natural world and world cultures galleries were opened.
Pilot scheme to prevent homelessness in Edinburgh
24 Oct 2014 – An innovative new pilot scheme to reduce homelessness has been launched by the City of Edinburgh Council, reports Today's Scottish Housing News.
Focusing on resolving and preventing homelessness, a range of specialist services will be delivered through a partnership with third sector organisations the Bethany Christian Trust, Edinburgh Cyrenian Trust, Foursquare and CHAI (Community Help and Advice Initiative).
The partnership has hailed the beginning of a new collaborative approach to supporting people in the Capital who are at risk of losing their homes.
Danny Alexander Shelter Scotland Lecture
24 Oct 2014 – Chief secretary to the treasury Danny Alexander MP is to give the 2014 Shelter Scotland lecture – 'Housing and the health of the UK economy', reports www.housingnews.co.uk.
The lecture will consider the critical role housing plays in the UK and Scottish economies and what the priorities are for the Coalition Government ahead of the 2015 General Election.
Mr Alexander, who represents the Inverness, Nairn, Badenoch and Strathspey constituency at Westminster, will give his lecture today in Edinburgh in front of an invited audience of housing professionals, public and private organisations and opinion formers from across Scotland. The lecture will be chaired by Richard Holloway, the former Bishop of Edinburgh.
Edinburgh Architecture Tour
Our most recent Edinburgh Walking Tour, 16 + 17 Oct, was for a group of Swedish developers + architects, photos online soon.
Scottish Civil Engineering Award
23 Oct 2014 – The Helix Development in Falkirk won the Saltire Society 2014 Civil Engineering Award, reports www.scottishconstructionnow.com. Presented in association with Institution of Civil Engineers (ICE) Scotland at a special ceremony at the National Museum of Scotland, the award saw The Helix Development beat off competition from projects such as the SSE Hydro.
Modular Housing Association Development
17 Oct 2014 – Architects Anderson Bell Christie design Scotland's first modular Housing Association development
Architects Anderson Bell Christie and Adston Construction Group recently introduced their innovative new housing development in Eyemouth, Berwickshire to the Scottish Federation of Housing Associations (SFHA). The development is the first major application of pre-assembled modular SIPs (structural insulated panel) construction for social housing in Scotland.
All 32 homes were pre-assembled in the factory and transported to site with 2 pre-built modules per house. The trusses were then added on site allowing all properties to be wind-and-water-tight in just 22 days. The homes comprise two and three storey family homes, as well as cottage flats.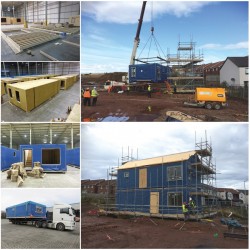 The bulk of the pre-fabrication work was carried out in a pop-up factory in Livingston, Central Scotland, where the homes were assembled into an entire module per floor, complete with windows, doors, finishing joinery and undercoat of paint. These were then transported to site, where they were lifted into place by a crane.
This method of construction ensures that the build is not delayed by weather and that quality control can be more strictly managed with reduced wastage. All homes are built to achieve full Silver Active Standard under Section 7 (Sustainability) of Scottish Building Standards.
Anderson Bell Christie and Adston are also working together on 46 homes on a second site in Duns using the same modular system.
Last week, Adston joined forces with SFHA for a visit to the factory and to Berwickshire Housing Association's site for its members.
Helen Forsyth, BHA Chief Executive, said, "With the bulk of the work conducted off-site at the Adston factory in Livingston the construction period is greatly reduced, with less disruption to nearby residents. Delays due to poor weather are largely avoided and the quality control is second to none."
Speyside Distillery Building
14 Oct 2014 – Chivas Brothers have begun production at its new Archial Norr designed Speyside malt whisky distillery on the site of the former Imperial distillery, incorporating the latest heat recovery technology, reports Urban Realm.
Dalmunach is part of a wave of new distilleries commissioned to meet rising global demand for Scotch whisky it will be capable of producing up to 10m litres of spirit per year.
Located on the River Spey the distillery design has been inspired by the shape of a leaf of barley and houses eight tulip and onion-shaped copper pot stills which break with tradition in their circular arrangement.
Glasgow School of Art Restoration
13 Oct 2014 – A multi-disciplinary team comprising of an architect, structural engineer and mechanical and engineering consultants is being sought as a minimum to bring the building back into business as a fully functioning art, architecture and design school, reports Urban Realm.
Expressions of interest should be received by 12:00 on 10 November via Public Contracts Scotland. Shortlisted teams will then be invited to submit a full tender with a design team being chosen by spring 2015.
Portobello Masterplan
13 Oct 2014 – 7N Architects have submitted an application for planning in principle for the creation of a mixed use neighbourhood on a 3.45 ha brownfield site in Baileyfield, Portobello, on behalf of Cruden Property Developments, reports Urban Realm.
The proposals include 219 new homes, including 42 earmarked for retirement living, arranged in tenement blocks and colonies style housing around a central park, together with an Aldi supermarket fronting Portobello High Street. New pedestrian routes will also be driven through to improve connectivity between the beach and High Street.
Aberdeen Art Gallery Building
10 Oct 2014 – Aberdeen Art Gallery has confirmed a £10m grant from the Heritage Lottery Fund, one third of the total cost of redeveloping the city landmark, clearing the way for work to begin potentially by the first half of 2015, reports Urban Realm.
The cash will help pay for delivery of a Gareth Hoskins Architects design for 21 new gallery spaces to replace the existing 11; alongside a new outdoor exhibition space and community gallery. External works will see an existing pitched roof removed and skylights moved behind existing parapets to make way for a single storey rooftop extension. Refurbishment work will also be undertaken at the War Memorial and Cowdray Hall.
Edinburgh Sculpture Workshop News
9 Oct 2014 – Edinburgh Sculpture Workshop (ESW) is readying its Sutherland Hussey designed creative laboratories for an official unveiling on 20 Nov, reports Urban Realm. The Newhaven cultural hub is situated within old railway sidings and will provide a home for sculptors dedicated to the research and production of contemporary visual art.Dominated by a 22.5m triangular tower the studio takes the form of a single storey pavilion surrounding an outdoor courtyard housing spaces for events and the production and exhibition of work.
The tower itself was conceived as a 'visual and cultural beacon' and will play host to a new sound commission by Tommy Perman, Simon Kirby and Rob St John. The new facilities are designed to complement ESW's Bill Scott Sculpture Centre, also designed by Sutherland Hussey, which opened its doors in July 2012.
SBCC Conference
This event will provide a definitive guide to the latest developments in building contracts and construction law in Scotland. It is suited to Architects, Engineers, Solicitors, Chartered Surveyors and Contractors.
Venue: The Jeffrey Room, The Mitchell Library, North Street, Glasgow
Date: 27 Nov 9.30am – 5.00pm
Cost: Early bird fee (until 31 Oct) – £135 / Full delegate fee – £180 / Student/retired – £48
More details on the Edinburgh events page
Housing for former Edinburgh Sorting Office
7 Oct 2014 – Housing plans emerge for former Edinburgh sorting office CALA Homes have submitted plans for 175 homes and 2,000sq/ft of commercial space on the site of a former Royal Mail sorting office at Brunswick Road, Edinburgh, reports Urban Realm. Designed by Ian Springford Architects and Harrison Stevens Landscape Architects the scheme will place apartment blocks in parallel with Brunswick Road to reinforce the street edge.
These will be clad in blonde brick with pre cast concrete string courses topped by simple glass pavilions on the roof. In their design statement Ian Springford say: "The apartment blocks are entered from the car park level at the north of the site and Brunswick Road to the south. Depending on the road level, this is at first floor level for a number of apartment blocks.
Infrastructure Photography Competition
The Royal Institution of Chartered Surveyors (RICS) has launched a new nationwide photography competition for members of the British public to capture images of major infrastructure projects.
Entrants are invited to photograph any man-made physical structure which benefits society, including roads, bridges, water supply systems, telecommunications and energy generating facilities, such as power stations or renewable sources of energy generation.
The competition is open for entries until the end of the year, and the winner and shortlisted entries will be celebrated in an exhibition which will open in February 2015. The winner of the competition will win a £3,000 prize for new camera equipment.
Visit www.rics.org/uk/footer/rics-infrastructure-photographer-of-the-year/
The deadline for entries is midnight on 19 Dec 2014.
New Town Youth Hostel
6 Oct 2014 – Blackhall Developments has unveiled a 30 bed youth hostel on Rose Street Lane in Edinburgh's New Town world heritage site, reports Urban Realm. The £400k scheme involved the Staran Architects led conversion of a red brick 19th century warehouse which had lain derelict for over 20 years prior to being purchased by Dundee-based developer DS Landsburgh.
Springburn Winter Gardens
In the GIA Springburn Winter Gardens Contest five finalists have been selected from twenty five entries.
St Andrew Square Building News


building photo © Adrian Welch
St Andrew Square Building – 30 Sep 2014
Photos of the demolition progress for this major New Town redevelopment
Caltongate Building News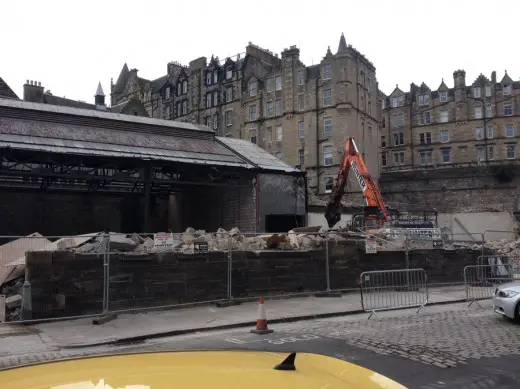 building photo © Adrian Welch
Market Street Building at Caltongate – 30 Sep 2014
Photos of the demolition progress for this major Old Town redevelopment
Edinburgh Walking Tours 2014
Photo of our latest walking tour in the Scottish capital, 25 Sep 2014, for a Danish engineering + architectural group – Scottish Parliament: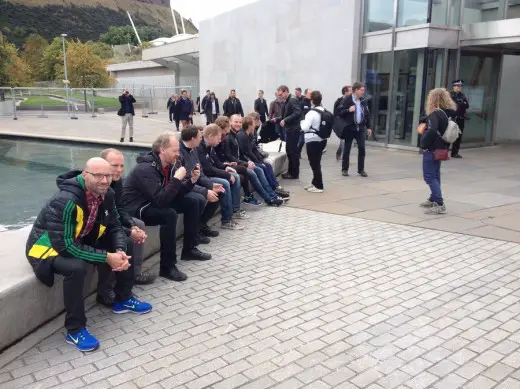 picture © Adrian Welch
We have been running Edinburgh Architecture Walking Tours since 2001,
Our most popular walks are in the Old Town. We look at contemporary architecture within the context of the historic environment, with information on buildings + architects. The Old Town tour typically takes 3 hours and takes in buildings such as the Scottish Parliament and the Museum of Scotland. Contemporary buildings such as Dance Base and the Scottish Storytelling Centre are also popular with visitors.
On 12 Sep we led a tour for a Norwegian architectural group and in October we will show a large Swedish architecture groupo around the city. We also do architecure tours in 71 cities globally and are the worldwide leaders in this field. All tours are led by architects or in a few cases architecture professionals such as architectural tutors or historians.
Alvaro Siza in Edinburgh!
aefoundation are extending an invitation to their next event to be held at Edinburgh School of Architecture & Landscape Architecture (ESALA) and are very excited to be able to welcome Alvaro Siza and a number of his friends and colleagues to an intimate discussion about the architectural and political culture of Portugal just before the Carnation Revolution in 1974.
The discussion will take place at the Matthew Gallery at Chamber Street (ESALA) on the 9th of October. It has been organised as a collateral event to the headlining RSA Isi Metzstein Discourse in the evening of the same day. For those of you that haven't managed to secure a ticket for the keynote lecture, this event could still provide the opportunity to see Alvaro Siza and friends in the flesh.
This architectural event is free but you must email events@aefoundation.co.uk to reserve a place. See www.aefoundation.co.uk for details.
Construction Industry News
29 Sep 2014 – A new survey shows 'optimism' over construction industry's future: The SBF said the survey results pointed to growing expectations that employment would begin to recover over the next three years, reports the BBC today. The construction industry is "cautiously optimistic" about future prospects.
The survey of the Scottish Building Federation's membership showed industry confidence remained positive overall, but had fallen in the third quarter of 2014 compared to the second quarter. This was ascribed to possible uncertainty over the referendum. However, about 42% of employers said they expected to take on more workers over the next three years.
Allen ('Mick') Matheson PPRIAS
23 Sep 2014 – The RIAS announced the death of its former President, Allen (Mick) Matheson. Mick served as RIAS President from 1981-1983.
Mick was educated at George Watson's College in Edinburgh and studied at Edinburgh College of Art from 1948 to 1953. He worked on many notable projects through his career, mainly with Dorward Matheson Gleave and Partners, including The Queen Mother's Hospital, Glasgow (1964), the University of Glasgow, Mathematics Building (1969) and Monklands Leisure Centre, Coatbridge (1978).
RIAS President, Iain Connelly, said:
"Mick Matheson was a highly regarded figure in Scottish architecture and a fondly remembered RIAS President. His contribution to our built environment, both through his buildings and his tremendous work for the GIA, the Incorporation and SBCC will long be remembered."
#DesignPopUp – Edinburgh 2014
#DesignPopUp – Edinburgh 2014, starting on 24th September at the Dovecot Studios:
#AmeetsA preview
#DesignPopUp Edinburgh will also preview a selection of the artwork donated to the Architecture Meets Art (#AmeetsA) event, created by Double S Events in support of Enable Scotland and the Glasgow School of Art. Paul Stallan, Alan Dunlop, Contagious Design, Clara and Isabel Garriga, David Mach, Anna Gibb, Tom Manley and Narinder Sagoo are just a few of the architects, artists and photographers that have offered their help and very generously donated some extraordinary pieces of art to be auctioned at the end of October.
There are also many CPDs on offer: waterproofing, use of fabrics for interiors, water saving, sustainability and the environment, acoustics and much more.
P&P Party
Parmesan and Prosecco party (24th September – 6pm to 9pm) – booking required to ensure your name is on the guest list.
RSA Call to Architects
RSA OPEN EXHIBITIONS 2014
Art & Architecture
New online submission!
Please note all submissions must be registered online
Please check website for further details: www.royalscottishacademy.org
The Royal Scottish Academy of Art and Architecture
The Mound, Edinburgh, EH2 2EL. Tel: 0131 624 6110 E: info@royalscottishacademy.org #RSAOpen
Portobello High to Start
21 Sep 2014 – Builders will move into Portobello Park this month as work on the long-awaited new high school – designed by jmarchitects – gets under way, reports the Edinburgh Evening News.
A perimeter fence will be erected around the site, with plans in place to construct the school's steel structure by the end of the year. Pupils will also play their part in the £41m project, making regular visits to the site, taking part in design sessions and keeping a watchful eye on the progress via webcams from their classrooms. Around 1400 pupils are currently being taught in a crumbling 1960s tower block, now in such poor condition that parts of the roof are reported to have blown off in strong winds.
Portobello Park Action Group (PPAG), which campaigned against the council's plans, said it was a "pity" that the area was about to lose a valued green space.
Edinburgh Primary School Buildings
21 Sep 2014 – Designs for two new Edinburgh primary schools – with a combined £14m cost – have been revealed to their communities, reports the Edinburgh Evening News.
Applications for the state-of-the-art buildings have now been submitted to Midlothian Council, drawn up by AHR Architects.
If planning consent is granted next month, the schools are set to be completed by autumn 2016. One of the schools is due to be built in the public park in Bilston and the other on land east of Whitehouse Way in Gorebridge, both in response to hundreds of new homes earmarked for nearby.
Queensferry High School Building News
21 Sep 2014 – A crumbling school could be torn down and replaced with state-of-the-art facilities costing £29 million as part of a new bid for government funding, reports the Edinburgh Evening News.
Proposals will be submitted by the city council for a £30m replacement Queensferry High School to be built as part of the Schools for the Future programme. The school has a capacity for 1000 pupils, with 751 pupils on the school roll for 2014-15.
Scottish Architecture
In favour of the Union:
Here is a comment by Scottish architect Alan Dickson (based in Skye), on Scottish architecture issues.
"Scottish architecture has never been defined by identity alone. Mackintosh, Thomson, Playfair, Adam, Macmillan and Metzstein were architects with expansive views. It is an architecture uniquely of place, yet curiously influenced by many cultures.
This rich architectural legacy has been undertaken for three centuries within an outward looking, enterprising and diverse United Kingdom, and I would argue largely because of it.
Post referendum I will be no more, or no less Scottish than I am already. However if it is a yes vote I will feel that I have lost part of my identity, which defines me as much as my home nation.
Nationalism is a backward step. It is erecting barriers, physical, cultural and economic, both visible and invisible, that have not existed before. It risks our economic prosperity and will destroy all that is good and essentially optimistic about the UK.
Architecture should be defined by landscape, and climate, and culture which will not change post referendum. However it is also defined by prosperity, our ongoing economic recovery will inevitably be stalled, major decisions put on hold, while the politicians scrap over the pieces. I have no doubt that one day, Scotland could and would stand on its own two feet economically, but at what price, and for how much pain and damage over 5, 10 or 20 years.
This is not to say things are perfect, and steps must be taken to address the issues that affect the whole of the UK. A "no" vote will still bring change, and we can gradually continue to work our way to a more federal UK, that acknowledges the best of all our nations whilst still retaining our essential whole."
Alan Dickson, Rural Design Architects
Scottish Architecture Referendum
In favour of Independence:
Here is a comment by Scottish architect Alan Dunlop (based in Glasgow), on Scottish architecture issues.
"At present we have a Scottish architecture policy built on a failing public procurement system, in desperate need of reform. Scottish architects have always needed to look outwards and a more unique and distinct identity might assist this effort. A Yes vote could bring with it a surge of confidence in Scottish identity and culture, which might lead to a renewal in the arts in general and architecture in particular.
This referendum, however is not about architecture, nor Scottish Nationalism nor any perceived dislike of England. It is about self-determination.
If the answer is Yes on September 19th then we can expect a massive change to be made in almost every aspect of life which will require that Scots and all the people who live and work in Scotland can take control of their own political system and finances and choose how we are to be governed. A No, will mean that many bridges have been burned but there is no way to return to the status quo ante. A close outcome will mean that the question will not go away. People in all sectors have seen the outline of a different future and understand that they can change.
The economy will not collapse if Scotland goes it alone, although there may be shaky times in the London money markets-but they will get over that. There will be currency union because that is the rational, pragmatic outcome required and decisions on projects pending will go ahead. Oil revenues will continue with further development likely off the West Coast once Trident goes, but the value will go to a Scottish purse and for common benefit with the promise of an oil fund.
If No, there is likely to be a backlash from a Westminster Government that will ditch the Barnett Formula in favour of a "needs based approach" defined by a Treasury that is charged with delivering billions more of austerity cuts."
Comment from Alan Dunlop architect, 15 Sep 2014
Edinburgh University Building Photos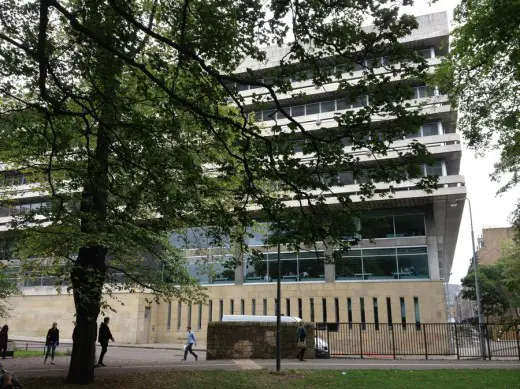 picture © Adrian Welch
Edinburgh University Buildings: images of key architecture around George Square, taken on 14 Sep 2014
Edinburgh Quartermile Photos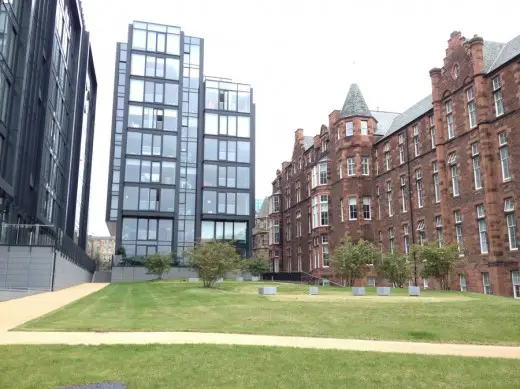 picture © Adrian Welch
Quartermile buildings + spaces: images of key architecture around this developing site, taken on 14 Sep 2014
St Giles Kirk Building Photos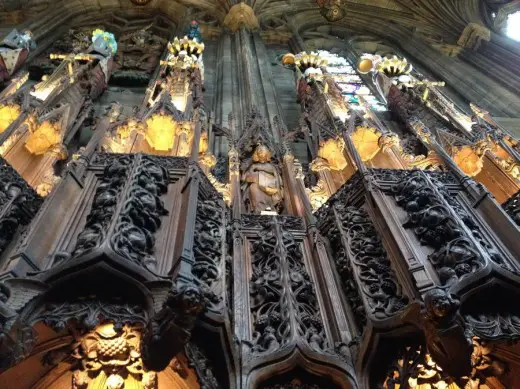 image © Adrian Welch
St Giles Kirk: images of key religious architecture in Edinburgh Old Town, taken on 14 Sep 2014
Edinburgh Old Town Building Photos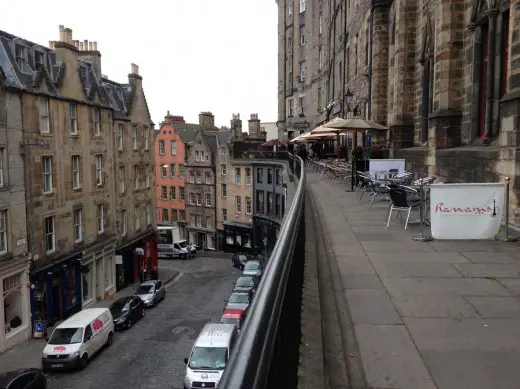 image © Adrian Welch
Edinburgh Old Town buildings: images of key religious architecture in Edinburgh Old Town, taken on 14 Sep 2014
RMJM News
RMJM bosses face three years in prison over unpaid wages, reports the Architects Journal.
RMJM directors Peter Morrison and Declan Thompson could face up to three years in prison after Hong Kong's Labour Department launched proceedings against them. How could a once great architecture practice fall so low? The too fast expansion of companies such as RBS probably had an influence, I was an architect at RMJM at the time of the take over and recall the apprehensive mood permeating the studio, post Scottish Parliament. 13 Sep
Scottish Parliament
Scottish architects favour independence reports the AJ
59 per cent of the nearly 160 architects who voted in AJ's recent online survey said they were in favour of the country cutting its ties with the UK.
The Architects for Yes (who have set out case for Scots independence) group recently came under fire from Edinburgh-based architect Richard Murphy.
e-architect, though headquartered in Scotland, employ over a hundred architect guides in 71 cities across the globe (yesterday for example we ran different tours in 3 European cities including Edinburgh) with a wide variety of views, we remain neutral but are encouraged by the vigorous debate and support the levels of engagement.
Professor Andy MacMillan OBE FRIAS 1928-2014
18 Aug 2014 – Professor Andy MacMillan OBE FRIAS has died, reports the RIAS today:
"It is with very great sadness that the Royal Incorporation notifies its members and friends of the death of Professor Andrew (Andy) MacMillan.
Andy died suddenly on Saturday 16th August in Inverness, during this year's RIAS Andrew Doolan Awards visits, which he was chairing. RIAS President, Iain Connelly, also one of the Awards judges, commented,
"Andy's contribution to Scotland was among the most significant of any architect in the post World War II era. He will be remembered as someone who lived life to the full, who inspired all those he taught and all those who encountered him, as an individual of enormous talent, tremendous enthusiasm and irrepressible fun. Andy's legacy is the hugely improved built environment of Scotland wrought by his own hand and those of successive generations of his students. He will forever be missed."
Springburn Winter Gardens Competition
The Glasgow Institute of Architects is pleased to announce an architectural design competition in partnership with Springburn Winter Gardens Trust. The competition is titled, "An intervention at Springburn Winter Gardens; to provide a place where people can gather and share collective memories." The competition is now live on the GIA website.
This competition is in partnership with MAKlab. In an innovative twist, all intervention designs will be 3D digitally printed. The GIA hopes that this competition will provide an opportunity for architects to experiment and trial contemporary digital media with a Glasgow based company.
The submission date has been moved from Thursday 21st August to Thursday 28th August at midday.
Stirling Society of Architects Design Awards 2014 Deadline
Eligibility
Projects should have been completed between 31 March 2013 and 1 August 2104 within the SSA Chapter Area (Stirling, Falkirk and Clackmannanshire).
Winning Entries
The winning designers and client will receive a certificate confirming the award.
Submissions
Submission to be in the form of artwork for an A1 landscape format presentation board (.pdf format). File size not to exceed 10Mb and be submitted by email to the address below. Submissions to include information on design team members and construction cost, location plan and scheme design/planning drawings.
Submissions to be returned by email to the Secretary, Louise Fields: info(at)s-s-a.co.uk
Deadline for submissions: 1 August 2014
Architect in the Hoose 2014
Following the success of the Architect in the House scheme, which has now come to an end, the RIAS has decided to launch a similar Scottish based scheme to raise money for the Architects Benevolent Society (ABS).
The ABS cares for architects, assistants, technologists and landscape architects and their dependants providing practical and financial help to people of all ages who have experienced redundancy, illness, accident or bereavement.
RIAS chartered architects can help the Architects Benevolent Society (ABS) make a lasting difference to the lives of architects and their families in need by giving an hour of their time by signing up to Architect in the Hoose. You might even get a job out of it.
The mechanics are simple – you get matched with a homeowner in your area looking to improve or expand. You give them a free 60 minute consultation and they make a suggested donation of £25 to ABS. Your Architect in the Hoose consultation could of course lead to a paid commission.
Registration opens on 4th August and matching will take place continuously until the end of September. Consultations should take place by the 30th November 2014.
If you would like to sign up – please go to www.rias.org.uk/architectinthehoose and download a registration form. Alternatively, email Charlene Rankin crankin(at)rias.org.uk for more information.
GIA 'RIAS to RIBA' Charity Bike Ride
On the 19th September the GIA's team of 10 architect cyclists will attempt to complete a journey of 440 miles in just four days. They will set off from RIAS HQ in Edinburgh and tackle the challenging route to the RIBA building in London, according to the RIAS – more details on the Glasgow news page
Susan Stephen Architects Jobs
29 Jun 2014 – Susan Stephen Architects are looking for additional architectural staff – see PDF: Susan Stephen Architects Jobs
RIAS Awards 2014 Winners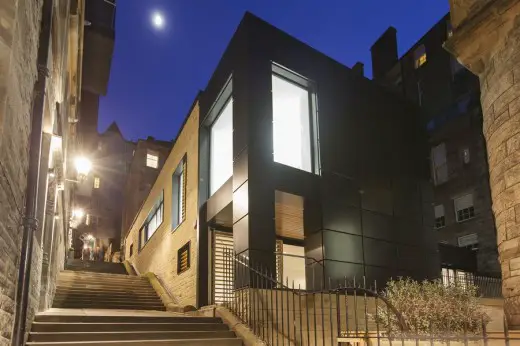 19 Jun 2014 – RIAS Announces 13 Winners in Awards
The Royal Incorporation of Architects in Scotland (RIAS) has announced 13 winners, representing the very best of current Scottish architecture, at its annual Awards Dinner held in Glasgow last night.
The judging panel included Marjorie Appleton FRIAS, Doug Read PPRIAS, Liz Davidson OBE Hon FRIAS, Craig White RIBA and George Oldham RIAS RIBA, representing the Royal Institute of British Architects.
Iain Connelly, President of the RIAS, commented:
"83 submissions from throughout Scotland, ranging in cost from £26,000 to £125m, is a tremendous vote of confidence. It absolutely confirms that this award, in only its third year, is now the single most important recognition of architectural achievement in Scotland."
In the third year of the restyled awards the RIAS has again teamed up with Forestry Commission Scotland/Wood for Good and Historic Scotland but also this year with the Scottish Government for our three prestigious sub-category awards.
RIAS Lifetime Achievement Award 2014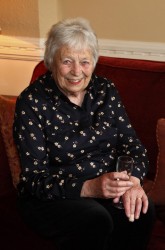 Outstanding Achievement Award 2014
19 Jun 2014 – At the annual RIAS Awards Dinner in Glasgow last night, Margaret Richards FRIAS was presented with the Lifetime Achievement Award of the Royal Incorporation of Architects in Scotland (RIAS). The Incorporation's Lifetime Achievement Award is given to those architects who, in the view of the Council of the RIAS, have made an outstanding contribution to architecture in Scotland.
RIAS Scottish Fire and Rescue Service Honoured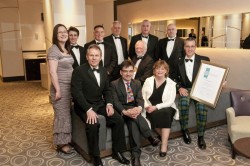 19 Jun 2014 – At the annual RIAS Awards Dinner in Glasgow last night, Cabinet Secretary for Culture and External Affairs, Fiona Hyslop MSP, made a special presentation from the Royal Incorporation of Architects in Scotland (RIAS) to the Scottish Fire and Rescue Service in recognition of their outstanding work at the Glasgow School of Art fire on Friday 23rd May this year.
3-8 St Andrew Square
9 Jun 2014 – Work is now underway on a £75m speculative office, retail and residential development in Edinburgh city centre.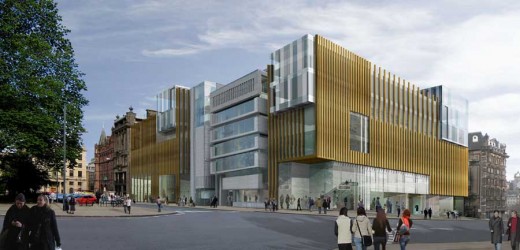 Standard Life Investments Pooled Pension Property Fund and joint venture partner Peveril Securities started work on 3-8 St Andrew Square in Edinburgh.
The development of the site in the heart of Edinburgh's historic New Town will commence with the demolition phase, which is expected to last for six months with overall completion planned for Q4 2016.
Modern Edinburgh House Sale
17 Essex Road, Cramond, Edinburgh
Offers around £495,000
9 Jun 2014 – Fantastic development opportunity to transform into a unique family home located within a prestigious location: Modern Edinburgh House
Perth City Hall Seminar
9 Jun 2014 – This seminar on the future of Perth City Hall will be held at the Royal George Hotel, Perth on Monday 23rd June 2014 from 10am – 2pm, states Barry Pringle of the City Hall Supporters' Group. This very interesting and important event will be chaired by Neil Baxter of the Royal Incorporation of Architects in Scotland, and will include three eminent speakers, Vivian Linacre, James Simpson and Gavin Stamp, each a highly-acclaimed figure in architecture in Scotland.
The cost is £15 per person which includes a light lunch. The address of the hotel is The Royal George Hotel, Tay Street (also George Street), Perth PH1 5LD tel. 01738 624455. An attendance of around a hundred is expected.
To book your place, please contact Sophie Birch at sbirch@rias.org.uk or call 0131 229 7545 by Thursday 19th June.
Cairngorms Visitor Centre Building
9 Jun 2014 – Cairngorms National Park Authority approves new visitor centre plans
A new grandstand and visitor centre for the Braemar Highland Games and eight affordable homes for Ballater were among the applications approved by Cairngorms National Park Authority (CNPA) last week.
The Braemar Royal Highland Charity is behind the plans to demolish the existing West Stand overlooking the Princess Royal and Duke of Fife Memorial Park, which will be replaced by a new grandstand, incorporating a visitor centre, exhibition space, office, retail area and cafe.
Edinburgh University Testing Tank News
9 Jun 2014 – Graham Construction has delivered the world class £9.5 million wave and current testing facility for the University of Edinburgh.
The FloWave Ocean Energy Research Facility is a national facility for marine renewables and has been funded jointly by the Engineering and Physical Sciences Research Council (EPSRC) and the University of Edinburgh.
Perth City Hall : An International Perspective
Perth City Hall Seminar.
7 Jun 2014 – A seminar jointly promoted by The Dundee Institute of Architects and the RIAS, exploring the Scottish, UK and international standing of this unique and threatened Edwardian building. Chaired by Neil Baxter, speakers are Gavin Stamp Hon FRIAS, Vivian Linacre and James Simpson FRIAS.
This event counts for 2 CPD Hours/Points
23 June 2014, 10am-2pm
£15 (£12.50 + VAT), includes light lunch
Market Street Building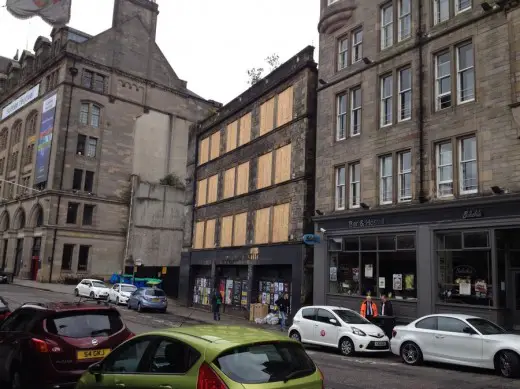 3 Jun 2014 – New photos of the empty Market Street building opposite the Fruitmarket Gallery, an eyesore close to the heart of the Edinburgh World Heritage Site:
National Museum of Scotland News
3 Jun 2014 – The National Museum of Scotland is to receive a £4.85m lottery grant to help create 10 new galleries.
The galleries – due to open in 2016 – will house collections of Science & Technology and Art & Design.
More than £10m has now been secured for the £14.1m project.
This includes £900,000 from the Scottish government to renew the roof of the west wing of the Victorian building, where some of the new galleries will be located.
A fundraising campaign is under way to raise the remainder from private sources.
Museum bosses said the latest grant would help showcase more than 3,500 objects and "explore the excitement and impact of scientific discovery and invention".
The development is the third stage of an ambitious £80m masterplan to restore the much-loved Edinburgh building to its former glory.
e-architect
Thanks to our readers we now have 200,000+ likes on e-architect facebook.
We now have over 310,000 followers across our social media channels including twitter (94,000), google+ and linkedin.
Furthermore, the engagement on our facebook and twitter is much more active than all our direct competitors, our followers are natural (we don't purchase 'follows') and our posts clearly resonate with them.
This architectural resource, headquartered in Haddington, Scotland, but run through a global network of writers and tour guides, has grown to be one of the most successful platforms in the world.
Scottish Design Awards News
Tickets and tables are available to book for the Scottish Design Awards 2014. Winners and commendations will be revealed at this black tie dinner 5th June Radisson Blu Hotel, Glasgow. Why not come along and support your fellow agencies and architects and see what the Industry has to offer?
For further information contact Nikki.Gillies(at)thedrum.com / 0141 559 6076
Edinburgh Hospital for Sick Children
14 May – Plans for the co-location of the Royal Hospital for Sick Children and Department of Clinical Neurosciences (RHSC + DCN) at Little France have been submitted to the City of Edinburgh Council.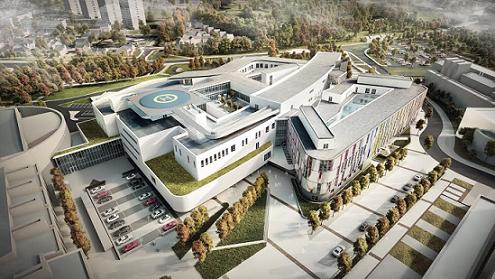 The major development will create a new home for services from the Royal Hospital for Sick Children, Child and Adolescent Mental Health Service and the Department of Clinical Neurosciences next to the Royal Infirmary of Edinburgh.
A decision on the plans is expected to be received later this summer with work on the new hospital due to start before the end of 2014.
Earlier this year consortia, Integrated Health Solutions Lothian, were chosen as the preferred bidder to design, build, finance and maintain the new hospital.
Susan Goldsmith, finance director, NHS Lothian, said: "Integrated Health Solution Lothian's submission of their planning proposals represents another important milestone for this project to provide a purpose built healthcare facility for neurosciences and child and adolescent acute and mental health care.
We have worked closely with Integrated Health Solutions Lothian and our colleagues at the City of Edinburgh Council to ensure that the proposals have met and, where possible, tried to exceed the planning in principle requirements approved in April 2012. This development is vital in creating a major trauma centre, reducing the need for emergency transfers between hospitals and bringing age appropriate and modern settings for patients, visitors and staff onto one site."
The new, six-floor development (including basement), will be linked to the Royal Infirmary of Edinburgh via the separate children and adult Emergency Departments.
The facility will have an atrium with a shop and café, a stunning skylight linking both the Royal Hospital for Sick Children and Department of Clinical Neurosciences entrances, a high percentage of single en-suite rooms with good natural light and a helipad on the roof.
RIAS Welcomes Scottish Government's Undertaking to Implement Procurement Review
Wednesday 14th May 2014 – At a Ministerial Construction Summit this morning, Deputy First Minister Nicola Sturgeon MSP announced that the Scottish Government will implement the recommendations of the review of procurement in construction, carried out by Robin Crawford and Ken Lewandowski and published last October.
The Royal Incorporation has continuously lobbied for changes to the, previously cumbersome, construction procurement regime in Scotland. In particular, the publication, Building a Better Future, from December 2011, which recorded the findings of the RIAS President's Commission on Procurement (David Dunbar PPRIAS, Roy Martin QC Hon FRIAS, Linda Fabiani MSP Hon FRIAS, Prof. Malcolm Horner Hon FRIAS, Dame Barbara Kelly Hon FRIAS, Lord Maclennan of Rogart Hon FRIAS and Brian Stewart Hon FRIAS) highlights the many issues affecting potential employment of Scottish SMEs throughout the industry.
Willie Watt FRIAS, who led for the RIAS in the construction procurement review, stated:
"We are absolutely delighted that the Scottish Government has listened to and agrees with the findings of this important review. This will greatly improve access to construction jobs across the sector."
RIAS President, Iain Connelly, stated:
"This is among the most positive announcements that this proactive government has made on construction procurement. We are delighted with the level of engagement from the Scottish Government and look forward to a much fairer procurement landscape for Scotland."
Marischal Square Building News
14 May – Muse Developments has lodged a detailed planning application with Aberdeen City Council for the £107m Marischal Square development to transform one of the key locations in Aberdeen city centre.
University of Dundee School of Medicine Building
14 May – The University of Dundee has completed work on a new Archial Norr designed extension to its School of Medicine within the grounds of Ninewells Hospital.
Delivered by ISG this saw an existing building extended to provide additional teaching accommodation, library, IT suite and study areas together with refurbishment of an existing lecture theatre.
Edinburgh Cow
14 May – An iconic cow sculpture will have to be removed from the outside of a restaurant after retrospective planning permission and listed building consent was refused today.
Kyloe Restaurant and Grill put the brown and white cow on the front of their eatery on Rutland Place in Edinburgh when they opened two years ago. It protrudes from their window and looks over the west end of Princes Street.
In December 2013, owners Signature Pub Group received a letter from the council giving them 21 days to take down the cow. The City of Edinburgh Council said they had received a number of complaints about the sculpture.
Darwin Laboratory Building News
Feilden Clegg Bradley Studios (FCBS) has won a high-profile competition to regenerate the University of Edinburgh's 10-storey Darwin Laboratory building, reports the AJ today. 7 May
Scottish Cities Alliance
The Scottish Cities Alliance has announced that Stirling is to benefit from new housing, sports facilities, motorway access and business premises as part of a major investment scheme.
A detailed development plan has been put together to decide the city's part in a national investment project, a £6bn blueprint for infrastructure improvement in Scotland's seven cities. 2 May
Scottish National Gallery Redevelopment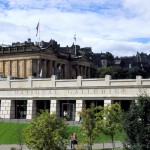 Gareth Hoskins Architects have been chosen ahead of Malcolm Fraser, John McAslan + Partners, LDN, MUMA and PagePark to win the head-profile competition to redevelop the Scottish National Gallery in Edinburgh.
The practice will now carryout a full remodelling of the neoclassical building, rationalising interiors and opening up new gallery spaces, double the amount of display space available for Scottish art in the process.
Improvements to visitor facilities, circulation and energy usage will be incorporated within that work together with more speculative ideas to rethink the neighbouring Princes Street Gardens, illustrate the transformative potential of the scheme.
Gareth Hoskins has already designed a new home for the National Theatre of Scotland and completed a £4.7 million redevelopment of the National Museum of Scotland.
Exact details of the latest commission have yet to be announced however it is understood the project will double the display area for Scottish art inside the prestigious galley.
Improved visitor facilities, circulation and energy efficiency are also expected to be on the cards.
Designed by William Henry Playfair, the 1859 structure occupies a prominent plot in the Scottish capital on the Mound. 2 May
Gateway Apartments Edinburgh
Gateway Apartments Student Accommodation, Edinburgh has been announced as the winner of the Residential Property category of the RICS Scotland Awards 2014.
The awards, organised by the Royal Institution of Chartered Surveyors (RICS) in Scotland, recognise the achievements of land, property and construction projects across eight categories – Design through Innovation, Building Conservation, Regeneration, Residential Property, Commercial Property, Infrastructure, Tourism & Leisure and Community Benefit. The residential project comprises of a 170 bed high quality student accommodation development within a tenement block adopting a collegiate style approach to student living. The series of self-contained blocks is set within an exclusive courtyard intended to inspire students, encourage community, and enhance their time at university.
Originally contaminated and derelict with limited outlook, the Gateway Apartments Student Accommodation development re-establishes a lost courtyard style in an exercise of exemplary regeneration. 2 May
Gareth Hoskins wins Scottish National Gallery Contest
Gareth Hoskins has won the architectural competition for the £9m overhaul of Edinburgh's Scottish National Gallery. 1 May
Scottish City Region Plan System
A study commissioned last year by the Scottish Government to assess the progress of the Strategic Development Plan process and carried out by consultancy Kevin Murray Associates working with the University of Glasgow has called for a re-launched with a greater remit over transport, energy and waste functions.
Scotland currently has four strategic development plan (SDP) authorities, created in 2009, focused on the country's largest city regions – Glasgow, Edinburgh, Dundee and Perth, and Aberdeen.
The document states: "We believe there is an urgent need to undertake a refresh and relaunch initiative to improve the understanding of strategic development planning." 29 Apr
Hub Hotel in Edinburgh
Whitbread PLC, the UK's largest hotel group, has announced the launch of its new hotel concept, 'hub by Premier Inn' with the second location in the brand to be opened in Edinburgh, at a location yet to be confirmed.
The new concept will target major UK city centres such as Edinburgh and London, with the first 'hub by Premier Inn' to open on St. Martin's Lane in London in summer 2014.
'hub by Premier Inn' is a new generation of compact, city centre hotel with contemporary room design and connectivity that will offer good value for money and appeal to customers who value price, location and design over space.
At 11.4 sq.m a 'hub' room is compact use innovative design every centimetre is optimised with a desk that folds into the Hypnos pocket-sprung bed, luggage storage under the bed, an en suite bathroom with power shower, free wifi and a 40" inch smart screen TV.
'hub by Premier Inn' will be the UK's first hotel with its own app, letting customers control their hotel experience. The 'hub' app means customers can book and check in online, as well as pre-select their room temperature and light settings.
They can even choose which TV or radio channel they want playing in their room when they arrive and stream content from their phone or tablet direct to their TV. 29 Apr
CPD – Social Capital in the Workplace
As part of Tsunami-Axis' ongoing programme of workplace related seminars they offer a unique twin topic event taking place on Wednesday 14th May 2014 at their Edinburgh showroom – see Edinburgh Events page for details. 29 Apr
Edinburgh Hotel for Former Scotsman Warehouse
A former warehouse once used by the Scotsman newspaper is to be demolished and replaced with a seven-storey hotel.
The mothballed printworks in Market Street has fallen into disrepair and is now on the At-Risk register after lying derelict for more than two decades, the city's Evening Times newspaper has reported. Arms-length council property firm EDI owns the site. The Cockburn Association is critical of the plans.
A planning bid has now been launched to transform the crumbling building into a 113-bedroom hotel – a move that will plug a neighbouring gap site of 40 years (which was destined for the Edinburgh Science Centre designed by Reiach and Hall Architects).
The premises have been left to decay despite four years of warnings about its deteriorating condition. Owners of The Scotsman purchased the century-old premises in 1898 and it housed some of the newspaper's offices, printing works and commercial operations. A low-level link to Waverley Station was used as a special Scotsman railway siding to quickly pack newspapers on to trains for distribution. Much of the building was converted to exhibition space by the City Architect's Department 1979-80. 29 Apr
V&A Dundee News
Dundee's V&A Museum of Design will appear to float on water following an additional £8.3m investment from Scottish Enterprise.
The funding, announced today by Finance Secretary John Swinney, will be used to create a new waterfront area to surround the Dundee building and complement its spectacular design. Separate to the V&A Dundee building costs, the cash will help create an attractive environment around the museum, providing visitors with an outstanding first impression worthy of the first purpose-built design museum in the UK outside London.
V&A Dundee will appear to float within two pools of water, reinforcing the connection between the museum and the River Tay. Capitalising on this riverside setting, the planned design will transform the approach to the Kengo Kuma-designed building using imaginative landscaping and planting techniques to complement the extraordinary architecture. The new space will provide a vibrant city stage for the public to enjoy activities, events and installations at the waterfront. 25 Apr
Third Don Crossing
The building contract for the £15m third Don crossing will go out to tender next week, signalling the beginning of construction work in the summer.
Aberdeen City Council's finances, policy and resources committee meets in June and will then be in a position to award the contract for the project.
Completion is due for Autumn 2015. Building work will begin in July or August 2014.
The bridge will connect the Parkway to St Machar Drive, over the River Don, in a bid to ease gridlock facing motorists using the A90 from the Ellon, Peterhead and Fraserburgh areas. 25 Apr
Dundee Science Centre
Dundee Science Centre is planning a major expansion to give it a greater presence in the £1 billion waterfront redevelopment.
It has received an £850k grant from the Wellcome Trust to form a mezzanine level and create a new medical technology exhibition.
Another £500k is needed to complete the project and an ambitious fundraising drive will take place this year to achieve the £1.35m target. 25 Apr
Right to Buy
Right to Buy 'has had its day', says SFHA
The Scottish Federation of Housing Associations (SFHA) has called on the Scottish Parliament to endorse reduced Right to Buy notice period from three years to one.
The Scottish Government proposes to end the policy which was introduced by Margaret Thatcher in the 1980s and gives eligible tenants the opportunity to purchase their home at a discounted price.
The conclusion formed part of the Committee's stage 1 report on the Housing (Scotland) Bill was debated on 24 Apr.
Earlier this month, members of the Scottish Parliament's Infrastructure and Capital Investment Committee said the three-year timescale proposed by ministers was too long and called for the policy to be scrapped within a year of the legislation gaining Royal Assent. 25 Apr
Kelpie Sculptures Opening
At the first of two night-time events, artist Andy Scott's 300-tonne, 30m high Kelpie horse heads were brought to life by a light, sound and pyrotechnic display. It was staged by Groupe F, a pyrotechnic outfit which lit up the Eiffel Tower at the Millennium. 18 Apr
University of Glasgow Campus Development Plan
The University of Glasgow and PagePark have fleshed out their plans for the Western Infirmary site by showcasing their current thinking at a public consultation, report Urban Realm. 18 Apr
Shetland School Building News
A planning application to build a new high school in Lerwick is set to be submitted before the end of the month after Shetland Islands Council (SIC) managed to secure the final plot of land for an undisclosed sum. The new £42m Anderson High School is due to complete by August 2016. 16 Apr
St Columba's Hospice Building News
Work to put the finishing touches to a new £26m ward block for St Columba's Hospice is currently underway by Graham Construction in readiness for welcoming its first patients next month, report Urban Realm. 15 Apr
Edinburgh Retirement Village
Contractors have moved on site of a 54 home retirement village in Moredun, Edinburgh, offering purpose built accommodation to cater for the city's ageing population, report Urban Realm. Designed by Smith Scott Mullan on behalf of Castle Rock Edinvar. 15 Apr
New Cairngorms Village
Springfield Properties has withdrawn its plans for a 1,500-home village near the Cairngorm mountains after an evolution of "business priorities".
The proposal, which would see the village developed in the Cairngorm National Park Authority next to the River Spey over 20-30 years, has been agreed in principal.
The Elgin-based developer said that the decision to leave the An Camas Mor project after three years in the planning had been "difficult", but that it will still go ahead without the involvement of Springfield. 15 Apr
Glasgow Fort Extension News
Glasgow Fort Retail Centre – 15 Apr
Construction work has commenced at the Glasgow Fort Shopping Park as part of a major development project.
Princes Square Building
Princes Square – 15 Apr
Updated Images of this six-floor city centre shopping centre that has recently been refurbished.
Red Road Flats Glasgow News
Red Road Flats demolition – 13 Apr
Commonwealth Games organisers wisely drop the demolition of the Red Road flats from the Glasgow 2014 opening ceremony.
Princes Street Motel One
A new 140 bedroom hotel building has opened its doors on Edinburgh's Princes Street following the rebuild of a C-listed Victorian property by CDA Architects, report Urban Realm. 11 Apr
Scottish Design Awards Shortlist
Scottish Design Awards Shortlist 2014 unveiled. 10 Apr
Levenmouth High School Building
Work to build a new £35m High School in Levenmouth, Fife – designed by Aedas – has got underway with BAM Construction breaking ground on the 1,800 pupil joint campus, report Urban Realm. 10 Apr
New Cancer Treatment Centre for Western General
NHS Lothian has unveiled plans for a major new cancer treatment and research centre to be built at the Western General.
The specialist centre – which would be comparable to the renowned £105 million Beatson facility in Glasgow – would replace the Western's Edinburgh Cancer Centre.
Experts are predicting the number of cases will increase by more than a fifth in a decade due largely to the region's ageing population.
Plans are being drawn up for the centre, which will treat patients from Dumfries and Galloway and Fife as well as the Lothians, before funding bids are submitted to the Scottish Government.
If successful, construction could begin as early as 2017, when the department of clinical neurosciences moves from the Western to its new home next to Edinburgh Royal Infirmary. 8 Apr
Dundee Homes News
Scottish homebuilder Springfield Properties has announced plans for 228 new homes to the west of Dundee. Following two consultation meetings with the public earlier this year, the housebuilder lodged plans with Dundee City Council for the homes at South Gray, within the Western Gateway.
The development, which is estimated to be worth in excess of £150m forms the first part of a new village at South Gray. 8 Apr
Sighthill Regeneration News
Glasgow City Council planners will today be asked to agree in principal to a planned £250m transformation of the Sighthill area of the city. If approved, the project will result in the creation of hundreds of new homes, a school, shops and a new bridge over the M8. 8 Apr
Fountainbridge Masterplan News
The EDI Group is giving the public a final opportunity to have their say on a proposed master plan for Edinburgh's Fountainbridge district ahead of submission of a planning application in principle next month.
Designed by 7N Architects the plans incorporate a restored former rubber works alongside a new Boroughmuir High School and 340 high density homes alongside the Union Canal together with complementary office, retail, leisure and public realm works, report Urban Realm. 7 Apr
Ben Dawson & Fallen Tree Rising Move to a New Home
7 Apr – Ben Dawson Design : Manufacturer and Fallen Tree Rising have moved to new headquarters in Prestonpans, near Edinburgh, Scotland UK. We have new office, studio, machine shop and cabinet shop. We have a woodland where we have already started milling fallen trees and putting planks 'on stick' to season.
Follow them on Twitter @fallentreerisin and our websites www.fallentreerising.com and www.bendawson.com
Our mailing address is:
Ben Dawson – Fallen Tree Rising Project
Unit 3, The Old Bakery
Mid Road Industrial Estate
Prestonpans, Scotland EH32 9JB
United Kingdom
Red Road Flats News
Plans to demolish five of Glasgow's iconic Red Road Flats as part of the 2014 Commonwealth Games opening ceremony have been slammed. 7 + 4 Apr
Scottish Architecture Photos
2 Apr – Over the next week we will be showing new photos by Keith Hunter on this news page, of the following buildings:
• Lanark Primary School – Kier Construction / Stallan Brand
• Auchmuty High School, Glenrothes – Fife Council
• Via Italia, Glasgow – Burns Design
• Paisley Town Hall refurbishment – Austin Smith Lord
Scottish Building Procurement
Scottish architects have slammed the country's procurement methods and lambasted the country's architecture policy for creating poor quality buildings, reports the AJ. 1 Apr
House of Music
e-architect attended the opening event for House of Music in Aalborg, Denmark, designed by COOP HIMMELB(L)AU, and talked with leading architect Wolf Prix about the building – new photos + review. 30 Mar
e-architect news
e-architect, based in Scotland – has recorded 2 million hits in one day for the first time last week – 21 Mar 2014. Our twitter following has just passed 50,000 and our facebook followers now number more than 160,000. In total we have over 260,000 followers across our various social media channels. We also have 97 architecture guides operating in 64 cities across the world. Thank you for your support and interest as we grow our global architecture resource. 30 Mar
Melrose Abbey to play host to Fragments of Red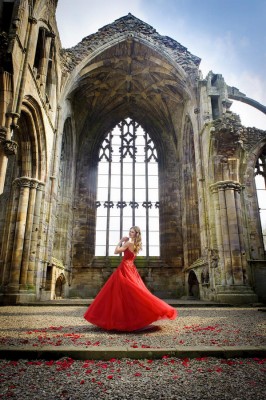 The third in a series of performances inspired by the medieval Hawick Missal Fragment will take place at Melrose Abbey on Saturday 5th April 2014, ahead of Palm Sunday, for which the music was first composed.
Model Kristina Antanaityte explores Melrose Abbey ahead of Fragments of Red: The Last Song, a performance of new music by composer Grayston Ives which will take place at the abbey on Saturday 5th April. 28 Mar
Scottish Design Awards 2014

The Scottish Design Awards are open to all Architecture & Design companies in Scotland, or those doing work for a Scottish Client. The Awards aim to highlight the best and the brightest stars in the Scottish design industry.
Nominations will be announced 9th April. 28 Mar
Skyscrapers + Wind Turbines for Edinburgh Skyline
A concept image has depicted Edinburgh in 2044 with a skyline filled with glass and steel skyscrapers and surrounded by giant wind turbines. Released by promoters of new British sci-fi film 'The Machine', the picture imagines the changes brought by a near future Britain engaged in a cold war with China.
While the World Heritage landmarks of Edinburgh Castle and the Hub building remain untouched, vast swathes of the city are dominated by towering skyscrapers, and Princes Street appears to have become the home for a huge Shard-like construction. In the distance the Pentland Hills have become a forest of gigantic wind turbines.
The concept art, which was created by architect David Edwards, imagines a world in which the Ministry of Defence has developed an artificial intelligence which has the capability to fight as well as negotiate on our behalf. 28 Mar
World Heritage: Shared Heritage
Apr 16, 2014
Edinburgh World Heritage Architecture Event
Wednesday 16 April, 6pm, at the Royal College of Physicians. Speakers Sue Bruce, Chief Executive, City of Edinburgh Council and Lloyd Anderson, Director, British Council Scotland. 28 Mar
Aberdeenshire Council Houses
More than £90m is to be spent over next three years in building "much-needed" council houses and upgrading existing properties in Aberdeenshire.
More than 160 new homes have been built over the last three years under the Aberdeenshire Council's New Build programme, helped by Scottish Government funding. The council has also pledged to double the number of affordable houses in the region. In addition there are still 7,500 people on the council house waiting list in Aberdeenshire. Almost 220 new homes are planned for Peterhead, Inverurie, Westhill, Banff, Fraserburgh and Ballater. 28 Mar
Dundee School Building News
The foundations of the new Harris Academy in Dundee were laid yesterday. The £31m replacement for the secondary is on the site of its previous 1931 building. Original features such as clock tower and the stone entrance portico are being retained and reused. The project is expected to be completed in 2016. 28 Mar
Royal Scottish Academy Annual Exhibition
29 Mar – 4 May 2014
RSA Building, The Mound, Edinburgh, EH2 2EL | Admission by donation
188th RSA ANNUAL EXHIBITION
"Focus on Film"
The RSA Annual Exhibition is a focal point of the RSA programme and showcases work from RSA Academicians the length and breadth of Scotland. Now in its 188th year, it continues to provide a platform for contemporary paintings, sculpture, film, printmaking, photography and installation alongside work by some of the country's leading architects. 25 Mar
Scotland's oldest working theatre and concert hall take centre stage thanks to Heritage Lottery investment
Today, the Heritage Lottery Fund (HLF) announced support totalling almost £2.7m to help secure the futures of the Theatre Royal in Dumfries, St Cecilia's Hall Edinburgh, Dunoon Burgh Hall, and Kirkcudbright Art Gallery. As well as restoring and altering the buildings to make them sustainable, work will be done to research and preserve the colourful histories of these creative and performing arts venues. 25 Mar
Shigeru Ban Pritzker Prize Winner 2014
Shigeru Ban is the Pritzker Prize Winner in 2014.
Shigeru Ban, a Tokyo-born, 56-year-old architect with offices in Tokyo, Paris and New York, is rare in the field of architecture. He designs elegant, innovative work for private clients, and uses the same inventive and resourceful design approach for his extensive humanitarian efforts.
For twenty years Ban has traveled to sites of natural and man-made disasters around the world, to work with local citizens, volunteers and students, to design and construct simple, dignified, low-cost, recyclable shelters and community buildings for the disaster victims. 25 Mar
RIAS Awards News
The Royal Incorporation of Architects in Scotland (RIAS) has announced a 27 strong shortlist for its 2014 awards.
83 buildings range in scale from £26k for a little garden pavilion to £125m for a nationally important entertainment arena. This architecture award is now the single most important recognition of architectural achievement in Scotland. 24 Mar
Edinburgh Castle To Switch Lights Off
Edinburgh Castle is to join landmarks from around the world in switching off its lights later this month to help raise awareness of the impact of climate change.
The castle is one of a number of global landmarks – including the Eiffel Tower, Empire State Building and Sydney Opera House – to take part in Earth Hour, a WWF event which sees individuals, communities, cities and landmarks around the world switch off their lights simultaneously to show their support for action on climate change. 24 Mar
Perth City Hall Objection Deadline
All objections to proposals for the Perth City Hall Building area must be sent to the council by Friday the 14th of March 2014. If you are yet to do so please email the council with your name and address and statement of objection. The application number is 14/00292/LBC and the address to send it to is developmentmanagement@pkc.gov.uk. An article by Neil Baxter of the RIAS appeared in the Press on the 13th of March and Margaretha Linacre handed in about 2,000 letters of objection to Perth and Kinross Council's office in Kinnoull Street.
Maggies Forth Valley
Planning permission has been granted to NORD Architecture for the new Maggie's Centre at the Forth Valley Royal Hospital in Larbert. This will be the 9th Maggie's Centre in Scotland with the opening of Maggie's Aberdeen in September last year and the new purpose built Centre in Lanarkshire due to open later this year. 14 Mar
Scottish Architects Take a Stance on Israel
Surely we have plenty of issues we could be focusing on, such as improving the quality of our built environment, removing plaqnning red tape and improving design team fees. Here is a press release from the RIAS, however it should be noted that judging other countries is a very slippery slope, as Libeskind found out when he publicised his anti-China stance – if you start to analyse each country in depth you will find problems from human rights to corruption that are constantly shifting. I think we should look out to the world and engage (of course, just look at e-architect) but I would expect the RIBA and RIAS to focus on issues in our own country – Ed.
Motion to Condemn Architects' Role in Israeli Incursion Approved by RIAS Council
Issued Wednesday 12th March 2014 – At the behest of the Royal Institute of British Architects' (RIBA) immediate Past President, Angela Brady Hon FRIAS and joint member George Oldham, the Royal Incorporation of Architects in Scotland (RIAS) is taking a stance through the UIA (International Architects Union) against the aggressive use of new buildings as a mechanism to support a 'land grabbing' offensive.
For many years the occupying Israeli forces have been building on Palestinian territory in a creeping annexation of land neighbouring the territory which was occupied after the first Arab-Israeli war (1946-48) and awarded to them under the international (UN) partition plan of November 1947. This continuing action is contrary to UN Resolution 452 of 20th July 1979:
"The policy of Israel in establishing settlements in the occupied Arab territories has no legal validity and constitutes a violation of the Fourth Geneva Convention…" – see the full release at Edinburgh Building News March 2014 – news in full from February 2014. Views welcome, you may agree with the sentiment but do you think our architects institutions should be poking their noses into a foreign country's affairs? If Israel is a target then why not Saudi Arabia, China, Russia, etc.? 12 Mar
Student Accommodation in Fountainbridge
Ogilvie Construction has broken ground on an £11 m project to build an eight-storey student accommodation building, to be called Arran House, in the Fountainbridge area of Edinburgh.
Due for completion in 2015, the project was awarded to Ogilvie by the Student Housing Company and will provide 302 high quality student apartments of varying sizes, along with retail space on the ground floor.
Ogilvie will also complete infrastructure works and a new junction for the Western Approach Road, one of the main routes into Edinburgh.
The Student Housing Company manages purpose built student accommodation across the UK. The company prides itself on delivering high quality accommodation, excellent levels of service, security and attention to detail. 12 Mar
Scottish Property Awards 2014
The best new commercial and public property developments in Scotland have been announced at the inaugural Scottish Property Awards celebrated at a sell-out event in Edinburgh on 27 Feb.
The SSE Hydro, the Dundee Waterfront, the Commonwealth Games Athletes' Village and Advocates Close in Edinburgh were among the high profile winners of the awards which recognise commercial and regeneration projects in towns and cities. 28 Feb
National Library of Scotland News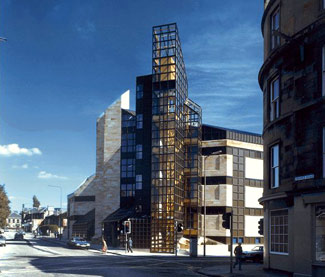 The National Library of Scotland has appointed Graham Construction to undertake a £10m reclad and redevelopment of its Causewayside Building, reports Urban Realm today.
The 19,000sqm building, delivered in two phases in 1989 and 1995, has been hit by 'widespread' air and water leakage and now requires a replacement roof, rain screen cladding, glazing, stonework and water discharge systems.
Though not listed Andrew Merrylees Associates (later merged with Hypostyle) won the Royal Scottish Academy's 1982 gold medal for architecture with their design. Graham Construction expects to move on site this June for completion in 2017. 27 + 26 Feb
Perth City Hall Protest
Here is a message from the group trying to save this building from demolition:
"Dear Perth City Hall Supporters' Group,
A day of protest is to be held this Saturday, March 1st outside the City Hall at ten o'clock, to coincide with Market Day. We need as many volunteers as possible to hand out leaflets to the public at the market, and to passers by. The papers have been informed as have the BBC and STV. It is vital that we show the maximum support possible at this crucial time during the period of objection. It will be a pleasant and friendly occasion and I'm sure the public will very much support our efforts to preserve the City Hall.
Please come along on Saturday, even just to meet outside the City Hall. It is very important that the Press show the strength of feeling we have to save the building. The website can direct the public anywhere in the world to see for themselves how strongly we feel". 27 Feb
Dr Frank Rushbrook
Dr Frank Rushbrook, CBE 1914-2014
The Edinburgh Fire Research Blog reports, "It was with great sadness that we learned of the passing of Dr Frank Rushbrook, CBE on the 17th February 2014, aged 99. Frank was a true visionary who will forever be associated with the creation of the academic discipline of Fire Safety Engineering at Edinburgh and was a life-long friend and supporter of the group.
During his long and distinguished career in the Fire Service, with time spent in Edinburgh and London during the war, Frank rose to the rank of Firemaster of Edinburgh and South-East of Scotland Fire Brigade before retiring in 1970. The post-war years were a time of rapid technological change.
Dr Rushbrook saw that there was a need for graduates skilled in Fire Safety Engineering to interact more positively with established engineering disciplines and architects to solve issues of fire safety in modern, increasingly large and complex buildings. From the early signs of change, Frank knew that education was key."
The funeral took place this morning at Warriston. 26 Feb
Muirhouse Housing
A £42m project to deliver 700 new homes in north Edinburgh is to get underway.
The first wave of 193 homes are to be built on the site of the former Craigroyston High School in Muirhouse, with a further 500 to be built within the next ten years.
The long-awaited work is due to get under way this summer and is expected to transform the fortunes of the dilapidated district after 595 properties were demolished over the last seven years. The contractor is Urban Union Ltd. 26 Feb
Market Street Hotel News
EDI Group has submitted a proposal of application notice for the development of a long-standing gap site on Edinburgh's Market Street, straddling the Old and New Towns, reports Urban Realm.
JM Architects have been brought on board for the development which would entail demolition of an unlisted garage building.
Rising to seven storeys in height the new build property would incorporate associated bar and restaurant facilities.
A 12 week pre-application consultation for the 103 room hotel is currently underway; with a preview of the plans to be held at the City Arts Centre, fifth floor gallery, on 10 March between 15:00 and 19:00.
This site previously had a design proposal by Reiach and Hall Architects for the Science Centre Edinburgh. 25 Feb
Scottish Provident Demolition
Work to demolish Edinburgh's B-listed former Scottish Provident building is to commence immediately following its acquisition by Standard Life Investments, reports Urban Realm.
The financial giant has entered into a £75m joint venture agreement with Peveril Securities to develop the St Andrew Square property into a speculative 165,000sq/ft mixed use scheme offering a mix of grade A office space, retail and apartments. Completion is due in 2016. 20 Feb
Old Town Fire Site

As the SoCo development completes the Edinburgh Evening News has produced a video about this major inner-city development on the Cowgate and South Bridge.
"Connecting the festival-friendly districts of Cowgate, Chambers Street and South Bridge it is thought the new stone walkways will prove an August hit with Fringe revellers and breathe life into a gap site that has lain dormant since December 2002."
A huge stone plaque which greets visitors to SoCo's Cowgate entrance reveals the new name for the complex – the Alexander Building. It commemorates the 18-year-old son of SoCo developer Andy Jansons, who died last July from a rare heart complication. 20 Jan
Scottish Poetry Library Building
Malcolm Fraser, architect of the Scottish Poetry Library, has called on Creative Scotland to think carefully before agreeing to fund its 'despoilment' – following submission of a planning application which calls for a radical expansion of the collection.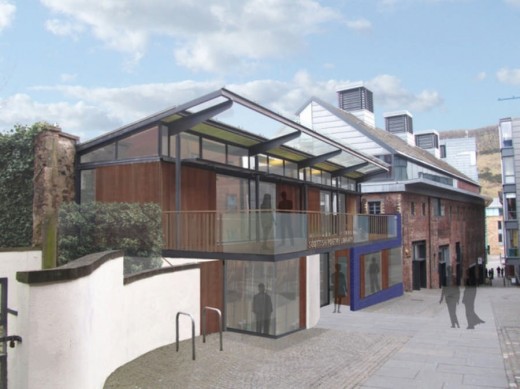 Letter of objection from Scottish architects Malcolm Fraser + Alan Dunlop re a planning application to revise this wee gem of a building, readers are welcome to show their support for retaining The Scottish Poetry Library as it is. 15 + 14 Feb
Aberdeen masterplan
The outline of a masterplan for Aberdeen city centre has been unveiled to the City Centre Regeneration Board.
It is understood the local authority has agreed to underwrite the cost of the City Centre Masterplan and Delivery Programme – for which external funding, including from the private sector, will be sought – up to the value of £750k. A procurement brief, drawn up to provide a clear vision of the city's future addresses the issues raised in the Robert Gordon University paper Regenerating Aberdeen: A Vision for a Thriving and Vibrant City Centre. 14 Feb
Keppie Appoints Architects
Scottish architectural practice Keppie has strengthened its senior team with the appointments of Gordon Hood and Adrian Boot as directors of the business with immediate effect.
Adrian and Gordon (both with RMJm for many years) have developed a strong partnership borne out of delivering high profile projects together, including the multi-award winning Engineering Building at the National University Ireland (NUI) in Galway.
The new recruits will work closely with existing director of Learning, Peter Moran, who moves to a role heading up Keppie's public sector business, covering both healthcare and education projects. In line with his experience of cross-working across hubCo territories and various frameworks, Peter will deliver strategic oversight in this sector.
Managing director Martin English said: "This latest news brings our total of new recruits starting within the last six months to well over 30. Over the course of the last few months we have been on a steady course, recruiting senior specialists who can add value to our offering.
"The introduction of Gordon and Adrian is the latest stage of this process and their exceptional track record will help us to extend our offer across further and higher education, which are showing strong signs of growth on the domestic stage. Their track record internationally will also allow us to selectively pursue opportunities in other markets as they arise. Their experience complements that of Peter Moran's perfectly and together we believe they will form a formidable team." 12 Feb
RICS Scotland Awards Shortlist
Atria Edinburgh, Dundee Waterfront, Glasgow 2014 Commonwealth Games Athletes' Village and SSE Hydro will be among the projects competing in the 2014 RICS Scotland Awards following the shortlist announcement. Eight category winners and a Project of the Year will be selected from the 48 shortlisted entries to the awards – see the February news page for details. 12 Feb
Kirkintilloch Primary School Building
Plans for a new Lairdsland Primary School in Kirkintilloch progressed as the partners involved in the £7.7 m project achieved financial close. In collaboration with SFT, the building has been designed by architects Walters and Cohen and is being used as one of two reference designs for new primary schools across Scotland.
The landmark agreement was reached between East Dunbartonshire Council and development partner hub West Scotland and contractor Morgan Sindall allowing the first sod to be cut this month.
Building works are set to run for completion before the summer 2015 break and the council is working with its partners with a view to delivering an earlier completion date if that is achievable.
Lairdsland Primary School is one of 67 new schools to be built within the £1.25bn Scotland's Schools for the Future programme managed by Scottish Futures Trust (SFT) on behalf of the Scottish Government, which has contributed £2.5m to the project. 12 Feb
New Forth Bridge News
The team behind the new Queensferry Crossing has given an assurance it will remain open no matter the weather.
The new bridge has been fitted with special barriers – modelled in a wind tunnel – that will prevent it from having to close in a storm.
Transport Scotland project director David Climie said: "The windshields have undergone wind tunnel testing to ensure reliability and therefore there will be no need to close the bridge in high winds."
Officials made the assurances while unveiling a video of what the Forth's newest £1.4bn crossing will look like.
The top of the 820ft high central tower can already be seen emerging from the water and in the coming weeks both the south and north towers will also appear. All three are expected to be at full deck level by mid-summer.
Once the deck level is in place, the large windshields will be placed along each side of the 1.6-mile bridge. 12 Feb
The Edinburgh Centre for Carbon Innovation
Design: Malcolm Fraser Architects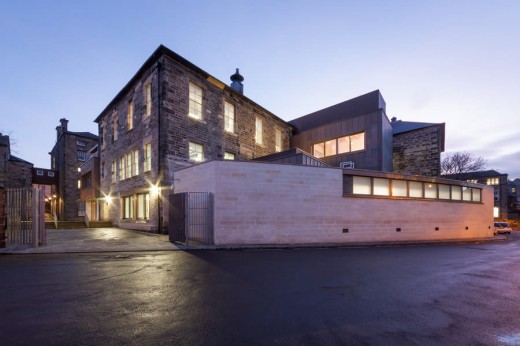 photo from architects
The Edinburgh Centre for Carbon Innovation – 7 Feb
The Edinburgh Centre for Carbon Innovation is a world class interdisciplinary research and teaching facility focused on key climate related challenges facing society. The ECCI will: bring together and direct high-quality research; address the significance of climate change at the science-society interface; inform political decision making; and establish Edinburgh as a leading university in the field.
Dundee Building News
Hundreds of millions of pounds could be pumped into building projects in Dundee over the next four years, if councillors approve a new capital plan.
Dundee City Council's capital plan for 2014/2018 proposes a £270 million pound investment across a range of sites in the city.
Under the plan, £55m will be injected into the schools building programme to build new primary and secondary schools, along with refurbishments at existing schools across the city.
The state-of-the-art regional performance centre for sport is also earmarked for a £5m investment, while enhancements are proposed for leisure centres and social care facilities. 7 Feb
Battle of Bannockburn Visitor Centre Building News


photo © Isabelle Lomholt
Battle of Bannockburn Visitor Centre – this new building on the south side of Stirling nears completion. The design is by Edinburgh architects Reiach and Hall. 6 Feb
Edinburgh Walking Tours
Recently e-architect organised walking tours in Edinburgh and Glasgow for a delegation of the top architects in Sweden. We showed the 18 architects – all directors of architecture practices between 20 and 400 people in size – around the key buildings. Each architecture office will now be offered walking tours in the two cities, so you might be seeing a few more Swedish architects walking round Edinburgh and Glasgow soon!
Edinburgh Building News – news in full from February 2014
Quartermile Housing Edinburgh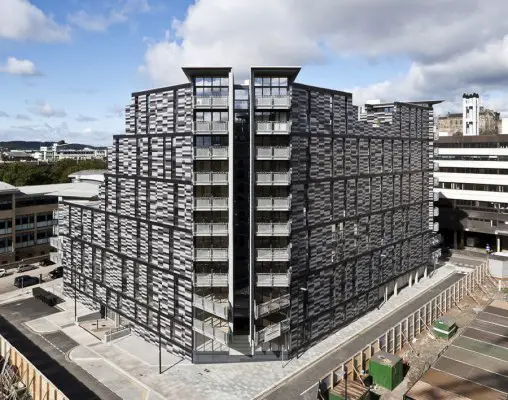 photograph © Keith Hunter
Wharton Square Edinburgh EH3 – formerly known as Q10. 14 Jan
Asian Connections
Asian Architecture Awards
e-architect editor Adrian Welch will be speaking at this architecture event, alongside architects such as Ken Yeang, Jo Noero, Odile Decq and Sanjay Puri, plus thinkers such as Juhani Pallasmaa.
Artists in Concrete Awards (AICA) Festival is annual celebration of excellence in architecture, landscape designing and interior designing.
Artists In Concrete Awards Asia Fest took place in Pune, India: 6-8 Feb
Adrian Welch works as a Senior Architect for Lewis and Hickey Architects in Edinburgh.
Architectural Fantasy
13 Jan – Students challenged to create architectural fantasy – in a weekend.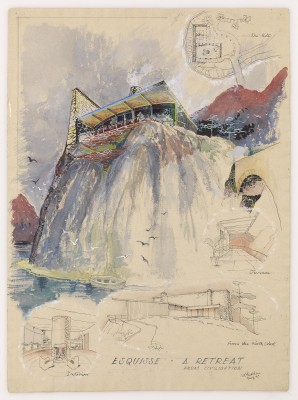 Students at Edinburgh College of Art (ECA) are being challenged to sketch out their architectural fantasies, in a competition that harks back to the 1930s and 40s.
The Royal Commission on the Ancient and Historical Monuments of Scotland (RCAHMS) has devised the competition both for fun and to remind students of the skills that their forebears had to develop in the college's early days – see more at January news page.
Edinburgh Buildings News – news in full from January 2014
Scottish Architectural Photos
Coming up in the next week we will be featuring these projects:
• EICC extension and Atria building, Edinburgh by BDP
• Q10 Quartermile, Edinburgh by Richard Murphy Architects
• St.Cadoc's Primary School and Parkview Primary School by Stallan Brand
• William Quarrier Scottish Epilepsy Centre by Anderson Bell Christie. 13 Jan
Scottish Towns Regeneration Funding
Seven towns are to benefit from a £2.75m Scottish Government fund aimed at breathing new life into town centres. The money will be spent on converting vacant properties into affordable homes as part of a vision to bring about a "new era" for Scotland's high streets. Councils, housing associations and private developers had been urged to apply for a share of the funding pot. The town centre housing fund was originally £2m, but was increased to allow more areas to benefit. 6 Jan
Dundee Hotel News
An application has been filed by Peter Inglis Architects for the development of a 100 bed hotel on the site of a petrol station on Dundee's East Marketgait, reports Urban Realm today. Located adjacent to the newly completed Olympia swimming pool the hotel would connect to an adjacent multi-storey car park via a dedicated link bridge. 6 Jan
Edinburgh Properties
Significant Edinburgh Property – Selection:
Edinburgh Building News – news in full from March 2014
Edinburgh Architecture News – news in full from February 2014
Edinburgh Building News Summary
Comments / photos for Edinburgh Building News 2014 page welcome