Modern movement impact on architectural design guide, 20C Architecture online, Modernist style
The Modern Movements Impact On Architectural Design
19 October 2021
You may have heard the term many times, but what is Mid-Century Modern?
Well, it defines a popular design style from the 1930s through to the 1960s. Designers started prioritising function over flamboyant features usually featured on traditional designs. Originating in Europe, designers like Ludwig Mies Van Der Roe brought the movement over to America.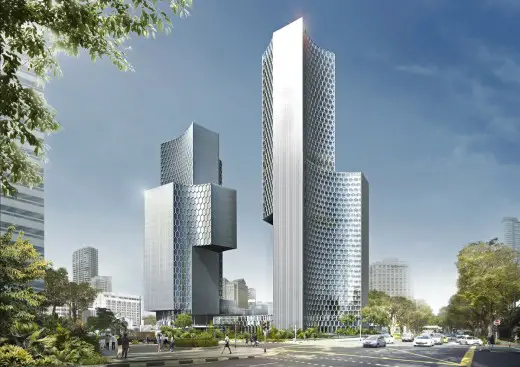 Mid-Century Modern typically describes the American modern movement, in Europe it is referred to as Bauhaus design, named after the iconic design school.
How Can You Spot A Mid-Century Modern Home?
There are three very dominant characteristics that define mid-century modern homes. One, a clean and minimalist aesthetic. Two, an emphasis on bringing the outdoors in with large windows and glass doors. Three, the presence of very angular and straight structures.
Minimalist Aesthetic
Clean lines and little decoration describe both exteriors and interior design during the mid-century modern movement. Character was brought into the home through the use of bright pops of colour. The lack of decoration demonstrated the designers focus on function rather than style.
Maybe unknown to them at the time, the results were many timeless designs that are still featured in many homes and architectural designs today.
Emphasis On Bringing the Outdoors In
Large windows, sliding glass doors and open plan spaces were often featured in architectural designs. Designers featured these elements as they started to spot the growing urbanised society and wanted to keep that connection with humans and nature. The results were houses with beautifully scenic views and an abundance of natural light.
Angular Structures
Straight and clean lines perfectly embody a modern look. The designers themselves were inspired by geometric shapes and asymmetrical compositions. Unlike architectural designs before this time, mid-century modern architect shows little historic influence in their designs.
Which Designers Should You Know About from The Mid-Century Modern Movement?
Charles & Ray Eames
Even though a lot of their architectural designs didn't make it past drawing or model-building, their Eames House has become an icon in industry. They participated in both residential and commercial building projects but were more successful in areas like their furniture designs.
Among the interior design world, Eames is a classic name where their furniture is often featured in many homes. Their approach resulted in multiple famous designs, like their revolutionary Lounge Chair and innovative Eames Rocking Chair, and other designs among the Eiffel collection.
Ludwig Mies Van Der Rohe
The name behind the well-known saying "less is more". Van Der Rohe was a pioneer of the modern movement. His style was simplified and rectilinear high-rise buildings. Among his many projects were the Seagram Building, Farnsworth House and the Chicago Federal Centre.
Eero Saarinen
Throughout his career, Saarinen would design very different structures. Immersing himself in various genres and concepts, there isn't one you could use to define his architectural work. Unlike his furniture designs, that could easily be described as space-age style. His work has been described to capture the futurism and optimism that was felt among designers in the mid-century due to technological advances.
Some of his projects included the MIT Chapel, Miller House and Garden, Milwaukee County War Memorial Centre, Washington Dulles International Airport and many more.
Comments on this guide to Modern movement impact on architectural design article are welcome.
Edinburgh Architecture
Liberton Brae Townhouses
Design: LBA Architects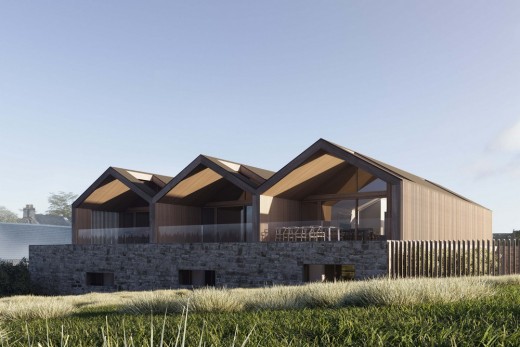 image courtesy of architects
Liberton Brae Townhouses
St James Quarter Edinburgh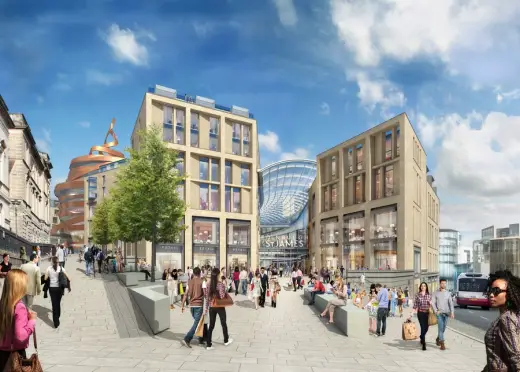 image of the development
St James Quarter
Comments on this Modern movement impact on architectural design guide article are welcom