Edinburgh Events, Conferences, Lectures, Exhibitions
Edinburgh Events 2005 to 2007 : Architecture
Edinburgh Building Events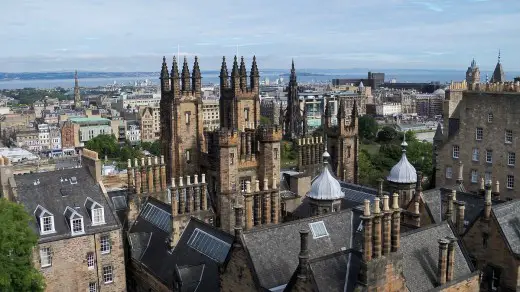 Edinburgh Events in 2005 + 2006
Edinburgh + Glasgow Events for 2007
Master Classes 2007:
Scottish Centre for Conservation Studies, Edinburgh College of Art
Thursday Masterclasses: Hunter Building Lecture Theatre, entry from Lauriston Place
5.30 – 8.15pm, refreshments at 6.45/7.15pm
1 January 11th Dr Susanna Wade-Martins, University of East Anglia, Norwich.
Buildings of the Land: The Past, Present and Future of Britain's
Historic Farm Architecture
2 January 18th Dr Peter Burman, MBE FSA. Director of Conservation and
Property Services, The National Trust for Scotland.
Contemporary Craftsmanship
3 January 25th Professor Gregory Ashworth, University of Groningen,
Netherlands. On Gaps and Bridges in Heritage as the Uses of
the Past
4 February 1st David Page, Page and Park Architects, Glasgow. Modern
Interventions in Historic Places.
5 February 8th Keith Stephen, SEEL Building Design Partnership, Glasgow.
Kelvingrove New Century Project.
6 February 15th Patrick Baty, The Paint Detective
7 February 22nd Monsieur Pierre Laconte, International Society of City and
Regional Planners, Belgium. New Town: Concepts,
Implementation and Conservation
8 March 1st Dr Miles Oglethorpe, RCAHMS. From Omnipotence to Obscurity:
the Built Heritage of Scotland's Coal Industry.
9 March 8th Michael Morrison, Purcell, Miller Tritton Architects, Norwich.
Conservation in the Deep Freeze: Challenges of the Antarctic
March 15th No Materclass
10 March 22nd Andrew Clegg, The Errol Brick Company. The Conservation and
Repair of Traditional Brickwork in Scotland.
We greatly appreciate financial assistance from The Scottish Conservation Bureau of
Historic Scotland
Admission: £20 per lecture, ECA students £5, non-ECA students £7.50,
by ticket only from Moira Seftor 0131 221 6072, or at the door.
Bennetts Associates Exhibition – Edinburgh College of Art
5 – 21 Oct
Bennetts Associates second exhibition at the Edinburgh College of Art
EDINBURGH: Doors Open Day
30 Sep
Doors Open Day Edinburgh
UK/EDINBURGH: RIBA Presidents Medals Exhibition
16 Jun – 2 Jul
"This is a travelling exhibition organised by ourselves in Association with AiA Art in Architecture and the RIBA. It will begin in Liverpool on the 21st April at the RENEW Rooms gallery Liverpool @ which it will be opened by the President of the RIBA Jack Pringle. The exhibition will visit 7 venues in England and NI this year and then the following 5 years be at 20 venues in England and NI, so far no Scottish venues? Except ours as organisers.
The time we have it coincides with National Architecture Week and the show is listed as a venue within the National programme of events"
gallerA1, 2 Commercial Street, Leith 0131 555 2280
RIAS AGM:
21 Jun
RIAS, Edinburgh
Architecture Week 2006
New Tales From the Old Town…with Malcolm Fraser
17 Jun
As part of Architecture Week 2006, Edinburgh World Heritage is teaming up with Architecture and Design Scotland to host 'New Tales From The Old Town' – a public event at the Scottish Storytelling Centre.
RSA Annual Exhibition
8 Apr – 21 May
EAA AGM & Discussion: On Proposed RIAS HQ Move
25 Apr
RIAS Council Room
Opportunity for EAA members to air their views and concerns
PERTH: RIAS Convention
5 May Perth Concert Hall
speakers include Massimiliano Fuksas + Mario Botta
RIAS Convention
Plain Modern – Brian Mackay-Lyons
11 May
Napier University, Edinburgh
EDINBURGH: Exhibition of Graeme Massie's recent work
4 May – 2 Jun
RIAS
EDINBURGH: EWHT Event
31 May – 2 Jun
INSPIRING CITIES: NEW DESIGN IN A WORLD HERITAGE CITY
Organisation of World Heritage Cities – NW region Conference, Edinburgh
The themes for the conference are contextual design, public realm, and World Heritage Sites and settings, which are real issues for all World Heritage Sites at the moment. Vienna and Cologne have recently come under scrutiny from UNESCO for allowing high buildings close to their sites.
In Liverpool the proposed Woods Bagot Tower has been heavily criticised by English Heritage because of its impact on the city's newly designated World Heritage Site. The aim of the conference is to bring heritage and development more closely together and to enable increased understanding on both sides.
The first day is themed as the 'Edinburgh experience', and is being offered as a stand alone event for day delegates. Keynote speakers include Sir Terry Farrell the Edinburgh design champion, Hal Moggeridge talking about the city's tall buildings policy and Professor Brian Evans on the importance of public realm design.
The conference is sponsored by Edinburgh World Heritage, City of Edinburgh Council, Historic Scotland and Architecture and Design Scotland.
EDINBURGH: RSA Student Exhibition
11 – 23 Mar
RSA Galleries – RSA Exhibition: 2006 News
New Town RSA, The Mound
EDINBURGH: EAA Ball
17 Mar
The Hub, Edinburgh
EAA Awards + Ball
EDINBURGH: Rennie Mackintosh Exhibition
22 Nov 2005 – 5 Feb 2006
Rennie Mackintosh watercolours at the Dean Gallery
EDINBURGH: Wind POWER – One-day conference & exhibition
29 Nov
Dynamic Earth Conference Centre, Edinburgh
EDINBURGH: Eusas Lecture Series
4 Nov
Bennetts Associates
Edinburgh University, Architecture Department
EDINBURGH: Workshops Plan To Build On Architect's Legacy
2 – 4 Nov
Public workshops encouraging people to learn more about Basil Spence, one of Scotland's most celebrated architects. Spence was involved in a varied range of high-profile architectural projects, from Glasgow Airport to controversial designs for high-rise flats in the Gorbals area of Glasgow: Crown Street
EDINBURGH: Autumn Prospect Debate on the City
27 Oct
40 Princes St, Edinburgh
Speakers for the debate:
Martha Schwartz, Landscape Architect
Robert Adam, Robert Adam Architects
Richard Williams, Author of The Anxious City
Professor Jules Lubbock ­ University of Essex
EDINBURGH: Eusas Lecture Series
28 Oct
Gross Max
Edinburgh University, Architecture Department
GLASGOW: BLOCK Architecture Festival Glasgow
8 – 15 Oct
Keynote lecture by architect Zaha Hadid + first UK showing of Landforms Exhibition, which formed the Scottish display at the 2004 Venice Architecture Biennale
EDINBURGH: Stirling Parliament
Awards Event televised at Royal Museum of Scotland:
Scottish Parliament shortlisted for Stirling Prize
15 Oct

Scottish Design Show
6 + 7 Oct
Shortlist for this year's Carbuncle Awards + 'Best 100 Scottish Buildings of the last 50 Years' – online at Scottish Design Show. Venue: Tramway Theatre
EDINBURGH: gallerA1 Event – 1st Exhibition
Shaeron Averbuch – Paintings & Sculpture
1 – 30 Sep
Shaeron studied at Edinburgh College of Art
EDINBURGH: Richard Murphy Lecture
Historic Scotland
21 Sep
EDINBURGH: City Design Champion Lectures
Royal Museum of Scotland
22 Sep
Speaker Wayne Hemmingway
EDINBURGH: Historic Buildings Open + Lecture
Doors Open Day Edinburgh + Richard Murphy Lecture
24 Sep
179th RSA Annual Exhibition
Royal Scottish Academy
13 Aug – 25 Sep
EDINBURGH: RIAS Festival Fringe Exhibition
10/10: Buildings that made a difference
1 Aug – 2 Sep
Featured buildings:
1996 Maggie's Centre Edinburgh
1997 Archaeolink
1998 St Aloysius Junior School
1999 The Lighthouse
2000 Graham Square
2001 Dance Base
2002 Radisson Hotel Glasgow
2003 An Turas
2004 A'Chrannag Rothesay
2005 Scottish Parliament
Scottish Awards
Civic Trust Awards deadline for entries – 16 Sep
EDINBURGH: Architecture Exhibition + Event
25 Mar – 17 Apr
Featuring:
Ric Russell RSA (Elect), Malcolm Fraser ARSA and Richard Murphy ARSA
Some of the projects included in the exhibition are the Fruitmarket Gallery in Edinburgh and Dundee Contemporary Arts by Richard Murphy Architects; Dance Base, Scottish Poetry Library and Scottish Storytelling Centre by Malcolm Fraser Architects and Dundee Rep Theatre, Byre Theatre in St Andrews and An Lanntair Arts Centre in Stornoway by Nicoll Russell Studios
EDINBURGH: Buredi: The First Five Years
Talk by Ian Wall & John Forbes
19 Apr
Scottish Book Trust
LONDON: Sutherland Hussey RIBA
19 Apr
"Their An Turas shelter on the Isle of Tiree, designed in close collaboration with a group of artists, won RIAS building of the year 2003 and was shortlisted for the RIBA Stirling Prizein the same year."
EDINBURGH: EAA Quiz
26 Apr
Quiz + AGM at the Apex Hotel Edinburgh
LONDON: Malcolm Fraser
26 Apr
RIBA
Malcolm Fraser is recognised for making simple, modern buildings that gain richness through a sense of place and of belonging. Completed buildings in Edinburgh include Dance Base, the Scottish Poetry Library, the Holyrood Park Education Centre, the Water of Leith Walkway and Visitor Centre and numerous bars, restaurants and hotels. Projects to come include the Scottish Storytelling Centre, the remodelling of HBOS HQ on the Mound. Malcolm Fraser has recently been appointed Deputy Chair of Architecture and Design Scotland, and will lead their Design Reviews
SCOTLAND: RIAS Sketch Design Competition Deadline
27 Apr – Architecture Competition
EDINBURGH: City Design Champion Lectures
Royal Museum of Scotland Lecture Theatre, Edinburgh
26 May
Benedetta Tagliabue – on Iconic Buildings
EDINBURGH:
Royal Scottish Academy Lecture
Ric Russell OBE RSA
22 Jun
Architect Ric Russell was elected an Associate Member of the RSA in 1996 and will be talking about the joy of making spaces that stimulate artistic performance at the Royal College of Physicians, Queen Street, Edinburgh.
Ric Russell is the founding partner of Nicoll Russell Studios, a Dundee based
Architecture and Interior Design Practice. He has worked on many Arts projects and in particular several of Scotland's most successful new theatres. The Studio has completed commissions throughout the British Isles and abroad. Projects include the Dundee Rep Theatre, An Lanntair in Stornoway, the Byre Theatre in St Andrews and the Scottish Dance Theatre in Dundee. Recent Architecture:
Byre Theatre, Dundee Rep Theatre, Scottish Dance Theatre
EDINBURGH: Charles Jencks Presentation
Honorary Doctorate by Edinburgh University
23 Jun
Coincides with publication of new Charles Jencks book, The Iconic Building incl. commentary on the Scottish Parliament. Charles Jencks presented a lecture 'The Iconic Building: The Power of Enigma' followed by a book signing
Edinburgh Events – current page
Reviews
Hiroshi Sugimoto 'The Architecture of Time' by Rebecca Wober
Charles McKean Annual Cockburn Lecture by Adrian Welch
Andy Doolan Exhibition @ RIAS by Adrian Welch
Oresund Link DCI Lecture by Adrian Welch
Jonathan Glancey Annual Cockburn Lecture by Adrian Welch
Jorn Utzon Lecture by Bruce Ross
Danish Urban Regeneration DCI Lecture by Adrian Welch
Edinburgh on the Rocks Talk by Bruce Ross
Wiszniewski Thomson Talk by Bruce Ross
archaos Event by Bruce Ross
Danish Architecture DCI Lecture by Adrian Welch
G4 Competition, Edinburgh Park by Bruce Ross
Articles
Edinburgh Masterplans for Instant – 2001
Edinburgh article for The List on Future Edinburgh Architecture
Playfair for Building Design on the Playfair Project
Edinburgh events from Jul 2001 – 2003 archived; from 2004 rolling events, no archive
Comments / photos for the Edinburgh Events page welcome